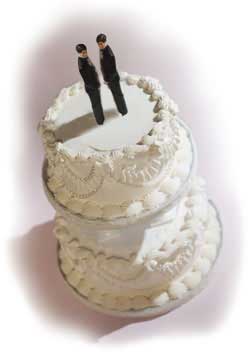 Kvetch all you want.
Bitterly denounce the future from your choice of pulpits. It matters not a whit. Here we are in the Western World, where the Free Market is Cantor, Benediction and The Promise. Just ask The Fraser Institute.
Last Saturday, at 4 PM, and before a packed house of friends and families, Bill and Gary got married. To each other. Two husbands, so named and declared. The bottom-line? A cool hundred grand, give or take.
Let's add up the tab.
One hundred people, a downtown hotel, 3 meals, gifts, musicians, transportation.
Friday night, one hundred friends and family, very old and very young, tuck into an extravagant and delicious spread at the Ampeli Taverna on the Danforth, just a few subway stops east of the Don Valley Parking Lot. Appetizers, full dinners, copious wines and gooey desserts. Minimum $40 a plate. And that's just Friday. $4,000.
In from Sacramento and Winnipeg
An impetuous microphone grabber told the assembled, "Billy and Gary have been together for 27 years - now they're getting married. I'm not sure that if I had just been living with Arlene for 27 years, we'd be exchanging vows now." A great line, but no reports yet on when Arlene will start talking to her husband again.
At least 40 of us from out of town stayed at the Delta Chelsea at the preferred room rate of $149 a night. Times 3 nights, that's just under $18,000, not including taxes. You make a phone call, you buy a bottle of Coke, you have a coffee and a bagel downstairs one morning, soon you're adding on $50/day in hotel extras times 40 people times 3 days. $6,000.
Seven relatives flew in from Sacramento, at least 20 from Winnipeg. (One of the guys from Sacramento voted for both Arnold and Bush. His best line was, "If Kerry wins the election, the Muslims will move into the White House and that'll be the end of America!" But a gay wedding he could handle.) I was on a return flight from Venice, Italy. Say, 40 flights at an average of $700 each. $28,000.
The wedding itself - room rental, flowers, décor - is worth about $5,000. The reception (hors d-oeuvres, drinks, servers) and the seafood and steak banquet run at least $50/head (so to speak). $5,000.
Brunch the following morning (Help yourself to juices, coffees, teas, croissants, scrambled eggs, bacon, pancakes.) $25/ serving. $2,500.
Blessings go for $200
Now add the Preacher (The Two Husbands, like so many betrothed today, wrote their own service, which included, among other things, Ira Gershwin's lyrics to the last song he and brother George wrote together, "Out Love is Here to Stay."), $200 and the D.J. for the banquet, $500, and the Piano Man for the brunch (He stuck to the Great American Songbook - Gershwin, Berlin, Kern - so that many of us snuck in breakfast between episodes at the piano serenading the Newlyweds and our own romanticized pasts.), $500.
All of the guests were happy recipients of a "guest bag," courtesy of Billy and Gary - candies, macadamia nuts, pounds of espresso coffee - estimate $20 and 100. $2,000. And everyone brought presents, say 100 at $50/each. $5,000.
There was much subwaying and taxicabbing and to-and-froing the new Terminal One at Pearson. Say, another $1,500.
If you've been keeping count, we're up to $76,000 and change. Let's throw in the customary 10 percent for contingencies (massage and medicines for the lady who threw out her back sitting in coach on the flight in; diapers; kids toys, soothers and amusements; toiletries; needless, but joyful compulsive shopping; and, you know, contingencies). That's another $7,600.
The grand total
Wait. I almost forgot the honeymoon in - where else? - Hawaii. $5,000.
Finally we add on taxes, some of which are only 7 percent, but some climb to a blessed 14 percent. When it's over, we reach the final grand total of darn near $100,000 for Bill and Gary's wedding. That's $100,000 of real Canadian coin being spent in a way that might not otherwise have been spent on that particular weekend in Toronto.
The maitre d' at the hotel banquet had an interesting take on all of this.
"You know, we had a bit of a staff meeting with all our servers and the like before this event, because, you know, none of us had ever seen a same-sex wedding before. (So, who did?) And I don't mind telling you there were a few people who were a bit, you know, let's say, uncomfortable, at first. But we all said our piece, and then it just came out that heck, this is business, and we treat all our clients and customers with respect, right? It's just business.
As it turns out, The Godfather and the Fraser Institute have always been way ahead of the curve. Free markets lead social progress. One day, we'll all be legit. And we won't have to move the Family to Vegas to make it work.
Vancouver-based David Berner is an actor and popular talk show host on CKNW.