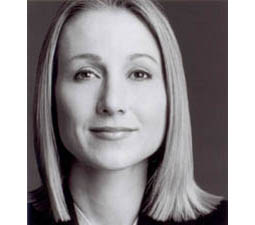 I never thought I'd find myself defending Belinda Stronach. Even if I cared about the future of the Conservative party, I don't agree with many of her views. Nor do I think she's particularly qualified, and anyway, you can't run a country like you run a corporation. Of course these factors have never stopped any man from running. It didn't stop a cheerleader with a C average from becoming the leader of the "free world" on the basis of his dad's connections. But how often does our media remind us of that?
The media portrayal of Belinda Stronach draws from the same vile strain of sexism that brought us the Taliban. Reporters choose how to frame every story they write (it doesn't fall from the sky), and instead of focusing on Stronach's role as the CEO of a billion-dollar company or as a key broker in the merger of two Canadian political parties--a rather impressive accomplishment--or ignoring her if that's what they think her ideas deserve, they've put the focus on two words that appear in every second article: "blond" and "attractive."
That, along with gratuitous references to her marital status--"single mother, twice divorced"--and wardrobe, which is, with apologies to those hoping for cleavage, rather conservative. It's an old double standard: women have to be attractive to get ahead, and if they're attractive, that's how they got there. Either way, you can't take them seriously.
What's Paris Hilton got to do with it?
The Toronto Sun fell to new depths in tabloid journalism with a front page headline titled "Blond Ambition" and another article entitled "Blonde Date: Who should Get Belinda's Rose?" which offered a list of potential bachelors. Inside the paper Stronach's wardrobe was scrutinized in the style section. Her "finely tailored suit ... (conveyed) a sense of strength and power," wrote style editor Sylvi Capelaci. Her "slim-heeled leather pumps have just enough sculpting and decoration on the toe to make them interesting and are obviously of designer pedigree--possibly Sigerson Morrison."
The style section is the opposite of hard news. It's the fluff. The rat in the Conservative party who distributed the anonymous "Barbie" ads to disparage Stronach has taken cues from what the media says is acceptable.
This is how the Globe and Mail's Roy MacGregor began one of several articles tearing Stronach to pieces: "Oh dear oh dear oh dear oh dear. 'Paris Hilton has as good a chance of becoming prime minister as she has.'" MacGregor's quote came, of course, from an anonymous source, since these were "not, believe me, the snide shots of a bitter columnist." The association of Stronach and a certain reality-TV starlet, blond heiress, and internet porn star (who is exploited by the media that created her, which may be Hilton's most relevant link to Stronach) can only be seen as derogatory and demeaning--a form of ridicule. It puts into stark relief the sort of adolescent fantasies projected onto Stronach by the boys on the beat, for whom it seems her fair hair and clear skin too closely resemble their dorm room posters of the girls who would never agree to date them.
Stronach should rise or fall on the strength of her platform and abilities, but that's far less entertaining than the fact that "she's hot!" It seems all we need to know in order to box her up and dismiss her is the colour of her hair. There's a tone of near outrage in some of the coverage. How dare she play at a man's game! How dare this "young mother who would be prime minister," as Roy MacGregor called her in the Globe.
'Better than Viagra'
How many "single fathers" are in politics at the moment? Wouldn't know. It never seems to factor in the coverage. Do they have nannies? We know she does. How many politicians are addressed by newscasters by their first names? Ralph Klein might market himself as "Ralph" come election time, but he's still "Ralph Klein" on the evening news. Not so, Belinda.
Of course, she's "inexperienced." On CBC's The National, Rex Murphy compared her to someone who'd wandered in "off the street." Her platform? Murphy was too engrossed in commenting on her "photogenic" appearance and the colour of her hair, which were mentioned several times before he concluded by saying he wouldn't comment on her "photogenic" appearance because he might be subject to the same treatment. He needn't worry.
"Brian Mulroney was a brand new businessman prior to running, no one ever talked about the colour of his hair," MP Sheila Copps said, pointing out the double standard applied to women. The Vancouver Sun ran an article in which Public Safety Minister Anne McLellan--speaking as the most powerful of the shrinking number of Canadian women in high political office--criticized the media's bizarre focus on Stronach's appearance and clothing. The article was illustrated by (what else?) a colour photo of Stronach, this time with an old geezer standing behind her in a T-shirt that read "Better than Viagra." At a cocktail party, a male journalist told me how hilarious he'd found that. Another told me I had to understand something: most of the journalists and pundits are "uh, well, men" and "uh, well, horny." That's a revelation.
Here's Tom Olsen in the Calgary Herald: "One thought immediately crossed my mind when I saw Belinda Stronach's picture on the front page of the Herald--she's hot. And she wants to be leader of the Conservative Party of Canada? Move over, Stephen Harper! OK, I quickly recognized sleek good looks (and loads of dough) don't make a future prime minister, but my initial reaction to Ms. Stronach made me wonder what it's like for women striving for power to be objectified by too many men. Where blond hair is as important as policy. Maybe more so. And should that woman care, as long as the votes are coming in?"
Day's wet suit flap was different
What male politician would be subjected to this? It's rare for men's appearance to draw any comment unless--as with Preston Manning's "makeover" or Stockwell Day in a tight-fitting wetsuit--they are perceived as effeminate. Then, let the hazing rituals begin. A successful male politician needs a full head of hair, but it's never held against him.
Femininity is the problem, writes Lois P. Frankel in her book, Nice Girls Don't Get the Corner Office. Don't wear dangly earrings, the book cautions. Cut your explanations by 50 to 75 percent. Don't bring cookies to the office. Don't (it goes without saying) cry. Oh yeah, and don't act like a man, either.
Maybe the problem isn't femininity. Maybe it's discrimination. Maybe it should stop. Right now.
A while ago I read a breathless article about Justin Trudeau. It said that many are hoping he will follow in his father's footsteps and succeed Paul Martin as leader of Canada. The article dwelt admiringly on Trudeau's rugged good looks and his famous dad. The young man's appearance and patrilineage weren't used to dismiss and marginalize him, but rather to bolster the case for why he fit the profile of a future leader. The same facts, interpreted in very different ways.
Recent conversations about the Stronach coverage and a vivid exchange on the Canadian Association of Journalists listserve reveals a rift between most men and women on the subject. By and large, women are disturbed by it--though the odd one is happy to reach for the knives, or to say that some of the style section coverage is actually more informative than the A-section news (this may be true, and doesn't that say a lot). Most men, when confronted with the nature of the coverage, have a serious problem seeing what could possibly be wrong with it. They tend to respond with a version of "she asked for it" or "she wanted it," and, anyway, "she's getting more attention than she deserves."
Too lazy to chase heirs
Like the focus on appearance, the insistence on branding Belinda Stronach as "daddy's little rich girl" or "the heiress," wouldn't be objectionable if it was evenly applied. Rich men are considered successful, even if they commit, say, "administrative errors" that culminate in receiving $161 million in government contracts for their private steamship lines over the past 11 years while telling the public they only got $137,000. If daddy gives his son a job, money, or connections, it means he learned from the best--a chip off the old block. When has a mainstream news source characterized Paul Martin as "daddy's administrative error-prone rich boy?" How many "heirs" are out there for Stronach's "heiress"?
The focus on her use of "uh," "um," and "you know" is hard to fathom when you consider that such lazy language is typically edited out of quotes from male politicians, even on radio clips. Watching a series of guests on the national news revealed that every single one of them--including the anchor when diverging from the teleprompter--used these fillers.
It's not that one or two articles add up to media sexism. But all the evidence taken together amounts to something very ugly, and it's hard to see how any male political hopeful would be subjected to this sustained fixation (or should I say, fetish?). It's no accident that there are so few women in the corridors of power, and that those who get there do so against overwhelming odds. Stronach's photograph may be everywhere, but it's not a pretty picture. Maybe what she needs is a burqa.

Deborah Campbell is a Vancouver writer and associate editor at Adbusters magazine. She will be speaking on media issues at Harvard this spring.