Regular readers of The Tyee are no doubt familiar with our coverage of B.C.'s education system. As a publication, we've made a point of maintaining a beat on education, with one of the few dedicated education reporters in the province, Katie Hyslop.
And there's no shortage of developments to report on. Stories about controversial funding changes, budget cuts, labour disputes, innovative new programs, and the whole slew of social issues that the school system has to manage regularly top The Tyee's most-read stories lists.
On Oct. 5, The Tyee will host The Future of Public Education: Beyond the Headlines in Vancouver. We're bringing together diverse perspectives from people working in, thinking about, fighting for and experiencing B.C.'s public education system.
Attendees will hear from academics, students, parents, teachers and others about both the challenges that the system faces, and the bright lights that are making a difference. Together, we'll explore the question: At it's best, what can our public education system achieve? And what must we do to get there?
The event will be held at the Segal Building at 500 Granville St. on Wednesday, Oct. 5, at 7 p.m. Early bird tickets are $10 for general admission, and $5 for students and seniors ($15/$7.50 after Sept. 9).
Nobody will be turned away for lack of funds. If you are interested in a subsidized ticket, email Jeanette Ageson at jageson@thetyee.ca.
Can't make it to the event? We still want to hear from you. Take our reader poll now.
This event is made possible by the SFU Faculty of Education, UBC Faculty of Education, British Columbia Government and Service Employees' Union, CUPE BC, Vancouver Foundation and BC Teachers' Federation.
Speakers:
Dr. Gillian Judson, lecturer, Simon Fraser University; director, Imaginative Education Research Group; co-ordinator, Imaginative Ecological Education program
Jennifer Stewart, co-founder, Families Against Cuts to Education
Hana Woldeyes, Youth Advisory Team member, Fresh Voices initiative
Sajedeh Zaki, Youth Advisory Team member, Fresh Voices initiative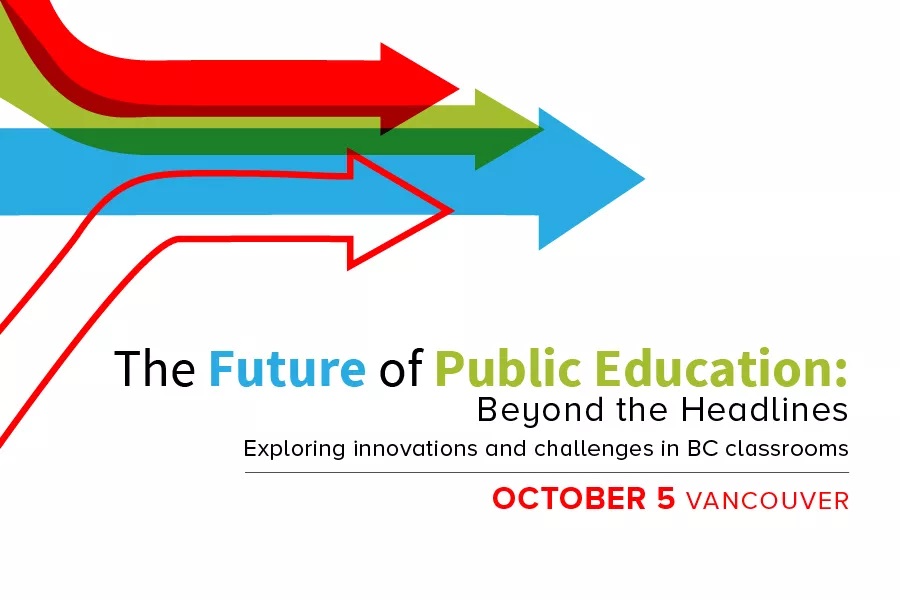 Other speakers will be announced soon.
Learn more and purchase tickets here.