Every Tuesday and Thursday on Vancouver's North Shore, Victor Guerin and his team of four language interns lead band office staff at the Tsleil-Waututh Nation through classes in Hən̓q̓əmin̓əm, the indigenous language historically spoken near the mouth of the Fraser River.
But the classes aren't like any French classes you took in school.
Rather than focus on rote conjugation and memorization, Guerin's team wants learners to become conversant as soon as possible. Hən̓q̓əmin̓əm is a highly endangered language. Guerin, who is from the nearby Musqueam Nation, says he is one of only three conversant speakers still alive. If Hən̓q̓əmin̓əm is to survive, he needs to get people speaking it fast.
''Our language is critically endangered,'' Guerin emphasizes. If his programs fail, ''the language could be gone within 20 years.''
There are no desks or paper in these classes, only games and conversation. Even though no one in the class is fluent, everyone speaks only in Hən̓q̓əmin̓əm.
That's possible because the teaching method being used has freed their lessons from translations to or from the colonially imposed English language. Instead, they use a method called Where Are Your Keys that pairs Hən̓q̓əmin̓əm phrases with American Sign Language to communicate meaning.
''It gets at people at a more intuitive level, so they learn to think in the language rather than learning to translate from English into Hən̓q̓əmin̓əm,'' Guerin says.
Kalila George-Wilson, a language intern, guides newcomers through a question and answer game for their first lesson. She draws her right index finger across her left palm and points at a paper coffee cup on the table while asking a question in Hən̓q̓əmin̓əm. Another intern answers, making a gesture like he's holding a cup against his left hand and pointing with the other at the coffee cup.
George-Wilson doesn't translate back to English for learners -- she says that's ''killing fairies.'' Instead she encourages them to think of ''Yoda speak,'' to grasp how different the structure of Hən̓q̓əmin̓əm is from English.
'Language and culture are inseparable'
A shared language creates a shared universe of unique expression. It fosters an important sense of connectedness and community that can literally be life-saving.
''A stronger foundation for culture in the community is really important for me,'' says Jim Hauck, a Tsleil-Waututh employee and class participant. ''The only way that's going to happen is the language being retained and flourish[ing]. Otherwise you get an Anglicized version of culture, which is not the same.''
Guerin says people describe language and culture as separate things. They're not, he maintains. ''Language and culture are inseparable from each other.''
And their loss can be lethal.
Knowing their own language dramatically reduces the risk of suicide among aboriginal youth, a 2007 University of Victoria study found. In indigenous communities where at least half the band members could converse in their historic language, youth suicides essentially dropped to zero.
Within 16 communities with high language knowledge studied, only one youth committed suicide over a six-year period. By contrast, among 136 bands with low language knowledge, 84 young people took their own lives.
The interns ensure that Hən̓q̓əmin̓əm is present in young Tsleil-Waututh lives by running classes at the community preschool. They say the kids love it.
''They're actually learning faster than the adults would,'' says intern Cassandra Smith. ''We have this one boy that didn't seem like he was listening but he can introduce himself and can count most of the numbers by himself.''
Adults may have more difficulty because Hən̓q̓əmin̓əm contains 22 sounds not heard in English. Some, like the guttural-sounding ''uvular fricative'' made by constricting airflow at the back of the throat, are found in other languages like Hebrew or German. But there's also one sound exclusive to Hən̓q̓əmin̓əm: it's pronounced when saying the number ''seven.''
Hesitant learners are encouraged to ''mumble'' and mispronounce words at first, with the confidence they'll get it over time.
A challenge however, is teaching a language with no truly fluent speakers. The last person whose mother tongue was Hən̓q̓əmin̓əm died in 2002.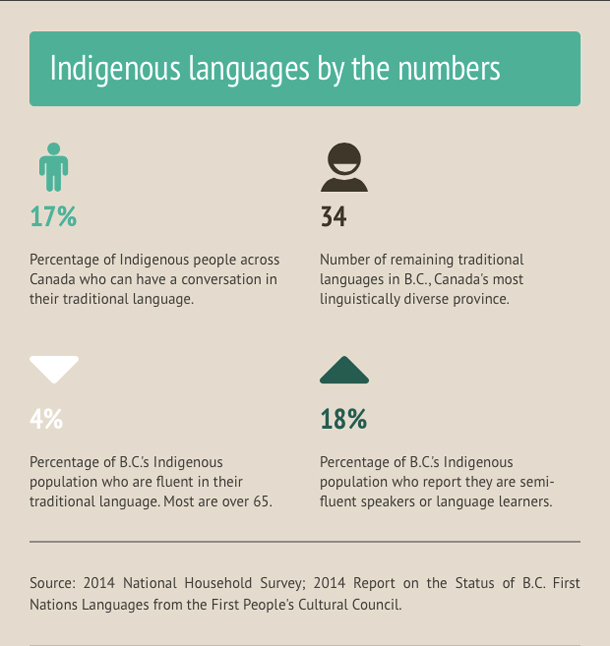 And although he studied one-on-one with Musqueam elders for 16 years and later completed UBC's program in the language, Guerin still calls himself only conversant in Hən̓q̓əmin̓əm -- not fluent.
''When questions of variant pronunciation come up, it's almost impossible to answer them,'' Guerin says. Sometimes he turns to the few remaining fluent speakers of the language's Vancouver Island dialect for help.
Innovative methods for reviving indigenous languages
In university, Guerin learned Hən̓q̓əmin̓əm by consciously breaking apart prefixes, suffixes, and studying verb roots.
''It's not very effective,'' he says, ''because it focuses on linguistic methodology, linguistic terminology. [People] just want to speak the language. They don't want to learn all that technical mumbo-jumbo.''
It was that insight that led Guerin to the language acquisition technique, Where Are Your Keys.
The teaching method was designed by Oregon-born linguist Evan Gardner in the early 2000s specifically to help endangered languages. By using American Sign Language as a non-verbal base for meanings, students communicate immediately in the language they're acquiring. The gestures enhance retention, too.
Encountering the technique for student Hauck was, ''just like my brain exploded. It was so much fun. It's the first time I've had that much fun with language, well, ever. I was totally jazzed.''
Passing the language on
Khelsilem Rivers, a young Squamish man who used the same method to revitalize that community's Sḵwx̱wú7mesh language, has been helping train Tsleil-Waututh interns to design lessons based on games and conversation.
Rivers will move on from the Tsleil-Waututh program in July, while Guerin stays. But the ultimate goal, Guerin says, ''has been to work ourselves out of a job. To train people from the community to handle the program.''
''The objective is to assemble five conversant speakers. Once we have that, then we'll move into the public schools to implement the curriculum we have under development,'' Guerin says.
For language intern Nick George, it's the future that keeps him motivated: ''Who else can say that they've helped a dying language come back and teach it to the rest of the community?''