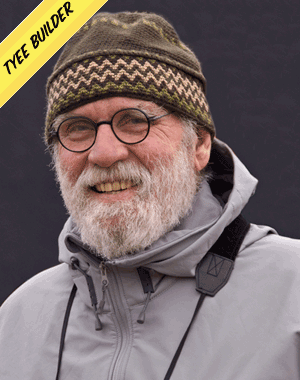 "What hooks me? Going for a long, aimless wander in the woods. What else hooks me? The Tyee. I support them because we need all the clear-eyed writing and analysis we can get." -- Graeme Gibson
And Graeme Gibson knows good writing when he sees it. Not only is he an acclaimed author, he's the long-time partner of Margaret Atwood, another one of our famous supporters. By becoming a Tyee Builder, he's helping to ensure the The Tyee is able to continue publishing award-winning journalism.
Want to join Graeme, Margaret, and the other Canadian icons that have signed up to be Tyee Builders? Click on the yellow button to sign up now.

Besides knowing that you're on the same team as Graeme and the other literary giants that are helping us build up our reporting capacity, becoming a Tyee Builder includes lots of perks for you. For one thing, if you sign up and support The Tyee with $15 a month or more (what is that, three, maybe four, cappuccinos?), we'll send you a signed book by one of the Can-Lit legends that support our work. You can view that whole list here. Sign up quick, though: the books won't last forever!
About this Tyee Builder: Graeme Gibson was born in London, Ontario, and now lives in Toronto. He has written several novels and, most recently, has released two especially unique publications: The Bedside Book of Birds and The Bedside Book of Beasts. These books, which aren't done justice by the classification "anthology," are without parallel in any bookstore we can find. They compile material that spans centuries; they are truly "miscellanies," showcasing the vast knowledge Gibson possesses about the natural world. For more information, visit the website for the Book of Beasts.
About the Tyee Builder Program: Want to give independent Canadian journalism a boost? You've come to the right place. The Tyee is trying to become fully sustainable. In order to do so, we've launched the Tyee Builders program to allows readers who love The Tyee's work to help fund more of it. Every penny you support us with will go directly to pay Tyee writers and editors. And besides the warm, fuzzy feelings you'll get knowing you're helping dial up the volume on an independent voice in Canadian media, we've come up with a few other ways to thank you. Click on "Hammertime" above to learn more and start Building!