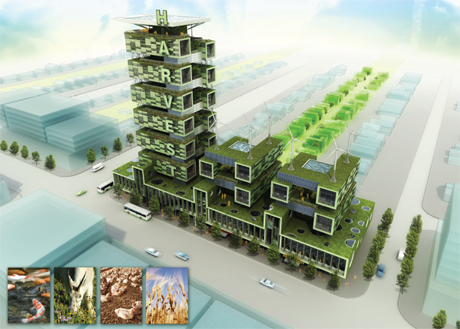 FormShift has seen the future, and George Jetson is an urban alley farmer with a sideline in solar energy. That's the short summary of the design competition initiated by the City of Vancouver to imagine dense, green new urban development in our region.
The competition received 84 entries from 73 individuals and groups, and amid the fanciful and the facile were some provocative challenges to city planners, developers and citizens. One came from the Go Design Collaborative's Pauline Thimm and Jennifer Uegama, who studied architecture together at Dalhousie. Their entry DENcity: INTENcity imagined new possibilities for the underutilized industrial land in Marpole, between the Arthur Laing and Oak Street bridges across from the Vancouver International Airport.
"People are going to come to the city in droves next year," said Thimm, who recently returned to Vancouver after a decade away. "And what's the first thing you see? What a shame."
Go Design's entry, the winner in the competition's Wildcard category, imagined an unlikely multi-storey mix of light industrial, commercial and public spaces, including a public market, adjoining an undulating green roof. Thimm said Go Design imagined their project as being like Granville Island, only stacked. The proposal also reanimated the controversial unused Arbutus rail corridor with a streetcar. Thimm said her rough estimation is that the Marpole area supports only one tenth of the density that's permitted, and that a great deal more is possible in a site where so much diverse traffic and human activity converges.
City planner Brent Toderian said the Go Design entry impressed the jury because it respected the industrial nature of the area, avoiding the residential and office uses that can drive up land values and drive out activity that's an essential part of our urban fabric. Like the other winning entries, the DENcity entry challenged us to do better while balancing competing interests. Even so, Thimm told The Tyee, residential use could enter the mix in parts of industrial Marpole if it's carefully located, just as houseboats bring diversity to unexpected corners of the Granville Island waterfront.
A harvest of eco-design
The FormShift competition entertained ideas in three categories. Vancouver Primary sought proposals adjoining a transit hub, and the winner from Calgary's Jeremy Sturgess proposed a complex that creatively mixed the use of all available surfaces for everything from power generation and urban farming to imaginative passageways and quiet public spaces for relaxation.
The Vancouver Secondary winner from local architect Scott Romses imagined dense prefab laneway development that drew on the example of "Hutong" laneway housing in China. Romses' Harvest Green Project laneway plan focused on urban farming and alternative energy generation as a way for neighbourhoods to become more self-sustaining and to contribute to food and energy needs throughout the city. Romses' complementary Harvest Green entry in the Vancouver Primary category, where it got an honourable mention, proposed a multi-storey modular farm employing hydroponics and other modern technology as a way to both produce food and remind urban dwellers of the importance of food production in our lives.
Urban agriculture and energy efficiency were pretty much necessary, of course, in a competition that asked entrants to take into account the city's EcoDensity Charter and other green initiatives. The winners generally included some kind of community amenity, and landscaping that blurred the line between public and private space was ubiquitous.
While utopia was the order of the day, some entries inevitably drew attention to the fact that one person's dreamland is another's futuristic hell. Toderian allowed that a few schemes were a bit too Bladerunner-style distopian for his tastes, and certainly some of the 11 honoured proposals would cause the sedate burghers of Dunbar and Kerrisdale to redouble their hypertension medication.
But then the objective of FormShift was to shake things up. Toderian said just that to those assembled on Wednesday, April 15, at the Architectural Institute of British Columbia, which administered the competition. He pointedly included the city bureaucracy along with developers and citizens among those who need to do some serious rethinking. He argued that the economic downturn provides leverage for the revolution that's required. "There's a real opportunity to change 'business as usual' right now."
'Get moving': architect Busby
Architect Peter Busby, a member of the organizing committee, gently urged Vancouver to get moving on creating density along major streets served by transit. "These are important streets that are under-built at the moment," he said to those assembled. Afterward, he told The Tyee that Vancouver is behind Richmond and Burnaby in up-zoning lands around rapid transit stations. "We've got the Canada Line finished and we haven't got up-zoning around the stations. We're not doing it. Come on, Vancouver, let's get moving."
Toderian told The Tyee the rezoning process should be completed along Cambie by the end of the year. He also argued that the challenge of developing much of the existing four-storey zoning along arterial streets has not been taken up by developers. And he pointed to the importance of ongoing community-based planning processes in developing areas such as the Norquay Village along Kingsway.
Sometimes the wheels grind exceedingly slow. Toderian acknowledged the city can be part of the problem, and that "we don't have all the time in the world". But he also said developers have to take up the reins as well. "If the industry doesn't see this as something it can do, we'll only get so far."
Toderian said Vancouver residents also have to accept that changing our urban fabric is essential to ensuring our future well-being. Part of the objective of the competition is to put imaginative possibilities in front of Vancouverites, in part through a yet-to-be-finalized public exhibition. If the public doesn't know what the future might look like, Toderian argues, more people are bound to be more afraid of it.
'A call to arms': Toderian
Busby could afford to be much more blunt, blaming "ingrained attitudes, complacency and NIMBYism" for delaying some of the change that's required. "A few objectors can stop a good idea."
Toderian said he hopes the competition, which attracted entries from as far afield as Rome, Rotterdam, Paris and Santa Barbara in a remarkably short six-week time frame, will become an annual event. "We've been lacking design competitions in Vancouver for many years," he said, adding that he sees such competitions as an important tool in a pressing matter. "Our mayor [Gregor Robertson] has challenged us to become the greenest city in the world in 10 years. If that's not a call to arms, I don't know what is."
Thimm seconded Toderian's view on competitions. "They can allow you to dream big," she said. And she added that while some of the proposals may seem impossibly futuristic, structural innovation and new materials are making many things possible. "If we can think of it, it can probably be built. If you can think big," she adds, "it's far easier to scale it back and make it real" than to do it the other way around.
Thimm also figures fresh eyes from outside the city can help us see Vancouver differently, and her eyes don't always like what they see. The condominium towers that define the much-vaunted Vancouverism aren't all they're cracked up to be if a young professional such as herself can't afford to live in them. "It's not sustainable," she says. "And who is really benefiting?"
There's no doubt that getting where we need to go will be a messy business that involves a lot of careful listening, close examination of cherished assumptions, creative thinking and disagreement. FormShift is one small and welcome step in that direction.