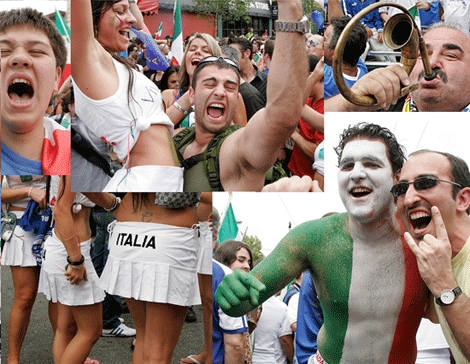 [Editor's note: Vancouver's Laurie Mercer and his friend Gijs spent a month travelling throughout Europe to watch World Cup soccer. He posted on Gone Footie!, and on Sunday he was in Berlin for the final game. At the same time, Vancouver photographer Christopher Grabowski was among the soccer fans who jammed Commercial Drive well into the evening to celebrate Italy's victory. For soccer fans of nearly every persuasion, it was a glorious day.]
We taxied as close to Brandenburg Tor as we could. After we got out, we discovered we had come to the wrong entrance. Columns of police were blocking rear access to the site, so we walked a long block and turned the corner, joining a large stream of fans. We marched about eight long blocks before we could turn and approach the site. Security was everywhere. At the entrance we were quickly and efficiently patted down; then we were in.
It was, of course, insanely crowded -- 1.3 million people, I was told later. It was impossible to reach the actual Brandenburg Gate; no matter. The entire wide thoroughfare was jammed with people, concession stands, beer tents, and massive television screens high above the crowd. Every tribe that had participated in the World Cup was there, for one final match, one final chance to party for their country. The majority wore German hats, jerseys, scarves, face-paint, flowers, or other regalia. Gijs and I decided to amuse ourselves by finding jerseys from all 32 World Cup participants in the crowd, and it was easy: Brazil, Ukraine, Spain, Ghana, Sweden, Serbia, Korea… By the time the match started, we were only missing Togo.
Behind me I heard some chanting, and there were red flags bobbing up and down. It was a dozen or so Polish fans, chanting "Polski, Polski!" They all had huge beer-grins, and their enthusiasm proved infectious.
Soon a large group of Brazilians joined them, and they began dancing madly in circles. They changed their chant to what I guessed was the Polish anthem -- but it could have been some football song, what do I know -- and the Brazilians instantly started mimicking them, bawling the syllables at the top of their lungs. Other fans joined in, cameras started clicking everywhere -- it was downright giddy fun.
I joined the line at one of the beer tents on the side, where I could have a clear view of the game. The real action, though, was in the feverish pace of the two men and one woman working the beer tent. They were obviously short-staffed. Two of them pulled beer, filling plastic cups with the foamy elixir, and the other took money. He served pretty girls first, unpretty girls second, and only intermittently served the men, creating a clamouring mob of customers waving their money, trying to get his attention.
'Drei Beer! Drei Beer!'
I was still standing in line when Zidane scored the opening goal for France, on another dubious penalty. Dang. The French supporters went wild, the Italian flags seemed to wilt a little. All of the Germans -- and they were a multitude -- cheered for France. Later, when Italy scored, the many Brazilian fans cheered for Italy. It made sense. German fans were disappointed when Italy knocked their team out, so they could not cheer the Italian side; likewise, the Brazilians could not cheer for France.
Meanwhile, back at the beer tent, a young bare-chested German had had enough. He leaped over the counter, poured himself two beer from an unused tap, slapped 10 euros on the table, and said what I translated as "and keep the change." The bartenders just looked at each other and shrugged. Ours was trying to do things in an orderly way, but he always lost the plot when a pretty girl pointed her chest at him. A young fan in an English jersey, wearing a Canadian button, was beside me; we talked for a moment and then hatched a plan.
We started chanting: "We! Want! Four! Beer! We! Want! Four! Beer!" Finally they were delivered. Another group at the counter picked up on our strategy, and began their own chant: "Drei Beer! Drei Beer!" When I went back at half-time, there were six attendants; things were running smooth.
Italy scored, and we cheered and yelled, while the French flags seemed to wilt a little. All was right in the world; the match would not be decided on a dubious penalty. And the match was clearly going in Italy's favour -- the Azzuri defence were remarkably assured, giving the French short shrift. I felt confident Italy was going to win.
Hash and human pyramids
At half time, many of the men and some of the women ran into the sparse forest to pee. The unmistakable smell of hashish was in the air. This wasn't the first time I had smelled it in Europe; the air of Circo Massimo had been downright redolent, Nice and Koln were undeniably high as well. Everywhere spontaneous celebrations erupted. Swedes and Brits danced together, hilarious in their clumsiness. A group of Mexicans formed a pyramid, and were feted with cries of "Viva Mexico!" from all directions. And the Germans sang, and sang, and sang.
Italians walked through the crowd high-fiving each other, "Forze Italiano!" An occasional cry of "Allez France!" served to remind us the game was still in doubt. Wonderful.
Gijs and I wandered through the crowd and found another place to watch. The second half started, and it seemed tentative, even timid. I became distracted by a pretty young Irish girl, a few feet away, flirting with a tall muscular young German. It was a few moments before I noticed there was a group of Irish girls of about the same age -- 17 or 18 -- and German boys were snorting and pawing the ground, look at each other coldly, either trying to get one girl's attention or working hard to keep it. It became quite hilarious.
The tension I had witnessed in big crowds in early matches was not really here. Too many in the crowd were non-partisan, or if they had a favourite it wasn't a life-or-death matter.
At the break I see an Australian. "Aussie Aussie oy oy oy!" I holler -- the Australian greeting I have been hearing all over Europe. "Oyah Oyah," he says back, his accent weird. Turns out that Gunther is German, but lived in Australia for 10 years and loves the country. A German speaking Australian English is one thing, but Gunther was also a real comic.
A stranger's kiss
Overtime. The beer flows constantly, no chance of any shortage. The tension of extra time was nothing, though, compared to the shocking red card taken by Zidane, who deliberately head-butted an Italian player. A Brazilian fan in front of me pulled out his own red card, and jumped up and down with it, yelling "Zizou Zizou!"
The French fans near me looked mortified.
It didn't matter much, though. The Italian squad had lost their zest. Both teams seemed to be using the rope-a-dope approach. This World Cup would be decided by penalty kicks. With a large group of Italians, I did the voodoo-fingers thing, putting the hex on the French kickers as they approached the ball; I swear we were partly responsible when the deciding French kick hit the crossbar.
Italy wins! Forze Italia! With my Italian flag as a cape, I was greeted by every Azzuri fan walking through the crowd. I was hugged, spun around and kissed suddenly, by a woman who then blushed and walked away. I danced in circles holding tightly to four or five other men, who seemed to know what they were doing, me secretly praying not to fumble-footedly cause us to tumble. We all screamed like madmen.
Gijs and I spent an ecstatic 20 minutes dancing beside an African drum circle. Gijs yelling, "This is what it's going to be in 2010!" Gijs jiggles and sways, hips and shoulders fluid. He empties his pockets when they send around a tin for money. Ten minutes later he gets all my change to do it again.
It is wonderful, another reminder that in a week I will be at the Vancouver Folk Music Festival, dancing with the children and the elders and the hippies...you know, the folk. After the hours of standing, the dancing limbers us up, giving us more energy. We then walk the length of the Berlin fan fest toward the Brandenburg Tor, past hundreds of thousands of celebrants. Everybody is celebrating everybody -- it is amazing. I join others in yelling "Viva Ecuador," "Viva France," viva-ing everyone and everything. I go harsh returning screams of greeting and joy every time I pass an Italian group.
Meanwhile, the tech crews are tearing things down. Stands are dismantled, cable rolled. There is a small army at work here, restoring the neighbourhood to its usual condition. When we finally pass the row of policemen guarding the rear entrance I yell "Viva Germania" at them. Several smile, and my cry is taken up by others. "Viva Germania!" Everyone grins, even the police. A captain says "Viva Italia!" pointing to my flag.
Tomorrow, to work
Gijs is tired, but I want to continue, so we decide we will get a cab and make one more stop; the driver is confused by our original request -- "Take us somewhere where there are Italians having a party." But after consulting with his dispatcher, he drives us to a large nightclub with a massive Italian flag in front.
We go in, but it is not our type of crowd. The music is electro, and people are all really, really wasted. Even sitting in groups, they are all ignoring each other, staring into space. Gijs thinks it is hilarious to try to liven up the crowd, and, still hearing the African drums in his head, tries to start a dance. He is totally ignored. We laugh, and leave. The streets of Germany on the way back to our abode are subdued, with the occasional riotous Italian to wake things up. But it is obvious the World Cup is over, and tomorrow is another working day. Germany needs its rest.
Still, tonight, here in Berlin, winners and losers joined arms, danced, kissed, saluted, sang. What started out as a tribal competition ended as global party. The Italians will deservedly enjoy the glory; the rest of us joined in the fun. I came here from Canada searching for the World Cup spirit, and tonight it kissed me, hugged me and threw me around in circles.
Ain't life grand.
Christopher Grabowski is a regular contributor of words and photographs to The Tyee.
Laurie Mercer is a former concert promoter and band manager who sells music ephemera at Coolforever.com.
Recent Tyee stories and related links: Stan Persky writes about German obsessions in Right Now, Berlin Is a Kick. Laurie Mercer writes about a futile search for German soccer fans in Amsterdamned, third-world soccer in Looking for Italy, Finding Ghana, and German pride in The Difficulty of Being German.