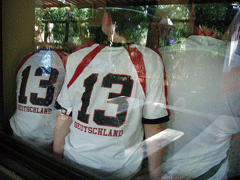 [Editor's note: Vancouver's Laurie Mercer, a former concert promoter and band manager who now sells vintage music on the internet at Coolforever, is travelling throughout Europe with his friend Gijs to watch soccer in bars where the home team is playing. He's posting stories about his trip on Gone Footie! This is an excerpt from the site.]
We arrive at the Volks bar in Koln by cab. Can this be the place? It looks absolutely deserted. As we walk closer, we can see children sitting in the window, backs to us, Deutchsland 13 on their jerseys. We walk into the bar and are immediately greeted by Alexandra.
Germany leads Sweden 2-0 with about 30 minutes to go. The bar is completely stuffed with people, and unlike most of the bars where we have seen games there are many children and elders in the crowd. Almost all of them have German colours somewhere on them -- painted on faces, emblazoned on jerseys, hats, flags. The excitement and energy is thrilling.
The game ends; the cheering is enthusiastic, the faces smiling. Compared to some of the celebrations I have seen on this tour, though, it is subdued. Alexandra seems relieved; later, chatting, she says that most German fans were very afraid of Sweden.
We walk a short distance to her home, where she has offered to put us up for the night. They have only recently moved from the Black Forest to Koln (more familiar in English as Cologne) and are renovating their new home. It is lovely, the results of their effort evident; the high ceilings and cheery paint give it a feeling of space and warmth.
She and her partner, Bertrand, have a merchandising company that provides t-shirts for touring bands and festivals. Bertrand is away at a festival; unfortunately I will not meet him on this visit. He has been helping my friends in the band NoMeansNo for years, so I was looking forward to seeing him. So it goes. Alexandra, charismatic, articulate, and friendly, makes us feel very welcome, delaying our attempts to take her to dinner by opening a delicious bottle of French rose I have never seen before.
Germans without cheap theatre
We loiter and finish the bottle while talking about football and the World Cup. I mention the comments of Fred, in Austria, that this is a team that young Germans can be proud of.
She agrees most certainly. "The World Cup is so important to Germans, so important to Europe," she says. "And this team is the right kind of team. Teams in the past, they would play defensive, wait till the end of the game and hope to get one goal. Plus," she adds, "always the theatrical." She makes a diving gesture with her hands, "that is not something that we, the young people, can be proud of. It may win, yes, but football is a great sport, and should be played with desire, and style. This team likes to attack, they are young players, not the old players; they want to win on skill, not like a machine.
"And it is important that we play this way, even if we do not win. Germany needs to show the world what we truly are: a liberal country, a progressive country, a vital part of Europe. Germany and France have supported the Euro and made it strong."
Gijs smiles: "And Holland."
"Yes, and Holland." She smiles too. "We want to show the world that we will accept all of them, make the World Cup a great event, make it so the best team will win the tournament." She grows more serious. "The World Cup is about more than the individual countries, or teams, it is a great world spirit, and Germany is trusted with that spirit. It is very, very important for Germany to carry that well. For the world to see that this Germany is a new place, to help change what people think of Germany.
"We are all trying hard, very hard, to earn, prove, that that is not the Germany of World War II any more. We are proving it through our acts, through what we are doing. It is so very, very important to us to make sure that nothing goes wrong, no terrorists attacks, yet still make it good for people to come here. We all know that many people do not like Germans, they just do not like Germans." She pauses.
'Many people do not like Germans'
I ask her how old she is, born in the '70s? '80s? "The '80s," she says. Even her parents were likely born after the war. What connection does she have with those well-documented, damnable atrocities of the past?
"Many people do not like Germans, but Germans work very hard to like everybody. We are taught in school to be very careful, to treat people with respect. And that is now why it is good for us to have the World Cup. People my age can now sing the national hymn, can be proud to be a German," she added. "For many years, to sing the national hymn, it would be without your heart, it would always stick in your throat a bit, there were always the questions and the shame and the doubt."
I had seen anti-German sentiment: in Amsterdam, when I looked for some Germans to watch their game against Costa Rica with last week; recently I had heard it, when a Dutch friend told me he often teased a German friend when discussing scores by answering '40-'45, the years of the German occupation of Holland.
Is there an expiry date for collective guilt? The butchery of the 20th century will never go away. That German hands were bloody is undeniable. Still, the list of other offenders is brutally long: Stalinist Russia, Pol Pot's Cambodia and Rwanda come to mind. The recent Erroll Morris documentary The Fog of War, probing the memories of American warlord Robert McNamara, made it clear that Nagasaki and Hiroshima may not have been inevitable or necessary.
But I have never met an American, or Russian, or Cambodian twenty-something struggling personally with responsibility for acts committed two generations ago.
Singing in the Volks park
Alexandra is still happily talking about football. "And this time, with this team," she says, "it is so great that Germans who have come here from other places -- from Turkey, from Africa -- are proud of German team, big fans and big supporters. In the past, often, many of the new Germans would not be involved, but this time, everyone, everyone is happy to follow the team, happy to be German, happy to sing the national hymn."
We leave, the wine finished, to walk through a local park -- the Volks Park -- to a pasta bar, where we can watch the first half of the Argentina-Mexico game. The park is beautiful, people cooking on barbecues and lolling about; a half-dozen beautiful swans dotting a small lake, the trees verdant and aromatic; it's very name -- the Folk's Park -- happily reminding me that the Vancouver Folk Music Festival will be waiting on my return to Vancouver.
I had come to Europe to observe the World Cup spirit, a nebulous pursuit of a celebratory collective consciousness; here was evidence of the power and importance of this spirit. The German nation, hosting the event, is using that positive power to make the tournament successful and flawless, as well as to apply healing energy to its dark image, to the still-visible wounds of their past.
And so it follows for Alexandra and many other Germans that their football team has to reflect these goals, that they play a clean, skilled game -- "without theatricals" -- and strive for an honest and true result. And with a team that plays that way, it's a happy time to be a German.
Recent Tyee stories and related links: Stan Persky writes about Germany's features in Right Now, Berlin Is a Kick. Laurie Mercer writes about a futile search for German soccer fans in Amsterdamned and finding The Most Happy Drunks in My Life in Koln. Mercer's previous Tyee dispatch was Looking for Italy, Finding Ghana.