[Editor's note: This series is drawn from Andrew Nikiforuk's talk "Why Haig-Brown Matters More than Ever," given last month in Campbell River as the Seventh Annual Haig Brown Memorial Lecture. A PDF is available here.]
One the great environmental battles that defined B.C.'s prophetic author Roderick Haig-Brown, as well as Vancouver Island, was the war over Buttle Lake waged six decades ago.
The story is a familiar one: Buttle Lake lies at the entrance to Strathcona Park, the oldest park in the province. In 1911 government set aside the area, shaped in a triangle, to show off the Island's "scenic delights." Government officials almost immediately regretted the decision as loggers and miners lobbied for access and complained about the "sterilization" of valuable minerals and trees.
Haig-Brown knew the area intimately and had fished there many times. In one poetic passage written prior to the project he described the park as "several hundred square miles of fierce and ragged island mountains, gouged and furrowed by creeks and streams, hiding a hundred lakes." To Haig-Brown, the friendly beaches and sheltered bays of narrow Buttle Lake represented a fertility and abundance not yet bled by the vampire of progress. The place brought him much happiness.
But the British Columbia Power Commission had other plans. Its engineers, who had little knowledge of parks, nor the value of unfettered water for that matter, proposed to dam Upper Campbell Lake and raise water levels at Buttle Lake by 12 to 15 feet. With the help of wealthy fly fishermen, Haig-Brown went to war. The campaign included letter writing, speeches, articles and appearances at public hearings. Between 1951 and 1955 the controversy galvanized the province and generated more than 800 articles in four different papers.
Haig-Brown even wrote a four-part series for the Daily Colonist. "Either we can set aside parks, build up a parks system and respect it, or we should quit fooling ourselves that we are anything but mercenary vandals in the present against the interests of the future."
But the prevailing government sentiment wasn't that much different than that of today. Politicians responded that "we can't stand in the way of progress" and that all of B.C. was a grand park and that the province could never run out of scenery. Due to the political uproar, the Power Commission eventually revised the project, building a lower dam that flooded a smaller area. Still, it raised the shoreline around Buttle Lake by 15 feet.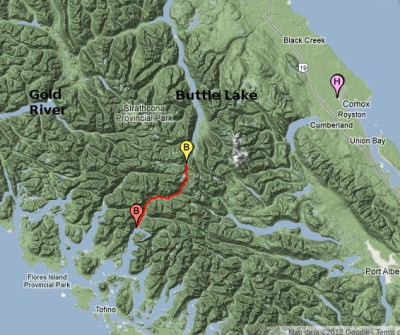 Haig-Brown called the decision one of the biggest mistakes in the history of province and could never bear to go back to the place. Like graffiti on an abandoned home, other industrial depredations soon followed, including a mine. It was just fined $185,000 for spilling untreated acid into Myra Creek. The creek feeds Buttle Lake.
Lessons for today's conservationists
The battle for Strathcona Park taught Haig-Brown several lessons. He realized there was "no end to rabbit brained development schemes sanctioned by government to support lame duck politicians" — and that's a direct quote. The corporate mindset of government meant that conservation work was never done.
The second was that even if the people don't win, they still have to fight these battles to prevent even greater and irreparable losses for their children. It became clear to Haig-Brown as it later did to the social critic Wendell Berry that much protest is naive; "it expects quick, visible improvement and despairs and gives up when such improvement does not come. Protesters who hold out for longer have perhaps understood that success is not the proper goal. If protest depended on success, there would be little protest of any durability or significance. History simply affords too little evidence that anyone's individual protest is of any use. Protest that endures, I think, is moved by a hope far more modest than that of public success: namely, the hope of preserving qualities in one's own heart and spirit that would be destroyed by acquiescence."
Site C as sequel
In many ways the battle over Strathcona Park is now being played out again with the highly controversial Site C dam on an even greater scale. The $9-billion project will flood some of the province's best and last remaining agricultural land in the Peace River Valley.
The government blatantly excused the mega-project from proper legal or public review. Yet ecologists, farmers, First Nations, economists and even a joint provincial and federal panel of experts have demonstrated the project doesn't make any economic sense; that there are cheaper alternatives and that the Peace River Valley remains the province's best agricultural insurance against climate change and drought.
Haig-Brown probably said it best back in 1955. All we have to do is replace the word Strathcona Park for Peace River Valley. "We may be a materialist people, living in a materialist age, caring little for anything beyond our own time. But surely we can afford this one tiny gesture to the future, and leave the Peace River Valley untouched."
Tomorrow, last in the series: Roderick Haig-Brown on why the fossil fuel protesters of his day, and ours, are "forces of yes" to what really matters.