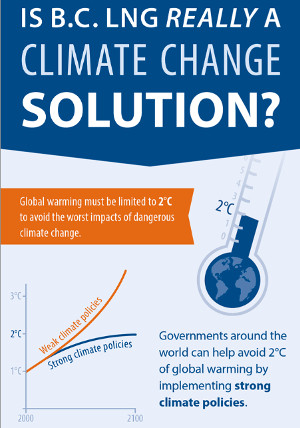 World leaders gathered in Lima, Peru, this month for global climate change talks. British Columbia's Environment Minister Mary Polak was among them. She shared the province's successful experience in implementing commendable climate policies, like B.C.'s carbon tax -- a policy that the president of the World Bank hailed as a "powerful example" of carbon pricing.
However, Minister Polak also included the province's liquefied natural gas export aspirations as part of B.C.'s climate success story, arguing that LNG will displace coal in Asia. Unfortunately, the evidence doesn't support this claim.
LNG versus coal
Compared against each other, a coal-fired electricity plant will produce more carbon pollution than a gas-fired electricity plant on a life-cycle basis if methane emissions from natural gas extraction are well managed. But research from the Pembina Institute and the Pacific Institute for Climate Solutions shows that, without strong climate policies, increasing the supply of gas in the global market does not lead to the displacement of more polluting energy sources like coal. It simply feeds an increasing energy demand with additional fossil fuels, putting the world squarely on track for dangerous climate change.
A study published recently in Nature supports this conclusion. For natural gas to displace carbon-intensive forms of energy like coal there need to be climate policies in place that shift investment decision-making. A strong carbon price, for example, would provide an incentive to replace coal plants with lower-carbon energy alternatives.
The recent China-U.S. climate agreement is an example of a step in the right direction towards what is needed to encourage the development of climate policies that could result in LNG replacing coal in China. However, the same climate policies that shift investments towards lower-carbon choices ultimately result in a decrease in the demand for all fossil fuels, including natural gas. In fact, as part of that agreement, China plans to increase the share of non-fossil fuels in its primary energy consumption to around 20 per cent by 2030.
Gas as a 'bridge fuel'
Our research shows that less natural gas will be used in a world with strong climate policies. In the short term, and in the context of strong climate policy, natural gas can act as a "bridge fuel" that helps the transition from fossil fuels to renewable energy and more energy efficiency. To keep the planet below an average of 2°C of global warming (the internationally recognized limit to avoid dangerous climate change), that bridge must be very short: by 2030 natural gas demand would peak, and by mid-century it would fall below current levels.
Governments and industry also need to get better at measuring methane emissions that result from the extraction of natural gas. Recent studies have concluded that this carbon pollution is higher than previously estimated. This means that the role for natural gas as a bridge fuel in a carbon-constrained world could be even shorter, unless methane management practices improve significantly.
An economic risk
Not only is it inaccurate to claim that LNG is a "climate solution," it's also economically unwise. Tying B.C.'s economic engine to a resource that will decline in 15 years if governments around the world implement strong climate policy is a recipe for a major boom and bust -- something many B.C. communities are unfortunately all too familiar with.
Instead of focusing so intently on LNG, B.C. should look at what types of energy solutions will be needed with strong climate policies in place, and figure out how to supply those needs. In such a world, the International Energy Agency predicts that by 2035 demand for renewable energy would increase by 127 per cent over 2011 levels. Meanwhile, total energy demand is predicted to go down globally by 20 per cent relative to a world without strong climate policies, thanks to the rise of energy efficiency and conservation.
This represents a massively growing global market for clean energy technology and services, one in which B.C. already has an advantage. For example, analysis from consulting firm KPMG found 200 clean technology companies operating in the province, employing over 8,000 people and generating $2.5 billion in annual revenue, primarily from exports. Many of these companies are well positioned to take advantage of a growing market for clean energy.
There are many ways B.C. can and should play a productive role in global climate change initiatives. Fortunately, with its track record of implementing credible climate policies, a global reputation for climate leadership and a growing clean energy sector, B.C. has a lot more to offer the world than more fossil fuels.
Please note our comment threads will be closed Dec. 22 to Jan. 5 to give our moderators a well-deserved break. Happy holidays, readers.