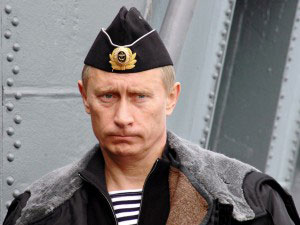 [Editor's note: Tyee's long-time culture contributor Steve Burgess -- did you know he is also an accredited spin doctor with a Ph.D in Centrifugal Rhetoric from the University of SASE, situated on the lovely campus of PO Box 7650, Cayman Islands? In this and future columns, Steve will dispense advice about public relations -- or just about any other kinds of relations -- to the politicos who seek his wisdom. First one's free, kids.]
Dear Dr. Steve,
Everyone thinks I'm a giant asshole. What can I do?
Warm regards,
Vladimir Putin
P.S. I have chosen to ask you for advice only because I suspect Dan Savage may be homosexual.
Dear Vladimir,
It's quite a surprise to get your letter. Until now I had assumed looking like a giant asshole was your strategy all along. Rarely has anyone displayed such a talent for it. You are to assholery as Dennis Rodman is to ink. In your presence other assholes are like so many trailer park tarts at the Miss Universe pageant. You've succeeded in making Kim Jong Un seem cuddly. Who is your boorish equal? Justin Bieber is certainly making an effort but he has a ways to go to catch you, Champ. Remember that peewee hockey coach who pretended to shake hands with a kid on the other team and then tripped him instead? He thinks you're an asshole.
To review: You have used the courts to persecute your political enemies until the phrase "Russian justice" has become synonymous with "Republican moderate." You have used the Russian intelligence services to assassinate your foes abroad. You have backed the regime of Syrian war criminal and Instagram fan Bashar Al-Assad, as well as former Iranian bull goose loony Mahmoud Ahmadinejad. You have enlisted homophobes and bigots in a state crackdown on gay Russians and threatened imprisonment and violence against gay tourists. You lied about catching a giant fish.
In other words Vladimir, you're on a big-time roll. Don't mess it up now.
Prosecute or pose for them
I needn't tell you it's better to be feared than loved. An ex-KGB thug like you knows that very well. I'm not sure how the tyrant approach manages to work in a democracy but I assume it's a Russian thing -- people still have Big Daddy Stalin issues over there. Besides, you probably cheated.
Anyway, don't change tactics now. Stay the asshole course. It's not always easy Vlady, myshka, I know. You are a complex person. Your thuggish tactics and brutal persecutions of the innocent are balanced by your love of dogs and those other animals you're always posing with after you shoot them. You think people would warm to you if only they heard about the goofy pranks you used to pull in your KGB days, hooking up electrodes to the shower stalls. I understand. Being a full-time, 24/7 tyrannical dickhead can be tiresome.
But consistency is the key to marketing. There's a reason Tim Horton's doesn't sell $700/kg coffee that's been shit out by civet cats. Nor does Coca-Cola advertise the fact that it's a sure-fire way to kill garden slugs or clean tile grout, in spite of all the dollars they leave on the table thereby. Successful companies know they need to pick a marketing message and stick with it. You're an asshole, Vladimir. Embrace that. Remember what happened when Michael Jordan decided to try baseball.
I am already concerned with the mixed messages you've been sending. For example, you relentlessly persecute gays yet release enough shirtless photos to compile five years' worth of Fireman Putin calendars.
Prosecute them or pose for them, Vladimir. You can't do both.
Clarity, please
Then there's Edward Snowden. I realize that granting asylum to the NSA leaker was not about doing the right thing. It was about being an asshole, in this case to President Obama. I get that. But you have others confused. Some people are suggesting you are a defender of freedom, opinions which hopefully will be used later to prevent those people from ever getting jobs in the school system, even as janitors.
It would help if you could clarify matters. Why not announce that only fags wear glasses and demand that Snowden get contacts? Or give him a job digging up photos of opposition politicians wearing pink?
I have confidence in you, my little Tsar. Dumping Lyudmila, your wife of 30 years, reportedly for an Olympic gymnast, proves you know how to make yourself look like an asshole. I'm told Lyudmila was shocked by the move: "I promised Vladimir he could still persecute other people," she reportedly said.
After a joke like that Mr. President, if I'm not suffering from acute radiation poisoning in a week I'll be very disappointed in you.