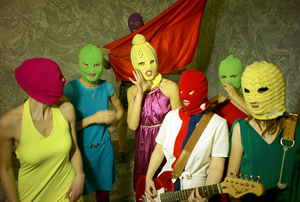 "Russian authorities will stop at no end to suppress dissent and stifle civil society." -- Amnesty International
What kind of backwater repressive dictatorship would ban gay pride parades for the next 100 years, throw peaceful protestors in jail for two years hard labour and call a prominent music star a "whore" for daring to speak out against it?
Welcome to President Vladimir Putin's Russia, which has democratic pretensions but is clearly an intolerant, homophobic regime for many of its citizens.
The pre-trial jailing of three members of punk band "Pussy Riot" for protesting against Putin in Moscow's main Orthodox cathedral was outrageous enough.
But now the three women -- two of them mothers of young children -- are sentenced to two years hard labour in a penal colony!
Pussy Riot's terrible crime? They jumped on a church stage wearing colourful balaclavas to deliver a punk prayer chanting "Holy Mother, Drive Putin Away" during February's presidential election. You can watch it here.
Not to be outdone, another Moscow court this month upheld that city's ban on any Pride parades by gay, lesbian, bisexual and transgendered citizens for a century.
Moscow's former mayor Yuri Luzhkov said he introduced the ban to prevent violent reactions against Pride and calls homosexuals "satanic." Luzhkov was fired in 2010 by former Russian president Dmitry Medvedev but the law remains.
And given that deputy prime minister Dmitry Rogozin called music star Madonna a "whore" on Twitter after she had Pussy Riot's name stenciled on her back during her Moscow concert this month and called for their freedom, don't expect much to change anytime soon.
In fact, Madonna is being sued for $10 million by Russian anti-gay activists for denouncing a city law in St. Petersburg that bans spreading "homosexual propaganda," whatever that is.
"Maybe someone does not see the link but after Madonna's concert maybe some boy becomes gay, some girl becomes lesbian, fewer children are born as a result and this big country cannot defend its borders -- for me it causes moral suffering," claimed Alexei Kolotkov, one of those suing Madonna in an action that stretches credulity well beyond the breaking point.
No word yet on how many concert converts to homosexuality resulted from the Material Girl's St. Petersburg gig.
Pussy Riot member's Canadian link
One of the jailed Pussy Riot band members is Nadezhda Tolokonnikova, 22, who holds a permanent Canadian residency card and an Ontario health card.
But that hasn't made a difference in Canada's pathetic response to the show trial, which to date consists of stating that: "The promotion of Canadian values including freedom, democracy, human rights, and the rule of law, features prominently in our ongoing dialogue with the Russian authorities."
More important, of course, is about $3 billion in trade between Canada and Russia.
So as Pussy Riot members sat in jail, Conservative International Trade Minister Ed Fast, MP for Abbotsford, led a trade mission to Russia in June, calling it "a priority market."
Fast should read the verdict pronounced by Moscow judge Marina Syrova, in which she describes Tolokonnikiova, and fellow Pussy Riot prisoners Maria Alekhina and Ekaterina Samutsevich as posing a danger to society for committing "grave crimes" including "the insult and humiliation of the Christian faith and inciting religious hatred."
Syrova claimed there was evidence the women had "psychological disorders" and denounced them for espousing feminism, though she noted that: "belonging to feminism in the Russian Federation is not a legal violation or a crime."
Not yet and how fortunate for Pussy Riot and others -- but stay tuned, it could be illegal soon!
Take action
Of course, such repressive moves should be no surprise.
Russia has also joined with the dictators of China to stop any meaningful international intervention to end the massacre of the Syrian people by President Bashar al-Assad, an infinitely more serious situation.
So what can we do here? Support online campaigns to free Pussy Riot and overturn homophobic laws in Russia.
Groups like Amnesty International and All Out are campaigning for human rights in Russia.
Think hard about spending your tourist dollars travelling to Russia.
And consider buying vodka from other countries, where basic human rights aren't so hard to swallow.