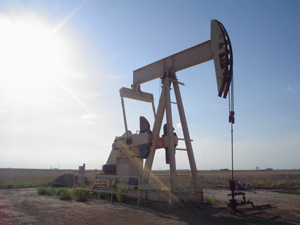 [Editor's note: British Columbia's economy is growing. Much of that growth rests on expanded resource industries. Yet our laws designed to protect the unparalleled beauty and richness of the B.C. environment have been weakened, both federally and provincially, over the past decade. Over the next few weeks, this Tyee special series in cooperation with the Environmental Law Centre at the University of Victoria, will reveal what B.C.'s leading experts in environmental law say most needs to be fixed, and their specific suggestions for change. To read all their recommendations, download the free electronic publication "Maintaining Natural British Columbia for Our Children: Selected Law Reform Proposals." Today: Responding to B.C.'s oil and gas boom.]
In recent years, the oil and gas industry has changed the face of northeast British Columbia. The industry has brought great wealth but at a profound cost to this beautiful area. Residents are extremely concerned about air pollution, water pollution, and health risks. The boom in fracking for natural gas heightened those concerns.
Yet many regulations are vague or permissive; monitoring and enforcement is inadequate; and fines have been laughably small. The regulator, the Oil and Gas Commission, is seen as unduly influenced by industry and lacking sufficient concern for public health or the environment. Landowners have not had the ability to protect themselves from industrial activity on their own lands.
Development has proceeded without regulation of cumulative impacts -- and without an overall vision for what British Columbians want the region to look like in the end. Furthermore, there is no strategy to set aside for the future a portion of the money made from liquidating our non-renewable riches.
Implementing the following recommendations would reduce the impacts of oil and gas development while maximizing benefits to British Columbians.
The government should establish binding cumulative impact thresholds in B.C.'s oil and gas areas, and balance various uses of the landscape within those thresholds.
The overall impact of the oil and gas industry is much greater than a single project would suggest. For example, in 2004, B.C. had enough seismic lines -- five-metre-wide swaths of land cleared for oil and gas exploration -- to cross Canada 20 times. The industry is eating into the timber supply of forest companies, critical habitat for wildlife and productive farm and ranch land.
Maximum impact thresholds must be established for resource extraction, other human uses, and ecological requirements for lands and wildlife -- allocating activity so that overall impacts do not exceed these thresholds.
Create an independent body to research, strengthen, and enforce pollution and health rules relating to oil and gas activity, and to address the health impacts associated with development.
Health impacts from oil and gas development, particularly from accidents, are a serious problem and tend not to be well understood outside of northeast British Columbia. For example, highly poisonous "sour" gas wells can be drilled as close as 100 metres to a house, exposing occupants to risks from blowouts and low level exposure. In 2009, a sour gas leak near Pouce Coupe spewed 30,000 cubic metres of toxic gas into the air, forcing 15 people to flee their homes, killing a horse, and raising concerns about the adequacy of safety measures. Residents and workers alike share concerns about safety and the long-term health effects of chemical exposure.
Many upstream oil and gas emissions aren't adequately regulated, resulting in an underestimation of risks to health. Steady small emissions from the industry add up, to create serious air quality issues. A 2010 study found emissions of nitrogen oxide, sulphur oxide and volatile organic compounds were double what government reported.
The province has promised an air-quality monitoring program in the northeast, but more is needed. An independent body should have the sole mandate of protecting the health of British Columbians based on research into the effects of oil and gas activity. The body must have the authority to implement measures to better protect those most affected.
Restore monitoring and enforcement staff to pre-2001 levels. Meaningful fines for infractions should be implemented; and oversight roles should be restored to agencies other than the Oil and Gas Commission.
The Oil and Gas Commission was established in the late 1990s as an independent regulator with a mandate to regulate oil and gas activity in the province. Changes over the past decade broadened its mandate to include oversight related to environmental laws, use of agricultural land, and water withdrawals by industry -- areas once in the purview of other ministries. In addition, structural changes now allow the government to influence the once-independent regulator.
This problem is compounded by the fact that even B.C.'s weak oil and gas laws are not being enforced. One joint audit conducted by provincial ministries and the federal Department of Fisheries and Oceans found that 20 per cent of industry activities disregarded the law or posed an immediate threat to the environment. In the past, over 60 per cent of Oil and Gas Commission field inspections have identified infractions. A 2009 review found that the Ministry of Environment had the lowest level of convictions in 20 years, largely because of extensive budget cutbacks.
Adequately staffed agencies other than the Oil and Gas Commission should play a role in ensuring compliance with environmental and other standards.
Place a moratorium on hydraulic fracturing until impacts are fully assessed, and laws passed to ensure that groundwater and aquifers are adequately protected.
"Fracking" has been the primary means of extracting natural gas in British Columbia for almost a decade. No environmental assessments are conducted of any fracking activity. Authorizations are routinely granted with minimal review, despite the fact that the Oil and Gas Commission has firmly established a link between fracking and seismic activity, and has cautioned companies against shoddy practices resulting in subsurface gas leaks.
The risks of fracking are well known and documented. The use of chemicals, disposing of millions of litres of flowback water, and the unknown impacts of explosions on water tables underground are just some of the issues. And while the geology in British Columbia may -- or may not -- reduce some risks, a precautionary approach would dictate that these issues be understood and analyzed in advance of fracking activity.
B.C. needs a moratorium on fracking until we understand and can manage these risks responsibly.
Give landowners and locals the power to say 'no' to oil and gas development that may adversely affect them; at a minimum, provide meaningful consultation on oil and gas activities for landowners and locals before approvals are granted.
Oil and gas companies can drill on private property without the owner's consent. Multiple well pads and pipelines on a ranch or farmland make it difficult for locals to use and enjoy land as they would like. These infringements have intensified where fracking takes place around the clock for extended periods of time, and dozens of wells can be drilled off a single pad site.
In B.C., when landowners and companies do not agree on the terms of surface access, the Surface Rights Board can be asked to make a ruling. It may specify terms of entry, including the amount of rent or compensation owed to a landowner, but the Board has no authority to deny entry to a company.
The situation for neighbouring residents is worse. They may not receive the same notice or information as landowners. Rights afforded to individuals who live in oil and gas producing parts of the province are not on par with those of companies. The playing field must be levelled.
End subsidies and royalty breaks to the industry, and direct 25 per cent of oil and gas revenues into a B.C. "heritage" fund to support a just transition to sustainable industries.
B.C. gives extensive tax and royalty credits to the oil and gas industry. By subsidizing this highly profitable industry, B.C. is subsidizing global warming while short-changing the public. Other jurisdictions recognize the finite nature of fossil fuel revenues, and have set them aside for the future or to facilitate sustainable economies. B.C. should do likewise.
For more information, see:
Oil and Gas in British Columbia: 10 Steps to Responsible Development. West Coast Environmental Law.
New Oil and Gas Activities Act and Regulations Overlook Public Health. Tim Thielmann
Oil and Gas Reform. The Environmental Law Centre Clinic.
Hydraulic Fracturing 101. Earthworks. 
Oil and Gas Commission gets failing grade for water regulation. West Coast Environmental Law.