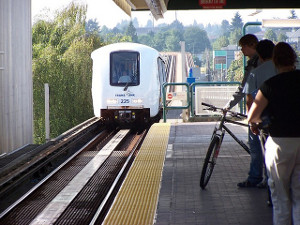 It's the second day of the Velo-city gathering in Vancouver, drawing people from all over the world united in their desire to bring about a bicycle-powered revolution, and as I roll up and begin locking my crappy commuter to one of the railings on the front plaza of the Wall Centre a bearded security guard comes my way.
"No bikes allowed," is what I think he yells, but the statement seems so out of place, I ignore it.
Then he runs over and repeats himself.
"Are you serious?" I stammer. "What about the 800 or so BIXI bikes parked in the corner?"
"That's different."
It seems the BIXIs, physical manifestations of a marketing push by Montreal's PBSC Urban Solutions meant to spread the gospel of public bike sharing, enjoy immunity from the man's bizarre anti-parking directives.
"But what about all these other private bikes locked up in a similar fashion?" I ask, my flailing arms guiding his gaze around the plaza.
"That happened before I got here," he says, adamant.
"Well can you just turn around or something? This will only take a second."
No dice. Arms crossed, he watches me walk my bike over to Burrard Street and lock it to a no-parking sign. I'm not sure he gets the irony.
Inside the conference, out for some kind of childish revenge, I grab a B-Cycle off a strangely encouraging company rep and pedal it recklessly around the busy exhibition floor, the front-heavy beast wobbly as hell, my finger flicking the bell with great urgency, easily parting the sea of bike lovers. Surprisingly, nobody cares, not even the BIXI rep I taunt atop the competitors' machine.
Obligatory morning merrymaking complete, I flip through the program to see which sessions I might still be able to attend. This day is all about synergies between cycling and public transport. Wildly interesting stuff. Unfortunately, with 10 simultaneous talks going on at any given time, it's all a sweaty blur of escalators, slamming doors, shuffling chairs and unimpressed presenters until I realize I'm being more disruptive than productive. I run down to the media room to vent to someone about too much excellent programming (here are those champagne problems again) and find the conference organizers setting up another roundtable. My media monopoly is ruined by a bike-loving reporter from the Calgary Herald, but he's a quiet and polite young man happy to sit back and let me lead the next hour.
Capitalists for cycling
It's the same setup as before, but this time the tiny room is full of high-ranking transit executives keen to shill for cycling. Middle-aged white men one and all, it's tough to keep them straight until their worldly accents give one distinction from the rest.
"But cycling is just for hippies, communists and poor people, right? Until there's money in it, I don't really give a damn." I instigate. I'm after an easy ice-breaker, but my quip sparks passionate rants:
"I'm a mean capitalist," confesses a blonde suit with a Scandinavian accent, setting the tone for the session. I match his nametag to the list of keynote speakers in the conference program and find he's one Aske Wieth-Knudsen, head of strategy for Denmark's DSB S-Train, the commuter rail system in and around Copenhagen.
"Customers demand door-to-door train support. We cannot offer than in our system," he continues. "So we have to work together with other means of transport, including the bikes. And in our case, bikes seem to be the most cost-effective way to increase our market share around the station."
"But what's the business case for ramping up cycling infrastructure?" I press.
"What we found is that it's a very good business case for us," continues the self-confessed capitalist from Copenhagen. "The investments compared to the benefits are very small. When we invest one dollar, we get two dollars back in more customers in our system."
"He's right. We operate a business. I'm a ticket seller," says another suit, the loudest of the lot, whose dirty French accent gives him away as Michel Labrecque, chair of Société de transport de Montréal.
"I sell half a billion dollars of tickets a year. And I want to sell more," he continues, rubbing his hands together like a greedy cartoon villain. "For that I need to know what my clientele want. And I know my clientele want to be linked. Want to be door-to-door easily."
Beyond station-to-station
Here's that door-to-door phrase again. I'd seen it earlier this morning in some literature from the European Cyclists' Federation (ECF). Turns out it's the holy grail of public transit. Customers want door-to-door service, but most transport authorities can only afford to take passengers station-to-station. And here's where cycling comes in as a range extender, a type of public transport feeder that significantly increases the catchment area of existing transit hubs:
According to studies done by the ECF, most passengers consider a ten-minute trip to a transit stop acceptable. If it takes longer than that, they look for other options. Now let's break down that 10-minute trip: for a pedestrian walking at 5 km/h, ten minutes means a distance of some 800 meters. For a cyclist going 20 km/h, that same timespan allows travel of up to 3.3 kilometers. Now get out your compasses and use the two numbers as radii originating at transit hubs. You don't need to be a map or math nerd to see why the larger circle is superior.
Copenhagen planners realized the best way to grow those catchment circles is to build cycling infrastructure. Predictably, that infrastructure increases cycle mode share. Surprisingly, it also increases the mode share of public transit.
"We know, typically, when people get inside the car and sit behind the steering wheel, it's quite difficult to get them out of the car," adds Wieth-Knudsen. "But when they get on a bike, it's quite easy to get them to shift to public transport."
Montreal's Labrecque has been exploiting this synergy further by offering incentives to transit riders also interested in cycling. These include various rebates and cross promotions, the sweetest of which is a free public bike membership (Montreal is where this whole BIXI craze began) for annual transit pass holders. Labrecque sees it as an easy way to increase revenue without having to increase capacity on the metro, because many of those who buy into the intermodal deals choose to bike anyway, at least until the snow comes.
"I need a good public transit system so (the cyclist) won't buy a car," he says. "I may have lost him for the spring, summer and fall seasons as a client, but he's back on my system by wintertime."
The one caveat I'm told about is that, in order for any of this to happen, officials must make it simple and safe for people to choose bikes over cars by building bike capacity on trains and buses, outfitting stations with secure bike parking and storage and, most importantly, creating a network of bike lanes.
"And it's not just the network, it's the connectivity of the network," says a Greek-sounding man to my right. I flip through the booklet like a maniac. It's Timothy Papandreou, deputy director of sustainable streets at the San Francisco Municipal Transportation Agency. "You can't just have this beautiful cycle track dead into nothing. It has to be continuous to the major destinations."
It sounds like we're getting somewhere, but then I make an innocent comment about costs and suddenly I'm the idiot again.
"This all sounds terribly expensive, gentlemen," I venture and all hell breaks loose.
"Expensive? Compared to what?" three of them yell out in comical unison.
"One subway station at a quarter of a billion dollars! Expensive? Sorry, no!" fires Labrecque. In his mind, cycling infrastructure is not expensive enough; he's sick of politicians dismissing it as an insignificant red-line item in budgets instead of seeing it as a top-line revenue source.
"Investing in railway infrastructure or in faster trains, we talk hundreds of millions. But reducing travel time by better bike path for example, is much cheaper," adds Wieth-Knudsen, the most diplomatic of the lot. "So 'expensive' is not right concerning bikes."
"It's all directional paint, it's not expensive at all," elaborates Papandreou. "Paint and some traffic calming."
We quarrel hard about whether painted lines are as effective as separated bike lanes. It nearly comes to blows, but a smart European arterial road design shuts us all up: paint a bike lane closest to the curb, then mark a parking lane on the outside of that. Slow-moving parking cars then act as a perfect (if ironic) barrier between the bike path and the fast traffic of the arterial route. Total cost? Dollars per kilometer.
Translink, take note?
I'm no planner, but this should all be very interesting for Translink, Metro Vancouver's cash-strapped transportation authority. I point to a suit across the table from me who has yet to say a word. His name tag reads Bob Paddon. As luck may have it, he's one of the founders of Translink, where he remains a high-ranking executive in charge of public engagement.
"We think we've done well," he starts, cautiously. "Over the decades since Translink has been in existence we've invested $50 million in cycling infrastructure. We contribute $3 to $6 million a year."
"Three-to-six?," I ask.
"We had been up to six. We had to go back to three. If we find more money, we will go back up to six," he says.
"Did you listen to any of this?" I press. "What about the idea that investing in cycling infrastructure pays for itself in new transit ridership?"
"It's clear to us there is a market there," he agrees, referring back to Translink's own studies revealing a large latent demand for cycling infrastructure in Metro Vancouver.
"We want to grow our regional cycle mode share," he finally admits. "We haven't locked in the targets just yet, but we're thinking we should be able to get to 10, 15 per cent. What's it going to take?"
I have no idea, but talk of Transport 2040 doesn't exactly scream, "Urgent!"
TOMORROW: Now a seasoned (and jaded) conference delegate, Brocki reflects on shifting Vancouver's cycling culture away from sport and toward utility riding, explores cycling as a tool of democracy and laments the futility of signing symbolic, non-binding charters promising change.