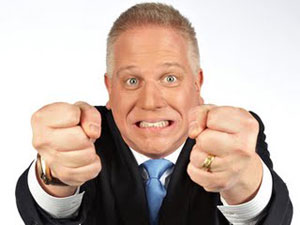 The death of Osama bin Laden is as good a time as any to reflect on the state of extremism around the globe. In the years since 9-11, the world has been wrenched by radicals on both sides of the East-West divide who have opportunistically stoked distrust for the "other" in order to elevate their own profile and power.
In a strange symbiosis of hatred, many celebrity extremists from the last decade from Ann Coulter to bin Laden became wealthy and powerful preaching the impossibility of reconciliation while holding up their loopy counterparts as evidence.
Thankfully this decade of hysteria seems to be blowing over. Glenn Beck's show was recently cancelled after his audience dropped by almost forty per cent. Coulter's influence has been on the wane for years.
And bin Laden's death drew a mere 300 protesters in Cairo, where only two months before 250,000 crammed into Tahrir Square to celebrate the peaceful overthrow of the Mubarak regime.
Rather than the violent revolution to install a medieval Islamic caliphate that bin Laden had sought for decades, this was a non-violent middle-class movement courageously demanding democracy and human rights.
Who's out?
The revolutions in Tunisia and Egypt have inspired a wave of uprisings throughout the Middle East led by some of the bravest souls on the planet. The courage required to face brutal regimes like Libya and Syria on the streets also makes the suburban indignation of the Tea Party seem comical in comparison.
These struggles for liberty would make the American founding fathers proud and are shifting the opinion held by many in the West that Arab nations are somehow incapable of democracy.
The tactic of defining community by who is out, rather than who is in, remains a time-tested tool of political hucksters the world-over. A recent domestic example is Reverend Terry Jones who catapulted himself to fame in July 2010 when he threatened to burn a copy of Koran to protest over the 10th anniversary of the September 11th attacks. Even though he reneged on this promised act of idiocy, the resulting outrage in the Middle East killed at least 20 people.
Eight months later he changed his mind again, holding a mock trial for the Islamic holy book and burning a copy in a barbeque in the back of his tiny Gainesville Church, which has an active membership of about 30 people.
This intolerant tree falling in the forest might never have been noticed had not Afghan President Hamid Karzai announced it in a speech 12 days later. Another 30 people including seven UN workers were promptly killed in resulting riots in Afghanistan.
Western reporters in that country were amazed that even well-educated Afghans thought that Koran burning was a common American pastime. They apparently had no idea that Jones was such a pariah and laughingstock in America that he had the sell the congregation furniture on eBay to make ends meet.
Even an organization billing itself as the Extreme Right Wing, an "armed Christian conservative group," dissociated itself from the stunt because it exceeded even their stupidity quotient.
Global echo chamber
Such details certainly do not deter Jones's extremist counterparts in Afghanistan. U.S. General David Petraeus warned it was "precisely the kind of action the Taliban uses and could cause significant problems -- not just here, but everywhere in the world we are engaged with the Islamic community."
Always grateful for a chance to demonize the West, Iran's repressive leadership highlighted Jones as not merely a typical American, but one doing the bidding of the U.S. government and Israel.
The recent ability to transmit information around the world in real time has created a global echo chamber where extremists from all sides can help amplify each other beyond their wildest proportion.
But emerging technology has also created an opportunity for citizens to see beyond their own shrill messengers and decide for themselves who the "other" is. This global awakening happens more each day.
Support for bin Laden's violent views among the world's Muslim nations has been plummeting for the last 10 years. Opinion polling shows that over 80 per cent of Afghans disapprove of both al-Qaeda and the Taliban.
Likewise, about 230 million Americans identify as Christians, meaning the Koran burning enthusiasts led by Terry Jones account for less than 0.00002 per cent of U.S. churchgoers.
Ending the age of intolerance
Regardless of culture, history or extremist hucksters on all sides, we humans are finding we have more in common with each other than we think.
Consider that bin Laden apparently died in one of two rooms that he had not left in five years. Rather than the wildly popular leader that many Americans might believe him to be, he spent the last half-decade imprisoned by his own violent ideology that consistently failed to gain widespread acceptance within the Muslim world.
Not to be outdone in the arena of insane ideology, Ann Coulter once said "I think the government should be spying on all Arabs, engaging in torture as a televised spectator sport, dropping daisy cutters wantonly throughout the Middle East and sending liberals to Guantanamo."
Are we so different? Even our extremists need each other.
Many concrete things need to happen to end the age of intolerance. High on that list is the West ending its addiction to fossil fuels and all the externalized costs of compromised foreign policy and human rights that result. The difficult road to self-determination now being fought on Arab streets also deserves our admiration and assistance.
If successful, these transformational journeys will make the world a far safer place than the trillions that continue to be poured into military spending. Like the bygone fads of hula-hoops, flared pants, and tube tops, the celebrity extremists that defined the last decade will hopefully also soon be a historical curiosity.