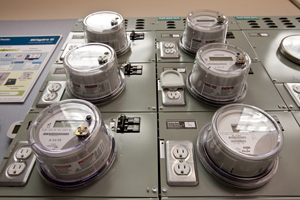 [Editor's note: This piece follows on a previous article by McMartin you can read here.]
BC Hydro's proposed smart meter program may utilize new technology, but the insiders who stand to gain from this $1-billion potential boondoggle have political roots in B.C. going back to the early 1980s.
The scene: B.C.'s Legislative Assembly. The date: June 2, 1982. It's early afternoon, and question period has just begun. From the opposition benches, Frank Howard, the New Democratic Party MLA for Skeena, fires a volley of uncomfortable questions at Bob McClelland, the Energy minister and Social Credit MLA for Langley.
Did the minister go to New York City in June 1980 and take a chauffeur-driven limousine to the Plaza Hotel? Were the car and driver kept on standby for more than 10 hours at an exorbitant cost to B.C. taxpayers?
And did the minister host a group of New Yorkers at a Broadway show and send the bill to taxpayers? Was the cost of the theatre ducats more than twice face value because they were bought through a scalper?
Moreover, did the minister -- "Oh, oh!" was the response from MLAs, as recorded by Hansard -- recall that the show was a burlesque called Sugar Babies?
McClelland, who that day gained the nickname "Broadway Bob," took the questions on notice.
He returned to the House the next day and explained that the purpose of his visit to New York "was to meet with senior representatives of financial and investment houses, energy consultants, the province's principal financial agents, and representatives of newspapers and publications such as the Wall Street Journal, the New York Times, Newsweek and several oil and gas journals."
Yes, there had been a visit to a theatre, but it was followed by a "working dinner." Still, McClelland said that he intended to reimburse taxpayers for the cost of his Broadway ticket, and would urge other attendees to do the same.
And, by the way, the minister said that he had been accompanied throughout his New York sojourn by "a U.S. consultant, Mr. Peter Restler."
Appetites for business
Fast-forward to March, 2005. The scene: New York City, at the exclusive Asiate Restaurant in Lower Manhattan. Located at 80 Columbus Circle, the Asiate eatery is a stone's throw from Broadway and just a few blocks north of the theatre district where "Sugar Babies" was playing when Bob McClelland visited in 1980.
Gordon Campbell, the premier of British Columbia, is on a working visit -- is there any other kind of taxpayer-funded travel undertaken by B.C. politicians? -- with a couple of staffers, Lara Dauphinee (his executive assistant) and Mike Morton (press secretary).
The trio are dinner guests of Larry Blain, the BC Liberal government-appointed president and CEO of a provincially-owned Crown corporation, Partnerships BC.
And joining the British Columbians for dinner at Asiate is none other than Peter Restler, the New York "consultant" who was McClelland's companion 25 years earlier.
Would it surprise anyone to know that B.C. taxpayers, just as they had for McClelland's visit in 1980, paid the tab for Campbell and company in 2005?
That's because Blain submitted the $312.50 tab (tip not included) for reimbursement when he returned from New York, and beleaguered British Columbians dutifully coughed up for the evening's repast.
(The story was reported by Andrew McLeod, now the Tyee's legislative bureau chief, in 2007 after a freedom of information request of Blain's expenses at Partnerships BC.)
Restler's rise
Who is Peter Restler, and why do B.C. politicians -- from McClelland in 1980, to Campbell in 2005 (and who knows how many in between) -- have to see him when they visit New York?
And what does this have to do with BC Hydro's plan to spend nearly $1 billion on its smart meter program?
Restler graduated from the University of Pennsylvania in Philadelphia in 1968. Armed with a bachelor's degree in science (from Penn's prestigious Wharton School of Business), he went to work at one of Canada's leading brokerages, Wood Gundy, which had an office in New York. In time, he rose to become a Wood Gundy vice-president and director.
The 1980s saw numerous mergers and acquisitions in the financial services sector, both in Canada and the U.S. One of the biggest deals took place in 1984, when American Express bought Lehman Brothers Kuhn Loeb, and the new company for a time was called Shearson Lehman Brothers/American Express.
With solid connections to Canadian politicians and bureaucrats through his tenure at Wood Gundy -- which was a leading underwriter of federal and provincial government bonds -- Restler joined Shearson Lehman as senior vice president, responsible for the firm's operations in Canada.
(Wood Gundy became CIBC Wood Gundy after it was bought in 1988 by the Canadian Imperial Bank of Commerce. A decade later, the firm became CIBC World Markets, and in 2004 it was retained to oversee the privatization of BC Rail.)
Influenced by British prime minister Margaret Thatcher and U.S. president Ronald Reagan, the 1980s also were a time of government downsizing and privatization. In B.C. in 1988, the Social Credit government of Bill Vander Zalm passed the Hydro and Power Authority Privatization Act, which ordered the province's largest Crown corporation, BC Hydro and Power Authority, to sell a number of assets.
The largest of those assets was BC Hydro's natural gas division, Mainland Gas. The bidders for the operation were somewhat limited in number, however, because the Socreds' privatization legislation required the gas company's headquarters to stay in British Columbia. A relatively small distribution company based in the province's Interior, Inland Natural Gas Co., prevailed with a $741 million bid.
The lead adviser for Inland Gas when it bought Mainland Gas was none other than, Peter Restler.
The making of CAI
At or about the same time that Restler was guiding the privatization of Hydro's gas division, he decided to leave Shearson Lehman Brothers. Along with about a half dozen others from business and Wall Street, he started a small, boutique investment firm called CAI Capital Management.
CAI opened its doors in 1989, and began looking for both investors and investment opportunities. It found both in Canada.
MacDonald Dettwiler and Associates, the Richmond-based firm specializing in satellite imaging, space robotics and environmental monitoring, was one of the earliest companies with which Restler and CAI held discussions. Talks remained exploratory until 1999, when the New York firm and another investor together acquired a one-third interest in the Richmond company.
Restler soon took a seat on MDA's board of directors, and a year later he was joined by David Emerson -- a CAI investor and, since 2008, a "senior advisor" at the equity firm's Vancouver office.
By 2004, CAI (with a substantial profit) had exited its position in MacDonald Dettwiler, and that same year Emerson won election as a Liberal Member of Parliament for Vancouver-Kingsway. (He crossed the floor days after the 2006 general election to join the victorious Conservatives and retain his seat at the cabinet table. Rather than face his constituents and answer for that controversial decision, Emerson retired prior to the 2008 election.)
Selling off Terasen
Inland Natural Gas Co., following the purchase of BC Hydro's Mainland Gas division, renamed itself as BC Gas Inc. to reflect its expanded operations. The new name remained in effect until 2003, when it was changed again, this time to Terasen Gas Inc.
Two years later -- and after the BC Liberal government had generously repealed the statutory requirement that its corporate headquarters remain in British Columbia -- Terasen was sold to a Texas energy conglomerate, Kinder Morgan.
Likely, Kinder Morgan had little or no interest in Terasen's network of underground distribution pipes -- that is, the ones delivering natural gas to communities, homes and businesses across British Columbia -- nor in the company's water and utilities operations.
The real asset coveted by the Texans was Terasen's Alberta-B.C. pipeline, which delivers oil to Burnaby, from where much of it is exported to Asia. (See Mitchell Anderson in the Tyee here and here.)
In 2006, Kinder Morgan sold Terasen's water and utilities subsidiary (Terasen Multi-Utilities Services Inc.), and a year later the remainder of the company (minus the Alberta-B.C. pipeline) was bought by Newfoundland-based Fortis Inc. (In February, Fortis announced that the Terasen name will disappear, with the company's operations to be known as FortisBC.)
The buyer of Terasen Utility Services in 2006 was none other than Peter Restler's CAI Capital Management, in partnership with the British Columbia Investment Management Corporation. (The latter entity manages many of B.C.'s public-sector pension plans.)
According to documents filed at the B.C. Utilities Commission, CAI and BCIMC both bought about 48 per cent of the shares in the water and utilities division, with the remaining shares purchased by Terasen's senior management.
The $125 million sale was completed in May 2006, and in July of that year the company's name was changed from Terasen to Corix.
'Turbo power to… make things happen faster'
CAI had opened an office in Vancouver three years before it bought Corix, with Tracey McVicar named as managing director. In December 2007 -- two years after Gordon Campbell, Larry Blain and Peter Restler shared dinner in New York -- the BC Liberal government appointed McVicar to the board of directors of the province's largest Crown corporation, BC Hydro and Power Authority.
The purchase of Corix and McVicar's appointment to BC Hydro's board fit well into a grand design at CAI, which years earlier had begun focussing on investment opportunities with utilities and energy companies.
"If a group of people comes with a great business, that could really open doors for them at big utilities," McVicar explained in a 2008 interview with a magazine geared toward private-equity investors, "we hope that we can provide some turbo power to the business plan to make things happen faster, as well as serve as a sort of intelligence gathering unit." (See p. 14-17 here.)
Peter Restler and Tracey McVicar over the last several years have continued to foster good relations with the BC Liberals, and "intelligence gathering."
On Apr. 24, 2009, for example, less than three weeks before the government faced voters in B.C.'s general election, the two sent a pair of $2,500 cheques to the BC Liberal party.
(Four months earlier, Corix had sent a cheque to the BC Liberals for an identical $2,500. See Elections BC here.)
In October 2009, five months after winning re-election to government, Gordon Campbell again was in New York City, this time to attend a private reception with the American Friends of the National Art Gallery of Canada. (And, of course, to do work on behalf of the people of British Columbia, who paid for his travel.)
Peter Restler hosted the event for Campbell, which was attended by about 30 well-heeled New Yorkers.
Three months later it was Campbell's turn to host Restler, who traveled to Vancouver for the 2010 Winter Olympics. Two tickets, each worth $1,100 -- and paid for by B.C. taxpayers -- were given to Restler and an unnamed guest so they could attend the opening ceremonies. (See blog story by 24 Hours' Bob Mackin here.)
Finally, seven weeks ago, in an event totally unrelated to any of the foregoing, BC Hydro announced that it had selected CAI-owned Corix to install as many as 1.8 million smart meters at every residence and business across B.C.
The contract is valued at $73 million.