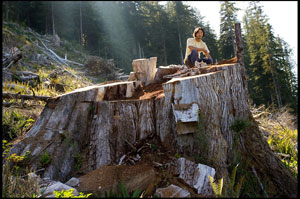 [Editor's note: Mark Leiren-Young's Trees and Us podcast series was inspired by Leiren-Young's award-winning feature film, The Green Chain, which he wrote, directed and produced and which opened in Vancouver last spring. New Trees and Us podcasts run every other week in The Tyee and a book with all 22 interviews is in the works.]
Ken Wu knows how to get attention for ancient forests.
When we met at the Bread Garden Café on Broadway in Vancouver just after the news broke a few weeks ago that he and several other tree-hugging stalwarts from Vancouver Island had splintered from the Western Canada Wilderness Committee to form the Ancient Forest Alliance, the former Victoria campaign director for WCWC mentioned how much he enjoyed the movie Avatar.
A few weeks later he'd not only shone the media spotlight at his new organization -- while repeatedly resisting the opportunity to take potshots at his old one for closing down the office that has been home base for many Vancouver Island environmentalists -- he'd launched a new high-profile campaign to save an ancient forest near Port Renfrew that his group has dubbed what else but "the Avatar Grove." Also known as TFL (Tree Farm License) 46, the stand, which includes some of South Island's largest red cedars and Douglas firs, is scheduled to be logged any second now.
If the name attracts the attention of Avatar creator James Cameron -- and in the days of Twitter and Google alerts you never know (this'd be the hint for whoever reads Cameron's press to alert him before it's too late) -- this could be the most inspired new name for a patch of endangered land since "The Great Bear Rainforest."
I spoke to Wu about the challenges of starting a new group -- their total bankroll when we met was just over $200 -- his excitement at the freedom that comes with not being part of a group with charitable status and his conviction that he could build an effective new organization from scratch with the magic of Facebook and the alliance he helped build on Vancouver Island.
At press time the Alliance's two Facebook groups already had close to 7,000 members.