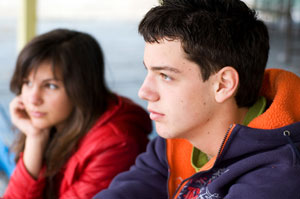 On Gordon Campbell's watch, British Columbia has developed some very severe long-term economic problems. Even before the 2008 economic meltdown, B.C.'s productivity was declining along with business investment and exports. This helped kill thousands of good-paying jobs in resource industries and manufacturing.
As a result, we have seen a long-term stagnation in real wages and a steady widening of the gap between rich and poor. This is at the root of the mounting levels of poverty and social dislocation we see in British Columbia today.
According to First Call BC, the province's child-poverty rate fell to 13 per cent in 2007 from 16.5 per cent in 2006. Despite the decline, however, the province continued to have the worst child-poverty record across Canada for the sixth consecutive year. The 2007 rate is still one third higher than the national child-poverty rate of 9.5 per cent. There were 108,000 poor B.C. children in 2007 compared to 137,000 in 2006, says First Call.
The overall poverty rate in B.C. for all persons decreased from 13 per cent in 2006 to 11.1 per cent in 2007 but that's still also the worst of any province in Canada.
That situation is made worse by B.C.'s $8 minimum wage. First Call's Adrienne Montani points out that in 2006, both single and two-parent poor families on benefits were struggling to get by on an average annual income more than $11,000 below the poverty line. And more than half of B.C.'s poor children lived in families where the adults worked the equivalent of a full-time, full-year job.
Yet Campbell proudly refused to raise the minimum wage, suggesting that it would kill 50,000 jobs. While his research came straight from the Fraser Institute, there's a wealth of different evidence showing that a minimum-wage raise has little negative impact on employment; in fact, a growing number of studies indicate and many leading economists agree that there might be a net job-creation bias to a minimum-wage raise because low-income families and individuals are likely to spend locally almost all of any increase in incomes they receive.
That's why the economic stimulus benefit from tax cuts for low-income earners is almost three and a half times as great as tax cuts for high-income earners. It's also why U.S. economists have found that income-support programs such as employment insurance and food stamps provide the biggest potential "bang for the buck" of any of President Barack Obama's proposed economic stimulus measures.
Homelessness
The most visible result of poverty is homelessness. The April 2008 regional homeless count found 2,592 people living without homes in Metro Vancouver. Street homelessness rose in every community within the region, though Vancouver and Surrey continue to bear the brunt -- and the tax burden -- of sustaining three-quarters of Metro Vancouver's homeless population, reported the Tyee. The regional total squares with a recent SFU study that estimated province-wide homelessness at up to 15,500.
That number was already likely lower than the true count, according to many housing advocates. It will certainly have risen with the recession and will continue to rise. "The street homeless count really only captures part of the visible tip of the iceberg," says SFU's Michelle Patterson. "We know homelessness goes a lot deeper than that."
In March, auditor general John Doyle reported that in spite of the rising numbers of homeless people, the B.C. government has no clear strategy when it comes to reducing and preventing homelessness. Doyle said the province has failed to take the lead in dealing with an issue that requires a co-ordinated effort by all three levels of government. Doyle said the province's goals and objectives are poorly defined and that means accountability is missing.
This is another example of governments' failure to invest in human services as a means of heading off social problems before they become acute. Canada had one of the best housing programs in the world between the 1970s and 1990s. But when the federal Liberal government pulled out of the program in the 1990s, a national housing crisis began. According to CMHC, in September 2008 the federal government said it would invest more than $1.9 billion over the next five years towards affordable housing.
B.C.'s portion of such a program over the next two years would be approximately $60 million. Canada's Economic Action Plan includes another $2 billion over two years for social housing, with approximately $151 million going to B.C.. But that is much less than the $2.5 billion per year that homelessness activists say is needed immediately.
Quality of life
It's doesn't end with poverty or homelessness. Income is in fact a major determinant of health. About 28 per cent of low-income Canadians report poor health compared to only 6 per cent of wealthy Canadians. The Health Officers Council of B.C. reported last year that 13 per cent of women in the lowest income quartile have heart disease compared to only 4 per cent in the highest income quartile. Similar income gradients are observed for numerous other diseases.
Poverty increases the risk of acute and chronic ill-health, susceptibility to infectious diseases, heart disease, arthritis, stomach ulcers, migraines, mental illnesses and self-destructive coping behaviours. And it becomes an issue of gender equality as well: since more women than men have low incomes, they are more likely to experience poverty-related health problems.
Low income can lead to ill-health through various pathways including limited access to resources necessary to attain and maintain good health (e.g. housing, food, physical activity, safe neighbourhoods, social support and health care) and increased exposure to risk factors such as smoking, physical inactivity, unhealthy foods, stress, and hazardous occupations. Overall, the one-third of wealthiest Canadian women have a life expectancy of 83 years, compared to 81 years for women in the poorest third of the population. A similar income gradient is evident in men's life expectancy: men in the lowest third have a life expectancy of 75 compared to 78 in the highest third.
It's up to us
These are all key issues that the Campbell Liberals continue to ignore. In fact, it's going to get worse when the Liberals' widely-expected budget "rewrite" slashes social services in September.
New Democrats, the labour movement and other opposition forces will need to address these key issues in economic terms over the coming four years. The best approach is one that brings an economic edge to struggles around social justice and human rights. Social justice can only be realistically expected when it is rooted in economic well-being. It is clear that British Columbia is currently not just in a recession, but also in a state of long-term economic decline. Economic decline impacts income distribution, wages and economic opportunities -- without economic prosperity there is no hope of social justice.
During the election, Gordon Campbell suggested that Carole James hasn't the economic experience to govern. What he really meant was not just that women but all working-class and middle-class British Columbians have no right to run the province: in his view, that's the preserve of the business and commercial class which Campbell represents. But be clear: the economy is too important to British Columbians to be left to the business elite, who have in any event not managed it especially well -- whether you measure that by traditional economic measures or the higher standard of social justice, human rights and civil liberties.
Clearly, it's about time we took back British Columbia's economy.