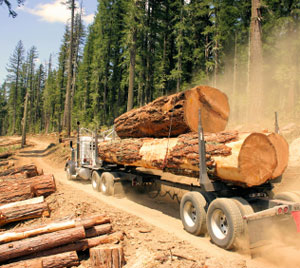 British Columbia's economy was struggling even before the financial meltdown and economic crash of 2008.
In spite of the federal and provincial governments' and industry's ferocious protestations to the contrary, a big reason for B.C.'s recent lacklustre performance in capital investment is the 2006 Canada-US Softwood Lumber Agreement [SLA] and other policies enacted or supported by the Gordon Campbell government.
Although industry continues to resist any discouraging words about the lumber deal with the Americans, it is not universally admired. "Far from delivering security, the Canada-US softwood pact has seriously undermined B.C.'s lumber producers and hurt rural communities as they struggle through a prolonged economic slump," notes Canadian Centre for Policy Alternatives resource policy analyst Ben Parfitt.
Under the Softwood Lumber Agreement, Parfitt reported, in 2008 the U.S. reimbursed approximately $4.3 billion in duties paid by Canadian companies on U.S.-bound lumber shipments during a 54-month trade dispute. The half that went to B.C. forest companies proved of little value to B.C. communities or industry workers, however, because much of it was invested in the U.S.
"In fact, what three B.C. forest companies did with a portion of their rebates was to invest in U.S. mills," Parfitt says. He notes that Canfor Corporation, West Fraser Mills and Interfor altogether spent more than US$620 million to purchase or upgrade U.S. sawmills.
According to Parfitt, the reason lay in the controversial export tax imposed as part of the SLA. The tax, collected by the Canadian government and distributed to the provinces, applies to lumber shipments to the U.S. in the event that lumber prices fall below certain levels or exports exceed certain volumes. In the two years after the SLA was ratified in October 2006, the tax cost B.C. companies more than $540 million. But instead of earmarking those funds for industry upgrading, the B.C. government put it all into general revenue.
Another major source of long-term job loss in manufacturing has been the Campbell government's policy of increasing raw log exports. Although supporters of log exports claim they create employment, the evidence doesn't support their view. Log exports kill jobs. While exports grew from a tiny fraction of the province's total timber harvest in the late 1990s to an average of over four million cubic meters a year from 2004 to 2007, forest sector employment fell from 94,800 in 1999 to 69,400 in 2008, a decline of 26.7 per cent. Logging employment fell by over 40 per cent.
Parfitt notes that had the number of logs exported in 2008 been milled domestically, "another 2800 manufacturing jobs per year would have been generated in B.C."
Exports
"Many of British Columbia's lumber mills sit idle", the Globe and Mail reported earlier this month. "Coal exports are down 40 per cent. The price of natural gas, one of its key commodities, has collapsed."
The decline in exports is not a recent development. B.C.'s exports actually peaked in 2006 and have fallen since; steadily in the past two years. This is of major concern to British Columbians, of course, because exports make up a huge proportion of total GDP. Export earnings are crucial to employment creation, wages and other incomes, as well as the government revenue available for spending on social programs. About half the province's output is exported. When exports fall, there is no question that the province will lose employment and revenues and there will be pressure on governments to cut services to people.
In the past five years, notes BC Stats, B.C.'s imports have continued to rise while exports stagnated. British Columbia's combined trade deficit in 2008 stood at $24.2 billion -- in other words, the province imported $24.2 billion worth of goods and services more than it exported. "This is the largest trade deficit British Columbia has ever had," notes, the provincial statistical agency. "The last time B.C. had a trade surplus was 20 years ago, in 1988. Over the next 15 years, the deficit was fairly stable at between about $4 billion and $8 billion; however, over the last five years the deficit has ballooned, tripling from 2003 to 2008."
Simply put, as an international player B.C. is increasingly living beyond its means. But there seems to be little government attention to the problem.
Employment creation and opportunities
Although B.C. had, on the whole, relatively high rates of employment through the recent economic boom, the high aggregate levels masked persistently high unemployment rates outside of Metro Vancouver and Victoria.
The collapse of the forest industry in summer and fall of 2007 created even larger pockets of regional unemployment, particularly in resource-based communities. In the recession, unemployment rates are up significantly in most regions of the province. In April, the Cariboo recorded the highest unemployment rate in the province at 12.9 per cent, reports BC Stats (all these figures represent three-month moving averages, unadjusted), followed by North Coast/Nechako at 10.6 per cent. Much of the urban southwest of the province has been shielded from the worst of the recession, partly due to Olympics-related construction.
Among municipalities, Kamloops (9.7 per cent), Chilliwack (10.7 per cent), Kelowna (11.5 per cent), Prince George (11.6 per cent), and Dawson Creek (15.2 per cent) all had unemployment rates above the provincial average. But workers in Victoria (6.6 per cent, seasonally adjusted) and Vancouver (6.7 per cent) Census Metropolitan Areas were less likely to be unemployed than those in other parts of the province.
The Liberal government's much-touted "Heartlands" economic strategy did virtually nothing to change the rural-urban employment gap. When B.C. was just climbing out of the recession in 2003, unemployment in the provinceÕs six rural development districts averaged 10.3 per cent, while Vancouver's was 7.3 per cent and Victoria's 6.3 per cent. In January as the recession began to hit, the six rural districts averaged 6.7 per cent, while Vancouver had 4.9 per cent unemployment and Victoria just 3.9 per cent. Employment rose; the gap remained. Now employment is plummeting.
It is significant to note as well that a disproportionate amount of recent employment loss has occurred in the relatively high paid goods-producing sectors, where employment fell by 2.4 per cent. Although there was a slight increase in agriculture (+3.3 per cent), this was not enough to offset significant declines in manufacturing (-5.9 per cent), forestry, fishing & mining (-5.1 per cent) and utilities (-2.3 per cent).
The fall in investment and innovation of course contributes substantially to job loss, especially in resource-based industries and manufacturing. And with the closure of so many operations across the province, we need to ask important questions about the likelihood that many of those mills and plants will never reopen. With the government continuing to refuse to invest or encourage investment to offset the recession in resource-based communities, governments and citizens need to seriously think about what the residents of those communities will do next.
Tomorrow: The growing income gap between rich and poor and the stagnation of real wages is behind many of the mounting social problems we face in our communities.