When Châu Thi Ho Huynh's friends came over for dinner, she made bò viên.
The Vietnamese beef balls that go with noodle soups like phở were nowhere to be found in Vancouver in the early 1980s. Châu's homemade bò viên was not only the right taste, but the right texture: a satisfying crunch with each bite, generously meaty with a hint of sesame oil.
"Hey Châu, this is so good!" one of them said. "Can you make me a kilo?"
Vietnamese newcomers were hungry for a taste of home. So after Châu made her friend the kilo, word spread: bò viên had come to town.
"People were asking me to make a lot," said Châu. "One day, I made 50 pounds."
Châu lived with her husband and three children at the Raycam public housing project in the neighbourhood of Strathcona, right beside Chinatown on the city's east side. All of her beef balls were made out of her apartment kitchen.
These are not the style of meatballs you'd find in western cuisine, made of ground meat. In East and Southeast Asia, the meat — from chicken, pork, beef to seafood — is pounded into a paste. The traditional method, made famous by Teochew cuisine in China, is to pulverize strips of raw meat with metal rods, beating it like a drum until the proteins gelatinize. The paste is then shaped into balls, which become bouncy when cooked.
Châu opted for a modern method to make her bò viên: an electric food processor for home use. She bought hers from the Woodward's department store to break down the beef two kilos at a time, but she was making so much that the appliance broke down after two weeks. Châu brought it back to the store with apologies. Because there was a warranty, she was given a new one. They continued to break as she used them intensively and the store continued to replace them.
"By that time, I had quit welfare already," said Châu. "They asked me, 'Are you sure you have a job?' I said 'Yes, enough for living.' I don't want to take the money.'"
The family had come to Canada as refugees from Vietnam in 1980. But even though Châu was no longer on welfare, she worried about getting in trouble with the government as beef ball sales took off.
"Too many people were lining up at our apartment!" she said.
By 1986, Châu had saved $30,000, enough to open her own deli on nearby East Hastings Street. From there, she opened one business after another, bringing the earliest Vietnamese food to the city, but also stocking the kitchens of homes and restaurants with products from the iconic Vancouver deli that bore her name, called Kim Châu. It remains the leading brand of Vietnamese deli products in local supermarkets.
Châu also spent time helping other Vietnamese families get settled in the city, giving them recipes and teaching them how to run a business.
Behind all the food is her own family. They spent much of their lives together in kitchens.
It's a cloudy January morning in 2023 and Châu, now 67, is sitting beside her husband Carlito Wong, who's resting in bed at the palliative care unit of St. Paul's Hospital downtown. Her daughter Maria Huynh is also here, with an arm around her.
"He was my first love," said Châu.
She still remembers when she met him, almost 52 years ago today, on Jan. 22, 1971 at a soup stall in Saigon.
The cafe at camp
Châu grew up in Vietnam's Mekong Delta during the war.
"When I was three years old I lost my mom. When I was 10 years old I lost my dad. So when I was 12, I went to live with my cousin."
Her cousin had a soup stall in Saigon, where Huynh started working as soon as she arrived.
About four years later, Wong, who lived next door, popped over for a meal. It was love at first sight.
Even after Saigon fell to the North Vietnamese troops in 1975, and the capital was renamed Ho Chi Minh City as part of the regime change, Châu was happy with her life there with Wong. But the new government rolled out discriminatory policies against ethnic Chinese residents, seizing their property.
"They took everything from me because I'm mixed Chinese," said Châu.
The repression spurred an exodus of people like Châu with Chinese ancestry. In May 1978, she and Wong fled with their two young sons, becoming part of the 800,000 "boat people" who left Vietnam in those years.
She was 22 at the time. Her sons were five and two.
During the war, Wong's father owned a tugboat, which the family used to make a living delivering supplies like concrete and gasoline. Wong took out the motor and fixed it to a larger boat. After paying off a government official to let them escape, a common practice, the family departed with a group of about 500 people.
Wong's experience with boats and motors helped them survive where many others did not. They landed on Kuku Beach on the Indonesian island of Jemaja.
"Nobody knew where we were, because it's a wide island. How do you survive without anything?" said Châu. Many of the children and seniors with them died.
It would be six months before the Indonesian government realized they were on the island. With more refugees and humanitarian aid, the camp grew, establishing everything from police forces to health departments to post offices.
It was here that Châu set up the first business that bore her name: Cafe Châu.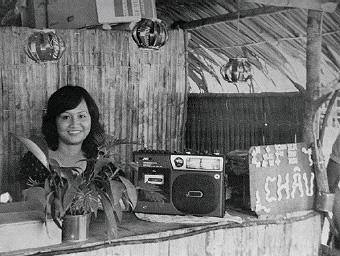 Considering the surroundings and what her fellow refugees had been through, Châu wanted to make it as welcoming and comfortable as she could. She put a tape player on the counter and decorated the space with lanterns made out of pop cans and seats fashioned from chopped logs. Orphaned at a young age herself, she also took care of three orphans who helped out at the cafe. Customers included local Indonesians who stopped by the camp. On the menu was coffee and congee.
The family lived in the camp for two years until settlement workers asked if they'd like to be sponsored to move to move abroad. In 1980, they boarded a plane bound for a city they'd never heard of called Winnipeg.
Out of the wok, into the deli
The family's first home was an old three-storey apartment on Kennedy Street in Winnipeg.
Four days after landing, Châu started her first job in Canada sewing lining for winter coats. She did the job, she said, "even with no English."
Winnipeg was lonely because Wong soon left for Red Deer to work at a facility that made cooking oil. Châu had to stay in Winnipeg with the children to work enough hours to qualify for employment insurance.
The following year, Châu and the two sons joined Wong in Red Deer, where their third child, Maria, was born. But a month after Châu gave birth, her husband suffered a hand injury at work, requiring 18 hours of surgery. To pay the bills, Châu found a strenuous job in the kitchen of a Manchu Wok, a fast food franchise that served American Chinese food.
In 1983, the family made another move, this time to Vancouver, where Châu launched her beef ball sales from their apartment.
When she made enough money to open a deli, Wong quit a part-time job as a janitor at BC Place Stadium to join her in what would become a family business.
A food columnist from the Chinese language newspaper Sing Tao reviewed the deli, calling their beef balls the best in town, giving them a boost in popularity. Rather than at the family home, the lineups snaked outside of the store on East Hastings.
There's a distinct springy crunch when you bite into one of Kim Châu's beef balls. The key, says Châu, is to add ice when mixing the meat to keep it cool and help set it.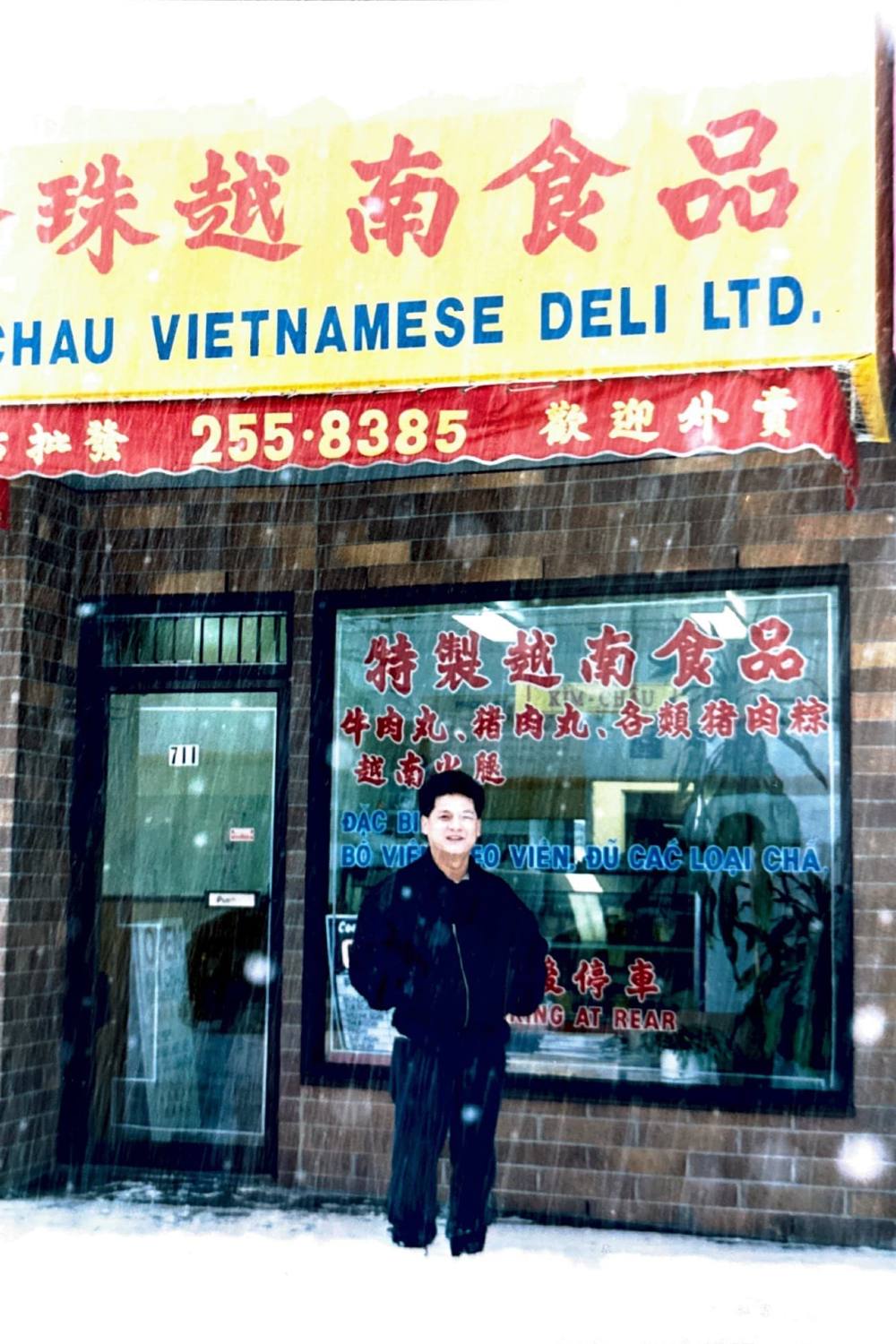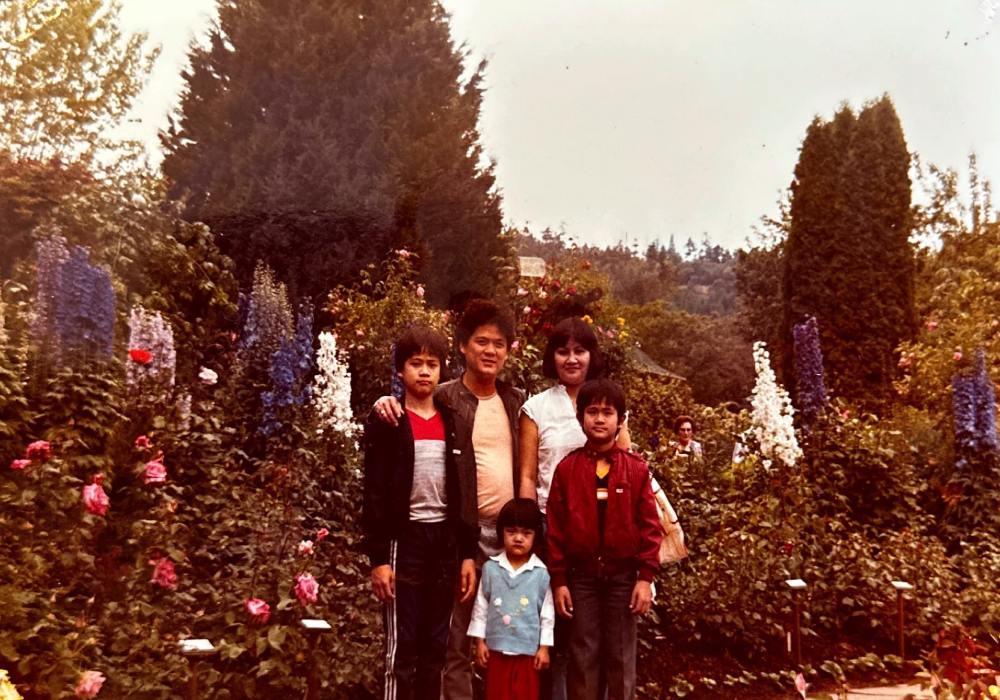 As the deli took off, Châu moved into the restaurant business while helping other Vietnamese newcomers find their footing.
In 1993, she opened Bảo Châu with a friend from Red Deer, setting him up with recipes — her signature was the spring rolls, with beautifully blistered rice paper — and eventually letting him take over the restaurant. It was a similar story with Mỹ Châu in 1996, with Châu perfecting recipes like her fried chicken legs before selling it to another family.
Kim Châu Deli would relocate to Kingsway, where a Vietnamese population was settling and opening restaurants, salons, jewellers, offices and auto shops. The area is sometimes known as the city's Little Saigon. Their larger deli housed machinery from Germany to make their collection of deli products, the foundation of noodle soups and bánh mì, the Vietnamese sandwiches that would dot the city in the years to come.
Behind the scenes, Wong — who chose the first name Carlito after watching Al Pacino's character in the 1993 film Carlito's Way — was the jack of all trades of the family.
"He did everything by hand," said Maria. "Electrical, plumbing, machinery. He'd be on the rooftop fixing all the hood ventilation. He's always thinking of ways to save money so we don't have to hire out to pay for another person to come."
The machinery helped Kim Châu grow, with a line of 20 products: pork and chicken balls in addition to beef, patés and cold cuts for bánh mì and nem, a flavourful cured pork shaped into patties and meatball skewers for grilling. They accumulated 70 vendors from restaurants to supermarkets that relied on their products.
But having larger vendors has its ups and downs, such as introducing risk to the business when they delay payments. It's something that Maria saw while helping out her parents.
"They came from poverty, they risked everything to open the store, then they're actually giving bigger businesses three months' advance of product," she said. "For [my mom], it doesn't sit right. They feel like bigger businesses always take advantage of the smaller guys."
Working long hours doing physical work over the years, Châu started having headaches. In 2008, she found out she had a benign brain tumour.
East Side stories
When Maria was five years old, her mother showed her how to walk to school by herself.
"After school, it was my job to go back to the store and hang out until they were done," she said. "I literally grew up in every single business that they had. And then it was my duty as a daughter to contribute at least once a week."
Her older brothers would give her a hard time because she was only at the deli once a week on Sundays.
"Pay your dues!" she recalled them saying. "I was always the rebellious one. I felt like it had stripped me of all other opportunities."
Sunday was a unique day to work because it followed Saturday nights.
"The ladies and men that came to pick up the banh mi, they'd be coming in from the rave the night before," said Maria. "[Mom] would always be like, see, you know the Vietnamese always has a bad rap of selling marijuana or going to raves and things like that. But we work hard and we do this.... We've been straight arrows, that kind of thing."
But while Châu's generation had their struggles, the next generation had different ones growing up in the lower-income part of the city's east side. How to reconcile their traumatic family backgrounds? What to do without parents around?
Drug use was a part of growing up for many in the neighbourhood, with marijuana and heroin made available for those as young as in their pre-teens. "Swaying that way is so easy when you don't have the resources and the support at home," said Maria, who recognized that her peers did so together to find a sense of belonging.
Growing up in food businesses did not exhaust her fascination with food. She completed a culinary program at Dubrulle, a Vancouver school, travelled in Vietnam and worked in restaurants downtown. Her brothers questioned her choices, asking why toil for minimum wage at those places when she could be earning more for less work at the family business.
"I always wanted to learn more outside of that and I'm thankful that I did," she said.
Eventually, she did return to help at the deli. One day, a woman who owned a struggling Vietnamese restaurant on Robson Street walked in. Maria asked if she'd be interested in selling her business. The woman laughed but later returned, asking if Maria was serious.
When she told her mother that she wanted to open her own restaurant, Châu warned her daughter about the work it would take.
"But I was so determined," said Maria. "I wanted my own way of expressing things."
Châu said she was too busy with the deli to help, but could lend her some money and supply components like curry and spring rolls.
In 2008, Maria opened her new restaurant. Like all the family's ventures, it bore her mother's name: Chau Kitchen & Bar.
The last meatballs
The deli gave their family a livelihood, but Châu, a Buddhist, felt a weight she could no longer ignore after years of making meat products.
"I felt terrible every morning when I came in and saw the meat grinder," said Châu. "I felt guilty. So many killed animals. So I prayed with God, please, let me change this business. I don't want to do this business anymore. Too much pressure, too much headache, too heavy."
At the restaurant's peak, they were processing 15 tonnes of meat a month.
It so happened that the teenaged daughter of one of Châu's customers was living with her at the time because she needed medical treatment in Vancouver. That customer was the owner of a restaurant in the Kootenays and was looking to move to Vancouver to be closer to her daughter. She asked Châu if she knew of any local businesses for sale.
"My business," Châu told her.
In 2009, the family sold everything: the deli, the building and the machinery. It also came with that week's supply of meat — meat that Châu was ready to pass on to someone else. Kim Châu Deli has since grown in the hands of the new owner, expanding to Alberta.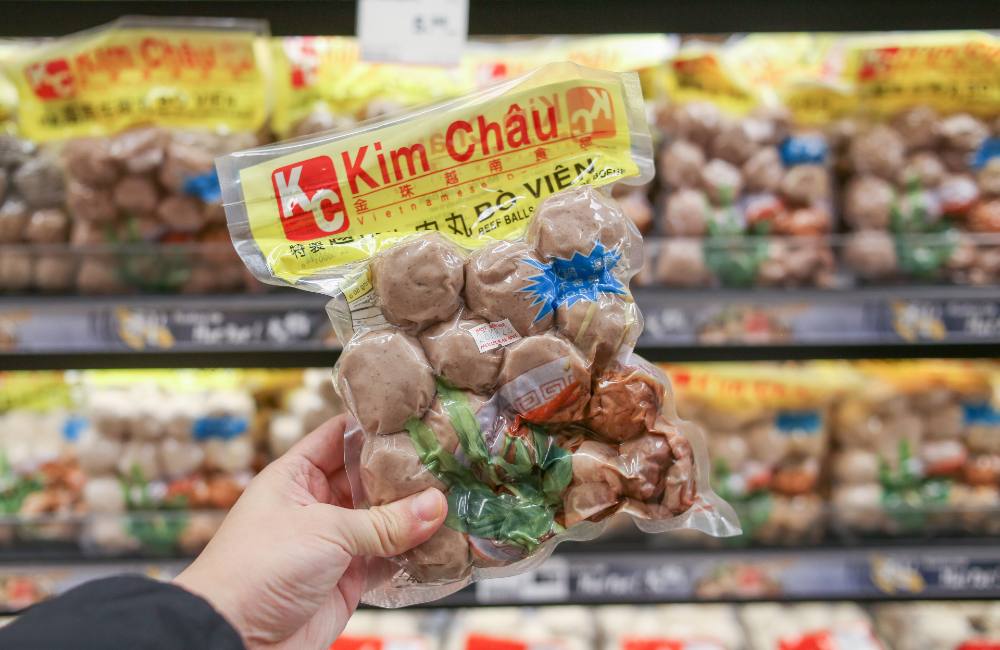 Chau Kitchen, in the meantime, was doing well. But Châu called Maria and told her that she was very sick and asked her to sell her business to focus on family and health.
"I was like, no, I just started!" said Maria, who was in her late 20s. "We had just gotten into Vancouver Magazine. I'd been doing 16-hour days working in the back, the front, every single position.
"At that point, my dad said, 'Honey, if you really enjoy what you do and you make good food, it doesn't matter where you are. This is just a place you've grown attached to. You can build it anywhere.' In my conscience, I didn't want to feel guilty if something happened to [my mom] that we didn't pursue that relationship together. So I said OK."
A life in the kitchen
With more rest, more family time and more veggies, Châu's tumour shrank.
In better health, she couldn't stay away from the food business. In 2011, she wanted to open a new restaurant. "Just a small one, with only 16 chairs," she thought. "If I make money, I'll give it to charity. So I asked Maria, please come help me."
Maria didn't want to "step on her toes" and was hesitant about working with family again after feeling "blacklisted" by her brothers for her rebellious years. But she ran into a mentor who suggested she put everything she's learned over the years into the new project with her mother.
That year, they opened the vegan restaurant Chau Veggie Express on Victoria Drive.
Mother and daughter butted heads at times over the concept. Châu asked questions like why a non-Vietnamese vegetable like kale was in the dishes or why they couldn't use white sugar.
"I had about a pound of white sugar," said Châu, who mixed it in with Maria's natural sugar because she wanted to use it up. "She got mad and I got mad! I'm the old school, you don't want to waste anything. But I think she's right and I'm wrong."
In the other restaurants, her mother was always the "iron fist," said Maria.
"I've always been the one to work for her. And being the youngest and only girl in the family, I never really had a voice growing up…. So it's been very empowering for our relationship to be able to go through the heartache and pain together."
The restaurant did well, taking inspiration from vegetarian Vietnamese Buddhist traditions, but with their own additions, like vegan fish sauce made from fermented tofu, apple cider vinegar, lemon juice and cane sugar.
The success would bring the family into "survival mode" again.
"Not because we chose to, but because the bills were coming in," said Maria, who experienced a severe panic attack while Châu developed an autoimmune condition.
In 2017, they shortened their hours. The family became more mindful of balancing health and work than when they started, while beginning to recognize the impact that work had on who they are.
"Sometimes we go through something painful and we focus on work. It's a place of release for us," said Maria. "I may find an empty hole in my relationships with my brothers, but I dive into these things that I wish I had with them in the workplace. So the customers, the community and the brand itself ends up unfolding the way it does and feeling the way it does because that's what's missing in our own homes. We pour it into a place of work. It's just something to be honest about."
A new recipe
When Wong fell ill, he wasn't used to not working. He worried about the restaurant.
"When the deep fryer broke down recently, he saw me scrambling," said Maria. "He cried because he said, 'You know, that would've been my job to do it.' The contribution he made was quiet, but he was always a pillar."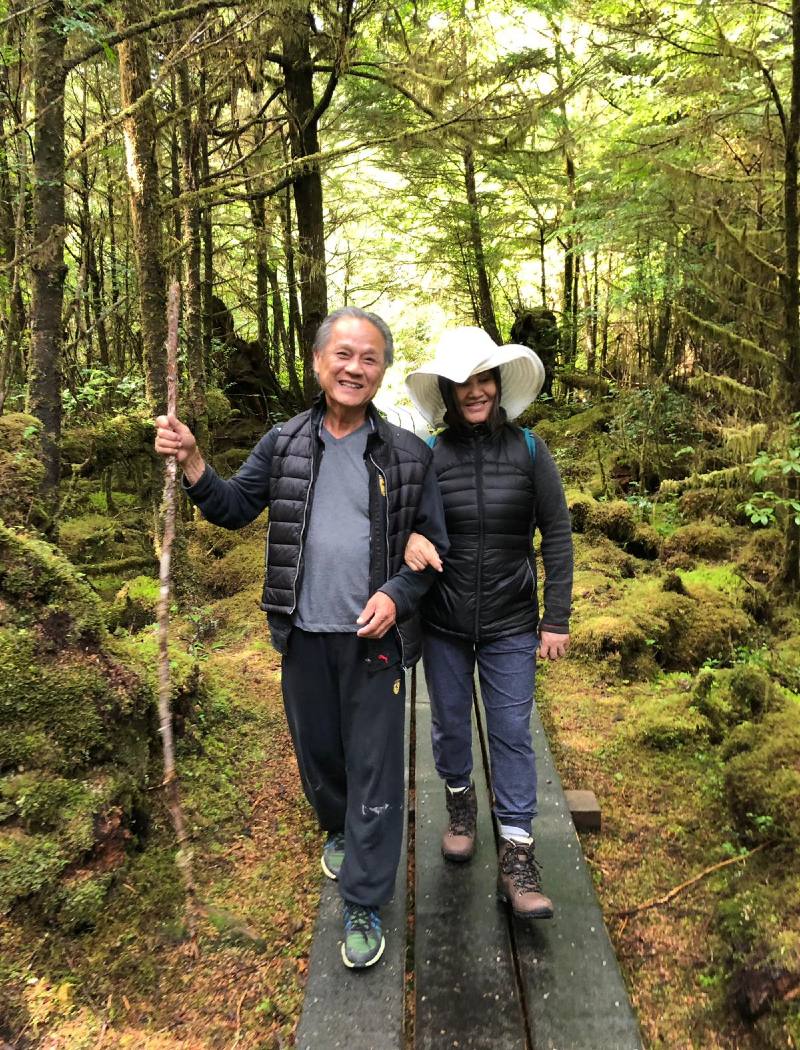 Being with Wong as he rested gave the family a chance to look back at their work.
"These last few years haven't given us a single break," said Maria. "Now that we're older, we wish that we had more time together. It's going to look a lot different now."
It's given her a chance to think about life for her young daughters.
"I did everything the opposite way," she said of pursuing her own aspirations outside of the family. "I wouldn't want my own daughters to go through those same feelings. [I'd want] to celebrate anything they'd want to do.
"But what happens with them in terms of understanding [their culture]? I did it through connecting with my mother through food. How do we teach them that without all this crazy grit and work ethic? Or is it important to have that because it's part of survival in the world, no matter how old you are?"
She knows these are big questions and that every generation has their own to answer.
"My parents came here and they developed a beautiful recipe," said Maria as she sat in the hospital room with her father, who would die a week later on Feb. 4. "You eat and you create new work, but a lot of it was for survival. Whereas being born here [in Canada], it was a gift to have that opportunity where we don't need the bare necessities — those are covered. The next step is to work on your mental well-being, emotional connection, a sense of belonging and feeling nourished. That's the root of what I think my role is. To take the opportunities from what they've created and the circumstances they were dealt with and formulate my own with that history.
"We've spent our whole lives working and we've missed out on opportunities and experiences because we made that sacrifice… and that was a beautiful stage of life to go through. But we might take a different turn in the future."
---
Part four: With fresh soft corn tortillas nowhere to be found in Vancouver, Elsa Nuñez would drive to the U.S. to buy them for work parties at Vancouver's Mexican Consulate. One day, she decided to buy her own tortilla machine.