You can forget about looking for an "ethnic aisle" at immigrant supermarkets.
Fresh, local products are shown off prominently on shelves and fridges: rice and flour noodles made that day, dahi by the tub, barbari breads in pillowy stacks, packages of pâté for bánh mì and a rainbow assortment of banchan from kimchis to seafood.
The East Asian supermarkets dedicate multiple fridges to tofu of all textures. The Vietnamese ones have enough meatballs and cold cuts for your own sandwich shop. The Latin American shops have multiple sizes of corn tortillas, not the whole wheat kind they serve at the likes of TacoTime. The Indian stores carry paneer amongst the full suite of traditional dairy.
But stroll into a western supermarket and you might have to look at the back of the store to find such cultural products. That is, if they carry them at all.
They're usually in a fridge labelled "international dairy," home to misfits the store manager didn't quite know where to put. At Walmart, the section is labelled with the icon of a little globe. It's sometimes called the "ethnic dairy," suggesting that these are exotic goods imported from some far-flung place — even if they're made in Canada from Canadian ingredients.
Western supermarkets have long relied on an "ethnic" or "international" aisle to collect non-western products like sauces, snacks, spices and spreads. But these are dry goods with long shelf lives and can survive long journeys by freight from around the world. Need gochujang? You don't have to worry about a sealed box of the red chilli paste going bad.
Unlike these dry goods, the products in the so-called "international dairy" can only travel so far before they spoil or become too expensive to deliver. That's because they're made fresh to be eaten fresh, foods as foundational to some cultures as daily bread is to others.
And despite the "international" label in western stores, these products couldn't be more local.
There are producers in communities all over the country using Canadian ingredients to make a food that originated in another part of the world.
If you're in Vancouver, pick up the tofu and read the label: the Sunrise brand is made in the city from Canadian soybeans. Pick up the beef balls: the Kim Châu brand of bò viên are made on Kingsway in an area sometimes called Little Saigon. Pick up the tortillas: El Comal makes them out of corn flour at their tortilleria by Burnaby Lake. Pick up the paneer, the rare item in this fridge that's actually dairy: the Nanak brand makes it from B.C. milk.
These are welcome sights for newcomers in Canada. To be reunited with the culinary staples that were once at the heart of their kitchens back home is a powerful moment.
But their presence required a lot of grit — a daring entrepreneur had to source the ingredients, find the tools, master the recipes and put in the labour to make enough for the entire community.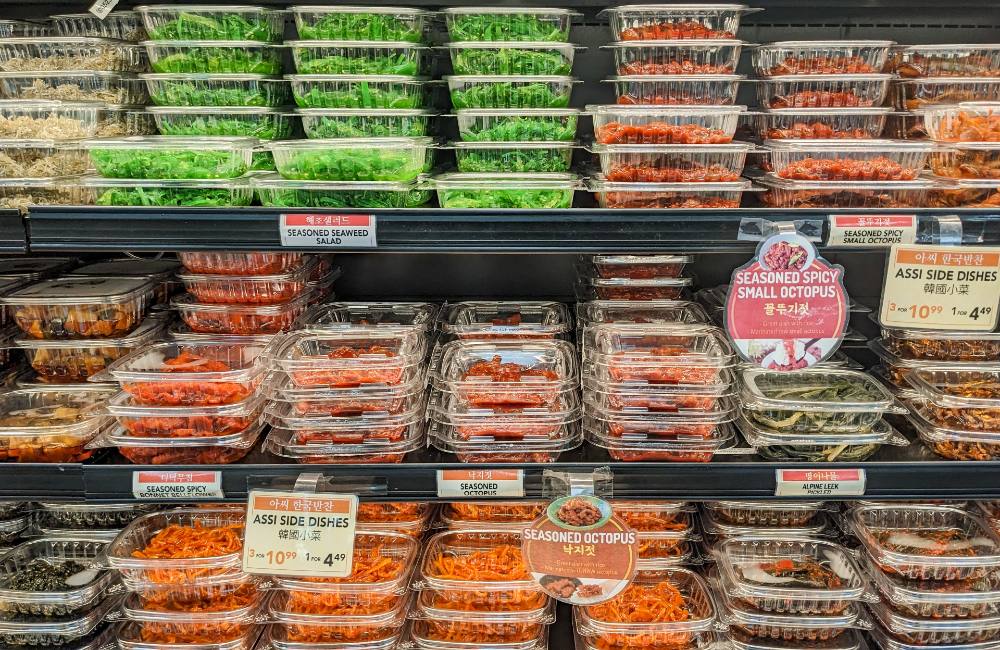 Throughout Canadian history, diasporic communities made up of immigrants, refugees and their children have gone to great lengths to produce the foods core to their diets and cultures. People have worked out of camps, small storefronts, places of worship and industrial facilities for decades to turn dairy, meats and crops into missing cultural products, from day-to-day meals to items eaten only during weddings and funerals.
But outside diasporas? The contribution of these local food producers is largely unrecognized, even in places like Metro Vancouver where local eats and food security are a point of pride.
It's all about "distancing," says Tammara Soma of Simon Fraser University, who researches food system planning. Racialized foods are often viewed by western eaters as forever foreign and belonging to "the other."
While Freybe's German sausages and Olivieri's Italian ravioli are examples of staples launched by Vancouver immigrants and warmly welcomed into western stores, non-western foods have a much harder time.
The Vancouver Economic Commission stresses that it is farmers markets that are "at the heart of the local food movement." The slogan of the city's farmers markets is "Creating vibrant and welcoming markets that build community, feed people, and support small farms and producers."
But at farmers markets you're not likely to find any of the local offerings in stores frequented by diasporic communities, even though they've been fulfilling the roles stated in the slogan for decades.
"When it comes to the local food conversation, a lot of the people that are talking about local food aren't necessarily coming from diverse cultures," said Soma. "It's not necessarily going to be kale, even though I like kale. There's a real opportunity to expand what is meant by 'local' — not just by the distance, but on the variety."
Hunger and longing
What to do when a fresh product from your culture is missing from stores? It's a longing experienced by diasporic communities throughout Canadian history.
You could try to make it yourself, if you have the ingredients.
In 1908, the first Sikh gurdwara was built in Vancouver's Kitsilano, where ghee was made for lamps as well as the karah prashad, a sacramental food offered to all visitors.
During the Second World War, Japanese Canadians who missed the availability of fresh tofu, shoyu and miso in the communities they were displaced from continued to make them in government internment camps. After the war, those without a soy shop nearby have subbed in hot dog wieners to simulate the texture of the firm tofu they craved.
But even if you have the ingredients, making such products requires expertise.
When Tony Singh moved to Canada with his family at age 12 in 1975, it was Indian dairy that he longed for. Paneer, made fresh from buffalo milk, was a common staple in the state of Punjab where he grew up.
"I still remembered the taste," he said. "When we moved to Montreal, all of those products disappeared."
Not only was paneer not being made in his city's shops, nobody he knew was making it at home either.
"So we had to adjust our diets to the Canadian pizzas, steaks, hamburgers."
Singh would make it his mission to bring the familiar flavours longed for back to others who moved to Canada. In 1994, he moved across the country to launch his Fruiticana chain of South Asian grocery stores in Surrey, B.C.
But while he was able to stock essential produce like okra, flours like chickpea and even childhood candies like boiled sweets in the shape of orange slices, it took a few years before he could stock his fridges with Indian dairy because there was nothing on the market.
In 1998, a local brand called Nanak finally introduced packaged paneer. Fruiticana was the first to carry it.
"It was a lifesaver for my wife and mom," said Singh.
For newcomers to Canada, the daily staples they're used to eating in their birthplaces often become the food of celebrations due to scarcity. So when a local business embarks on producing a staple and sells it for a low price on par with produce, a diaspora's diet is transformed.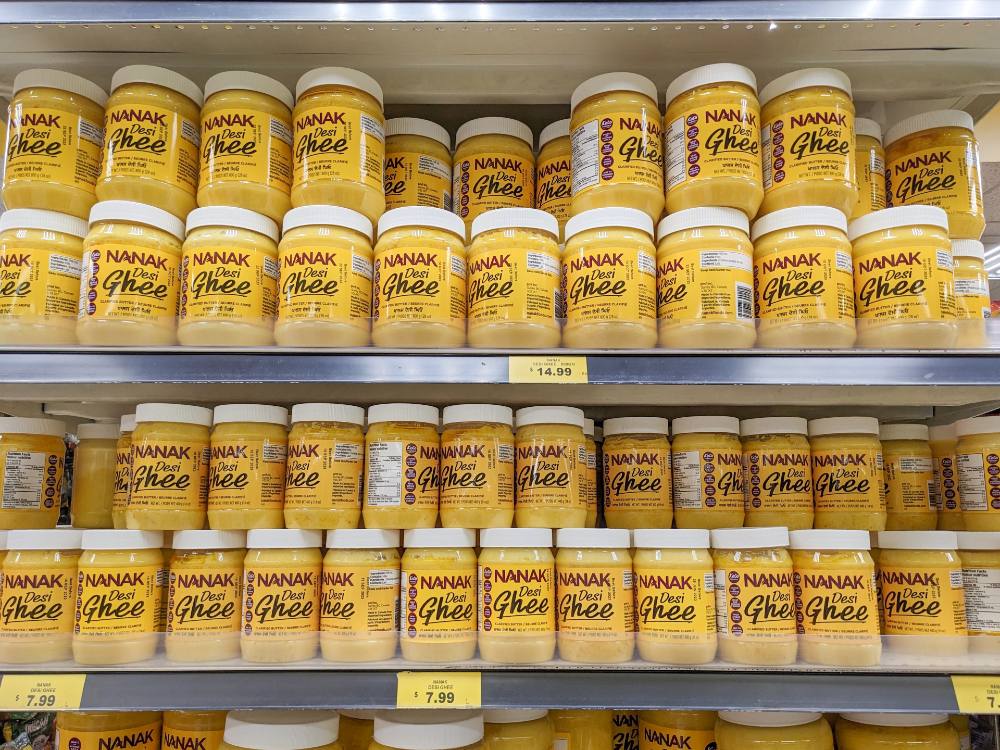 The secret ingredient is trust
For 25 years, the staff at Killarney Market had a joke about their vast offerings: if you're looking for a country's product and it's not on the shelf, that country no longer exists.
The southeast Vancouver supermarket, with a shamrock for a logo, was run by Tito Chiang and his brother John until retirement in 2018. It had its time in the limelight after starring in Michael Bublé's "Just Haven't Met You Yet" music video. But for regulars, it was the place for getting goods from 70 countries. The Chinese Peruvian brothers were particularly known for stocking Hispanic goods.
Among the local products at Killarney Market were fresh corn tortillas made by El Comal and the Kim Châu brand of Vietnamese deli meats. Store owners like Chiang would get to know his local suppliers well, who'd show up in person to convince him to carry their goods.
"They come knocking on your door," said Chiang. "The smallest companies cannot afford to have a sales force, so the owner comes and brings it to your grocery store."
It's personal, face-to-face connections like these that are the foundation of local food systems, says Henry Yu, an associate professor of history at the University of British Columbia.
"The fact that they are so resilient is because of social networks. People work with each other, they work for each other, they trust each other," said Yu. "That's something that's always been there with local distribution. You owe a person an obligation not to flake out and leave them hanging."
The ingredient of trust is all the more important for those who make cultural products because they're working in what social scientists call a "parallel food network."
One basic reason for this parallelism is the fact that people of different cultures eat different things. Demand for a specific, fresh cultural food item is only going to come from within a diaspora.
But a parallel network also dodges opportunities for exploitation and exclusion whenever a racialized group interacts with majority-white groups that hold power over a market.
One major example in B.C. comes from the produce sector. For most of the 20th century, white wholesalers underpaid ethnically Chinese farmers for their crops, leading them to sell their produce at roadside stalls and small greengrocers instead — forming a new network in parallel to the white-dominated supply chain.
There are also labour considerations. Newcomers just learning English might face language discrimination or have a specialized skillset unappreciated by white managers.
As a result, those parallel networks become places of refuge, community and opportunity for diasporas.
The workshop system
If a restaurant or supermarket doesn't want to put the money into making a singular product like tortillas, noodles or a seasonal dumpling in-house, they don't have to — they can just buy them from a local producer.
Yu likens it to a "putting-out system," a model used to describe textiles in pre-industrial Europe, with subcontractors making cloth, and consumer electronics in East Asia, with subcontractors making parts.
By outsourcing, businesses can also rely on producers who have proprietary equipment, knowledge and labour without having to set up their own operations.
The model, also called the "workshop system," has paved the way for culturally-catered supermarkets to thrive. Rather than having to make a full collection of fresh items in-house, they can stock their shelves with what specialized local "workshops" are already making.
If diaspora is sizeable enough, such a food network will snowball in growth, accumulating suppliers, farmers, producers, distributors, supermarkets, restaurants, investors, workers and customers, says Yu.
And when it comes time for a customer to go out for a meal or pick up ingredients to cook at home, a robust food network will "manifest into better food."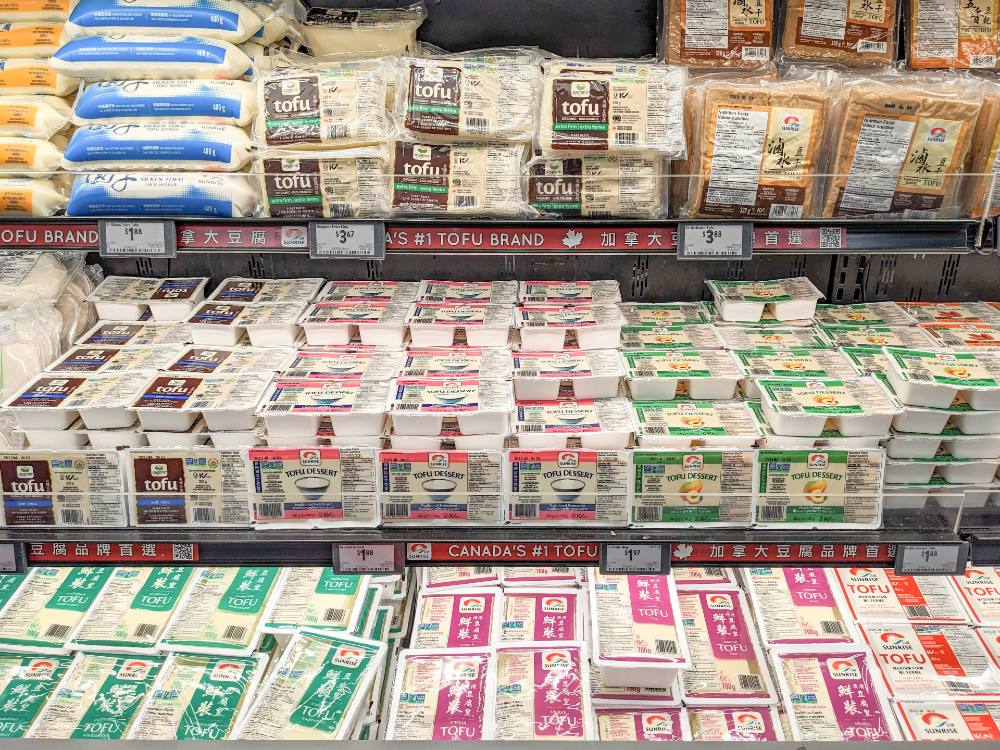 A fresh approach to local food
In my nine years of covering food as a journalist in Metro Vancouver, I've interviewed a large cast of characters who each have a role to play in reuniting diasporas with their essential eats. Among them are mithai makers, dim sum folders, food court chefs, restaurateurs with their children playing in front and the grandparents cooking in the back, and savvy supermarket bosses who curate cultural goods for urban neighbourhoods and the suburbs beyond.
Food critics and influencers tend to focus on the question: who makes the most delicious food? But as I chatted with supermarket stockers and restaurant owners, I followed supply lines back and began to ask: how are people making the crucial, core ingredients?
Making products like tofu and tortillas at home in small batches is one thing. But there are many challenges to producing these foods commercially.
Can the ingredients be sourced? If not, does the recipe need to be tweaked? Are the tools and machinery available or will custom ones have to be made? Are you able to find the real estate to make your product? And the workers with the cultural knowledge to do so? Is there enough of a demand from the diaspora to keep the business going? If not, can other local residents be convinced to become customers? Can you deliver it to all the places you want to sell it? And even if the answer to all these questions is yes, keeping an operation running throughout the year demands time and labour.
In this six-part series titled "Fresh off the Shelf," I trace the journeys of four cultural products and map out their role in food systems. Each is made from an elementary ingredient: beans, meat, corn and milk.
The stories of the families and entrepreneurs behind these four products span countries, decades and generations. Food skills are honed with cheese makers in northern India and at a congee stall at an Indonesian refugee camp. Rare machinery is sourced from Japan, Germany and the U.S. Long hours of physical labour are put in to turn large quantities of ingredients into precious product. There is joy in providing for a large community — from Vietnamese refugees to Mexican farm workers to Indian international students — but also great sacrifice as all-consuming businesses take a toll on close relationships.
From inception to production to consumption, these producers share what it means to put food that's been missing and sorely missed back on the table in Canadian homes. And while these products play an important role in their respective supply chains, they aren't immune to the effects of corporatization and globalization.
"The food scene we have here is amazing. But it didn't just happen overnight," said Satwinder Bains, a scholar of migration and diasporas at the University of the Fraser Valley.
She once sat on the province's marketing board for agricultural commodities, so she's familiar with the time and toil it takes for a product to go to market, as well as the ingenuity of food producers to make global goods out of local ingredients.
"Population helped. Demand helped. Diasporic reverence for their food habits helped — food as comfort, food as medicine, food as culture, food as religion.
"And it's all happening in our backyard."
---
Part two: The Joe family started out selling tofu out of buckets at the back of their Vancouver shop and now Canadians buy their soy products coast to coast.