While lining up at Granville Island Fisherman's Wharf or the seafood counter of Victoria's Finest At Sea to snag a bag of still-wriggling pink-dotted spot prawns might seem like a summer rite of passage, it wasn't always so. Before the mid-2000s, when the first Spot Prawn Festival took place in Vancouver and The 100-Mile Diet was published, nearly all of B.C.'s spot prawns were sent overseas.
The shellfish were brand new to most consumers, explains Steve Johansen, a fisherman with Organic Ocean who sold 100-Mile-Diet author J.B. MacKinnon his first spot prawns and launched the festival with Vancouver chef Rob Clark in 2007. "Even people who lived in B.C. all their lives didn't know what a spot prawn was, and the other half of those people thought tiger prawns were from B.C., whereas they're all raised in Southeast Asia."
Spot prawns are the largest of seven commercially harvested shrimp species in British Columbia. (Shrimp or prawn, they're all species from the same genus, Pandalus.) Prized for their sweet taste and firm texture by professional and amateur cooks alike, spot prawns kick off a frenzy when the season opens each spring. The sustainable fishery has strict limits and gear that minimizes bycatch. The Vancouver festival spawned others around the province in expected places like Cowichan Bay and Victoria, and less expected places like Osoyoos. Festivals have grown to include black-tie galas with six-course meals.
In The 100-Mile Diet, MacKinnon and co-author Alisa Smith describe Johansen as a "hyperactive fisherman." Fifteen years later, he hasn't slowed down much, waking at 4 a.m. each day during spot prawn season to fish, arriving back at Granville Island to unload around 1 p.m.
Johansen grew up "right at the water" at Ford's Cove Marina on Hornby Island. "My dad was a fisherman, so fishing's always been a part of me," he says. When salmon stocks suffered historic declines in the 1990s, Johansen made the fateful switch to shellfish.
Johansen calls the spot prawn "the most celebrated food ingredient in the country — hands down," because of the mania it causes during its brief six- to eight-week season. Clark, who was executive chef at C Restaurant when he partnered with Johansen for the festival, was motivated to prove those who held spot prawn licences in B.C. had a domestic market to sell to. He was frustrated to be surrounded by so much local abundance that he couldn't get on his menu. "There were 62 commercially harvested species in B.C. in 1997, and we had access to maybe eight," says Clark. "So that itself upset me."
Clark credits Johansen's excitement and huge personality for the festival's success. "Steve is a very special person. If he believes in something, he's very enthusiastic about it," says Clark.
According to Clark, Johansen sees what he harvests as food, rather than a commodity, and that translates to the person who eats it. "It's just a philosophy and an energy that breeds a better feeling. It breeds a better experience, a better connection."
Clark thinks the spot prawn is "the darling" that took off over other seafood options "because it checks off every box for being local, sustainable and tasty." He sells them alongside other seafood at the Fish Counter on Vancouver's Main Street and still talks to Johansen every morning to hear about the catch.
The spot prawn may have become an overnight sensation with many in British Columbia's settler communities, but its existence would not have been a surprise to First Nations Peoples. Seafood like the spot prawn hold a special place in our regional diet — a truly local West Coast food, rather than imported varieties of seeds or livestock that have been imposed on these lands.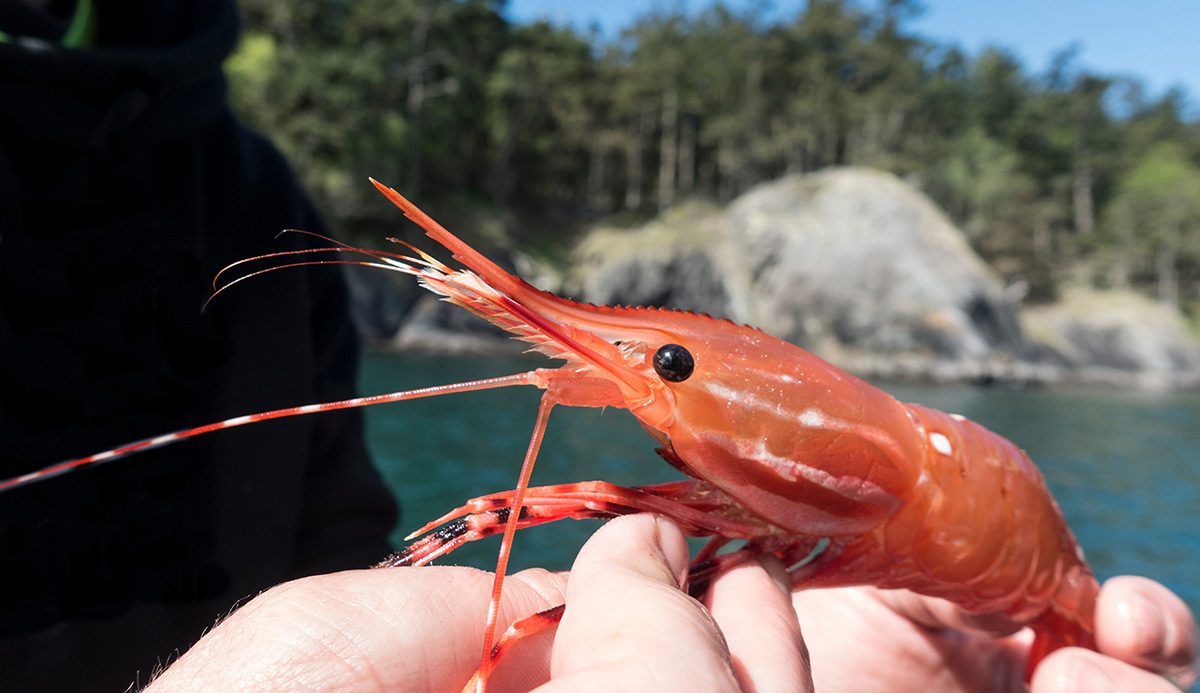 Just as "local food" has become an often out-of-reach status symbol — even spot prawns have doubled in price since the first festival — many Indigenous communities struggle to access traditional foods. Many nations' ancestral seafood gathering places have been privatized, paved over, or polluted while communities have lost access to and knowledge of traditional foodways through colonization.
The 2020 Spot Prawn Festival was cancelled due to COVID-19, and the fishing season itself was delayed from May to June because of closed restaurants and shaky export arrangements. But any worries about a lacking local appetite were wiped away on the first day.
"[Business] was two- or three-fold. It was crazy," says Johansen. "I don't use this word all the time — and James [MacKinnon] loves to use it, of course — and it's, 'local.' People have always kind of celebrated local, but right now, local is local. People want it. People want to support it, the most they ever have."
He's also noticed how big chains like Safeway, London Drugs and Costco are having to carve out space for local suppliers to meet that demand. And while some "local-washing" is inevitable, he hopes most consumers will be savvy enough to figure things out.
A large percentage of B.C. spot prawns are still exported to Asia and other locations, but the growing domestic market has made a dent. Johansen says exports have dropped from about 99.9 per cent 10 to 15 years ago to around 80 per cent now. This year the domestic share may be even higher as suppliers are forced to look nearby. Johansen says he has seen spot prawns everywhere in stores and on online delivery services.
Organic Ocean had to pivot their own business model, since nearly all of their typical business is restaurants. Johansen also harvests halibut — most halibut caught in B.C. goes to restaurants in the United States — and that season opened in mid-March just as everything was shutting down. Organic Ocean initially closed as well.
When weighing the choice between shutting down for a few months or supporting their staff, Johansen says they decided to try something new. They created a home-delivery service called Neighbours Helping Neighbours. Sensitive to people's new economic reality, they kept the prices accessible and a percentage of sales goes to feed people in the Downtown Eastside — about two and a half meals for each box sold. The service has been a huge success, and it will now be a big part of their future, with restaurants being slower to reopen and more people interested in cooking at home.
Johansen says that exports will always be a part of Canada's economy, but he thinks this shift to more local options will stick for some fishers. He's heard stories of fishermen on Vancouver Island selling halibut, lingcod and rock cod out of the back of their trucks in parking lots from Victoria to Campbell River, a sight unseen in many years. "Some of the fishermen, I know a couple buddies of mine, [are] saying, 'You know, fuck it. We don't want to rely on China or the U.S. or any other country. We want it to stay at home. If we make a little bit less and we keep it at home, then we're going to feel good about it.'"
This shift is also happening in restaurants, as chefs have had a welcome break from the late nights and high stress of "normal" times, when many were squeezed by high rents. Johansen says he speaks to chefs across the country who are home to kiss their kids goodnight for the first time in their decades-long careers. They don't want to go back to work and lose that.
Some of these chefs and restauranteurs are shifting to more limited offerings, which he says will allow them to work with smaller, more seasonally-minded suppliers. "You've got the little ma-and-pa operation dropping off fish or rhubarb or whatever it is — the local yokel," says Johansen. "I think we're just on the right road again."

According to Johansen, the pandemic has shown that MacKinnon and Smith, who launched the 100-Mile Diet on the Tyee 15 years ago, were right. "In a bizarre way, because of COVID-19, what James and Alisa are about is really the norm right now. It's not a trend. It's a pivot by society, and it's not just here. I've talked to people in Toronto and places like that, and they're supporting everybody there too," says Johansen.
When asked to look ahead 15 years, Johansen says he hopes this current idea becomes the norm. "I just kind of want to see where we're at now, where we've come to in the last couple of months, regarding food and local and sustainability. At the end of the day — I mean, we've said it 10 times — we are supporting local more than we ever have, and if you ask me what I want to see, I want to see it continue."
"I don't think it's a trend," he says. "It's a reset — it really is."
Tomorrow, last in this series: Is BC's next spot prawn success a fish called hake? The world loves it but few here know about or eat this abundant, sustainable catch off our shores.