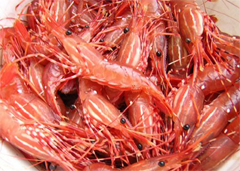 [Editor's note: Alisa Smith and J.B. MacKinnon, authors of the 100-Mile Diet: A Year of Local Eating, are blogging their latest local-eating adventures from Easter to Thanksgiving. The Tyee is bringing occasional excerpts. For the full blog, go to 100milediet.org.]
Local Spot Prawns Are In Season
The best thing about eating in season is the gorging. Spot prawn season lasts for 80 days beginning sometime in May, and spot prawns (Pandalus platyceros) really are best eaten fresh. We went to the docks near Granville Island to buy our first of the season and fisherman Steve of the Black Heart gave us the kind of "pound and a half" that is really much larger.
The prawns were local as could be. "We fish them off Gibsons," Steve said. "On a clear day you can stand on the Burrard Street Bridge and almost see the fishing grounds." As we carried our heavy bag of prawns up the gangway, we knew we had to have some friends over to help us. Keri and Olive were the lucky recipients of our over-abundance; in the end even the four of us could barely eat them all.
Spot prawns eaten fresh are a challenging meal, because they are really fresh -- alive until they are boiled. They are skittering critters when weighed out on the boat, and when resting in the fridge they will move when the doorlight comes on.
"Oh my God, I can't watch," Keri said as James moved them from fridge to pot. Luckily, James had nerve enough for the four of us. Two minutes later, they were done -- and absolutely delicious, everyone agreed. Tender, pale pink, two to three inches of tail per prawn. We declined to suck the "tomalley" from the heads, because this is a cute word for inner organs, though it is a delicacy in many countries (it's called goong in Thailand and used in soups; the Japanese use it in sushi; the Spanish serve the crab version up proudly with a spoon). James tried a couple, just to gross us out I think. (He is, after all, an immature male -- see below.)
As a warning to those who want to follow James's example too enthusiastically, last year Canadian Press reported with some incredulity: "While it seems hard to imagine the warning is necessary, Health Canada is urging people to limit their consumption of lobster tomalley -- the green goo most people quickly scrap away as they get ready to sink their teeth into succulent lobster meat.
"Turns out the tomalley, which serves as a liver and pancreas for a lobster, can sometimes contain a toxin known as paralytic shellfish poison. If ingested in large amounts, the toxin can cause tingling and numbing of the arms and legs, headaches, dizziness and nausea. In rare cases paralysis, respiratory difficult and even death can occur, if medical help isn't procured."
I looked at James with some concern, looking for odd symptoms, but assured myself that prawns are ever so much smaller than lobsters.
I contemplated what I knew of the life of the spot prawn. Their full scope is four years long, and they have a chance to play both sides. They all begin as males and mature into a female for their final year. My moral qualms about ending their interesting, transgendered existence were both deepened and distracted by James telling me the latest in plant "intelligence" research, which I will leave to him to write about for another day. But I'll give you a hint -- it's possible that in the future, PETA's rallying cry may have to include, Salad is Murder. --ADS
Organic Food Miles?
Here's a tough question: should food that travels unsustainable distances be certified as "organic"? The organics movement aims, at least in part, to reduce the environmental impact of food production. To earn the "organic" label, food can't be treated with industrial chemicals or be genetically engineered -- for now, though, it can guzzle jet fuel on its way across the world to your grocery store.
The Soil Association, one of the United Kingdom's most trusted and important organic standards agencies, is currently debating the question -- and asking for your opinion.
For now, the association is focusing on air freight, the most obvious culprit in long-distance food. While air freight accounts for just a fraction of food miles, there are good reasons to give it a close look: air freight is the fastest-growing form of food transport, and has the highest climate-change impact per mile. While air freight accounts for less than 1 per cent of the distance food travels to reach U.K. consumers, it is responsible for 11 per cent of food-transport carbon emissions.
So kick jetlagged food off the organics list, right? Not so fast. The list of regularly air-freighted products currently licensed by the Soil Association is dominated by nations that don't need another blow to their economies: Egypt, Zambia, The Gambia, Kenya, South Africa, Dominican Republic, Ghana, Thailand.... Some of these nations, such as Zambia, are landlocked, with surface transport limited by bad roads and complicated border-crossings.
It's easy to go knee-jerk on this one, too, and insist that richer nations have a moral duty to buy air-freighted food from poorer nations. Of the many arguments against this point, the most important is probably this: many of these poorer countries face the gravest risks from climate change. Check out this humdinger of a press release issued in November 2006 by the UN Framework on Climate Change. Just a few of the many concerns: fully one-third of Africa's coastal infrastructure could be inundated by rising sea levels by 2100; climate change will increase many species' vulnerability to extinction; 600,000 square kilometres of usable land is predicted to become "severely limited" for agriculture (just 80,000 square kilometres will improve); and more areas will see more frequent droughts on a continent where 95 per cent of agriculture depends on rainfall rather than irrigation.
So does it "help" sub-Saharan Africa to support a variety of trade that increases the risks of climate change?
Meanwhile, studies have already shown that, under certain circumstances, food flown in from afar can actually be more energy efficient than, say, producing the food locally in a coal-fired greenhouse. (The Soil Association is also considering organic glasshouse standards.) Damn it, why can't ecologically sustainable eating be simple!
Well, it can. In general terms, eating local, organic food in season is far more sustainable than eating global, industrial food. And no one's communities -- not in North America, not in Africa, not anywhere -- benefit from having weaker, less sustainable, less self-sufficient local food systems.
Still, global trade has been around since the first nomads, and if the number of e-mails Alisa and I get that ask (with hopeful hearts) about "local coffee" is any indication, it isn't going to disappear tomorrow. The question is how to make trade as harmless and fair as possible. In the case of air freight, the Soil Association sees three ways forward: (1) Continue to license air-freighted food as "organic"; (2) Phase out organic licensing for such foods over a few years; or (3) Impose a selective ban.
So which do we choose?
Here is my rock-solid, hard-nosed, unto-the-death answer: I choose Number 3, a selective ban. Sort of.
The problem, I think, is that food labels are reaching their limits of usefulness. Does it make sense to have every product variously labelled "organic," "local," "fair trade," "climate-friendly," and anything else we might come up with? No.
Instead, why not change the nature of certification? Consider the way an ethical investment fund works: the fund audits potential investments and weighs each one against a set of guidelines. In some cases these guidelines are strict -- no arms dealers -- and in others they are considered case-by-case. The Soil Association, then, might have certain standards set in stone (no industrial pesticides, no genetic modification) and others that depend on circumstance (no fly-in food from Holland, but possibly from Ghana). The only label they would give would put their name behind the product: Soil Association Certified. The labelling agencies, then, would have to win public trust and keep it by making smart, fair choices about who to approve or reject.
Yes, this would be an imperfect system -- just like any other. There would be a learning curve for consumers and it would take time before food labels settled into a useful number of brands. Still, the shift would have an immediate impact on "organic" operations that make little or no commitment to overall sustainability -- companies wouldn't make the cut with the most aggressive certification agencies if they used air-freight to deliver out-of-season produce or "top up" insufficient supplies (or, for that matter, if they heated their greenhouses with coal). At the same time, producers in places like Africa wouldn't necessarily be bumped out of the "good food" loop. Their unique circumstances could be taken into consideration.
That might be the best we can do with long-travelling food. Me, I'm continuing to focus on drawing most of my diet from the landscape I live in, season by season. I talk to farmers at the market to find out how my food was produced, and if I like what I hear, I buy it. It's my own audit system. And sometimes the food I go home with doesn't have any labels at all.
Find the entire 100-Mile Diet Tyee series here.
Related Tyee stories: