A formidable rival is challenging a long-ruling mayor. A major labour organization has endorsed that rival. And on top of that, the mayor's record of rental "demovictions" casts a shadow over his campaign.
It's shaping up to be an exciting election in Burnaby.
Despite the drama — and the fact that vote is just three weeks away — long-time mayoral incumbent Derek Corrigan and Mike Hurley, the independent challenger and retired firefighter who wants the city's top seat, still have not debated publicly.
Hurley said since he put his name forward, he's run into Corrigan a few times. "It wasn't a very social event, but we've run into each other.... We haven't really had an exchange," Hurley said.
The only real debate listed so far is on Oct. 6, which is the first day of advanced voting in Burnaby.
It will take place at Crystal Mall and is scheduled for an hour, but because it's bilingual, half of that time will likely be taken up by Mandarin translation.
Lori Winstanley, campaign manager for the Burnaby Citizens Association, which Derek Corrigan is running with again, told The Tyee there "isn't much" of a campaign because it's "just started."
"Most people don't even know there's a campaign."
But two sources working on the Burnaby election this year told The Tyee anonymously that they believe BCA is trying to avoid booking debates.
There are other events scheduled for candidates, such as meet and greets, Q&As and individual appearances.
The BCA was unable to schedule an interview with Corrigan by deadline, nor could it let The Tyee know when the party's housing platform might be coming.
Campaign manager Winstanley did say that the top issue for residents they've spoken to while door knocking and on the phones is the Trans Mountain pipeline expansion.
The polls open in about a week in Burnaby with advanced voting on Oct. 6, 10 and 13 and the general election day on Oct. 20.
Beyond the lack of debates, there are other questions about this fascinating race worth exploring.
1. Corrigan has been heavily criticized for demovictions, and for a long time didn't seem to mind. But suddenly, things changed. Why?
Let's go back to 2011. That year, the BCA-majority Burnaby council approved what's known as "s" zoning around its transit-oriented town centres. This zoning allowed developers redeveloping apartment buildings to negotiate for more density if they were willing to offer community amenities, social housing or cash to the city.
But the change sped up the demolition of old walk-up apartments around Metrotown, known for its shopping centre, transit access, office towers and recreational facilities. While such apartments are not subsidized affordable housing, they have become affordable (relative to average market rents) over time.
Low-income people, notably recent immigrants and refugees, depend on this housing and the conveniences of the location. Many were displaced as their apartments were demolished — hence the term "demoviction."
Corrigan told Global News in June 2017 "those are the realities, while we live in a market-based capitalist system we have to appreciate that those are the realities of the marketplace and the realities of property."
He told The Tyee two years ago that the redevelopment of older buildings into new ones is "inevitable" as a city grows. And he has pointed fingers at upper levels of government for not offering more assistance with affordable housing.
Burnaby lost fewer than 50 rental apartment units in the decade before the zoning change. But between 2010 and 2017, the city lost 710 rental apartment units while the region as a whole gained about 4,040, according to the CMHC.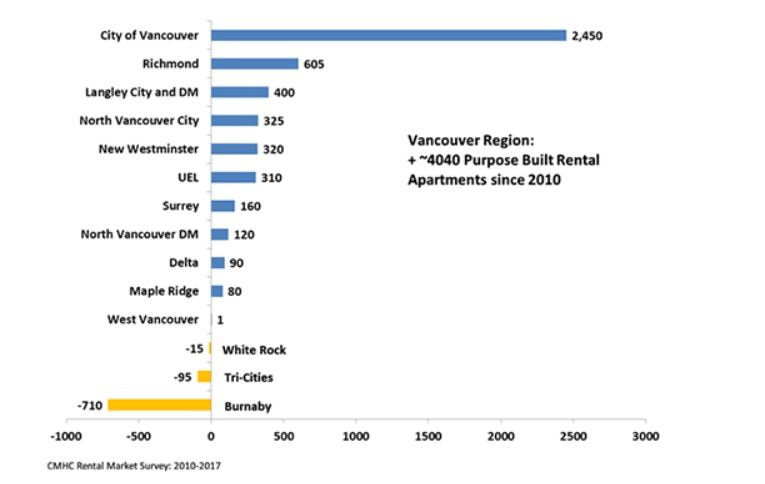 However, this past July, Corrigan and the BCA-majority council demonstrated a seeming 180 on the issue.
In a special meeting, the mayor reportedly said the council had recently learned new details of B.C. legislation that would allow cities to zone land specifically to be only for rentals.
According to the Burnaby Now, Corrigan said his goal was to have one-to-one replacement: every rental unit destroyed was to be replaced with a new unit at a similar monthly rent. He said this would only be possible with provincial help and that he's "not going to over-promise."
Corrigan added that his staff would try to negotiate with developers to help renters they are displacing to get the first opportunity to rent in the new building.
The council also sent two previously approved rezoning applications back to staff. They wanted to see more rental in two highrises that were mostly condo; the highrises' 30 units of non-profit rental were replacing 177 rental units destroyed in three buildings.
Why did Corrigan and the BCA suddenly switch from pushing aggressive growth policies to a more concerned approach?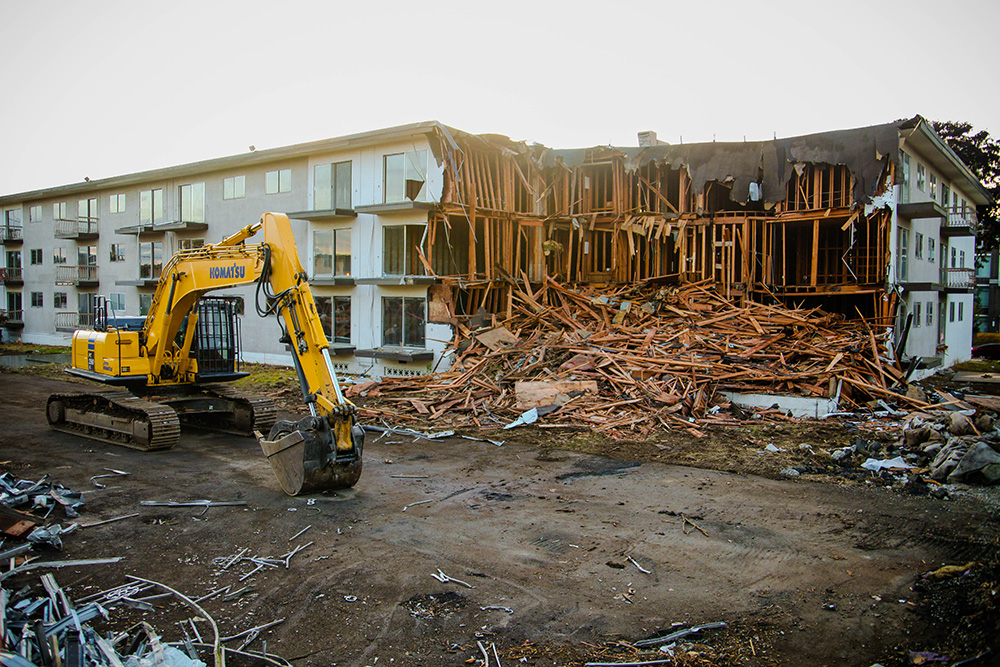 Corrigan told the Burnaby Now that it was not because of the coming election or the criticism his council faced on demovictions.
"When you get your choices expanded, when you get the ability to do more, you would be bloody-minded if you didn't look at those opportunities.... I think we've done the best we could under the circumstances that we had and, no, I don't regret doing the best I can under the circumstances I've been given."
The BCA has not yet released its housing platform, nor would it share details with The Tyee, but Corrigan has spoken about how Burnaby is building 1,000 new below-market rental units in 16 projects and will be the first B.C. municipality to zone for rental.
Hurley, whose team includes New Democrats, is promoting a mix of solutions for housing affordability: a moratorium on Metrotown developments not yet approved until homes can be found for displaced residents at the same rent levels, tweaks to single-family areas like adding laneways, better use of city land and housing lands and looking at land trusts, co-ops and other types of non-profit housing.
"Mayor Corrigan has been very focused on a singular type of building within Burnaby and we need different types of development for all income levels and people at all stages of their lives," said Hurley.
2. Why did the labour council endorse Hurley over Corrigan?
The New Westminster & District Labour Council represents trade union members at the local level and covers Burnaby and a number of other Metro Vancouver municipalities.
It has supported Corrigan for mayor in the past, but this year voted to endorse Hurley instead.
NWDLC secretary treasurer Janet Andrews said that delegates do not endorse candidates who do not put their names forward for an endorsement. Corrigan has told the press that he did not seek the endorsement this election despite having sought and received it in the past five elections.
But Corrigan has also accused Hurley of "stacking the [NWDLC] meeting with firefighters from all over the region" in order to earn the endorsement.
Hurley — who was the local firefighters union president for eight years and also president of the BC Professional Fire Fighters for eight years — said only five of the 60 NWDLC delegates who voted were firefighters. This was reported in the Burnaby Now.
The secretary treasurer Andrews was unable to share with The Tyee why delegates endorsed Hurley, only that delegates vote for candidates who "share their values."
The Burnaby Teachers' Association, a local union, also voted to endorse Hurley, saying "classroom teachers have been witness to the negative impact of affordability of housing, displacement and lack of rental units."
The press release issued by the union cited Burnaby's poor regional record for rental housing and poor provincial record for housing supply and affordability, ranked 70 of 72 municipalities by the BC Non-Profit Housing Association, under Corrigan's leadership.
3. Why did the labour council spurn BCA council hopefuls only to endorse them later?
The NWDLC usually endorses BCA council candidates along with Corrigan. When the NWDLC announced its endorsement of Hurley for mayor, they endorsed one BCA school trustee now seeking a council seat but not the seven sitting BCA councillors seeking reelection.
However, the NWDLC announced last month that delegates had a second vote, and that they chose to recommend those seven BCA council hopefuls after all.
No reasons were given about the switch. The BCA has held a council majority since 1987.
Hurley said he wouldn't have a problem working with a BCA-majority council as an independent mayor.
"I've been on the political scene in Burnaby for a long time," he said. "I know many of the councillors and get along very well with them all."
4. How were demovictions able to happen in left-leaning Burnaby?
Burnaby usually elects NDP MLAs and MPs. So why didn't Burnaby's progressive provincial and federal politicians do more when it came to the displacement of low-income people in favour of market condo construction?
When Burnaby's provincial and federal politicians — including Kennedy Stewart, who left his position as MP of Burnaby South to run for the mayor of Vancouver this election — were interviewed in the past by the Burnaby Now, they danced around the issue of why they didn't do more, vaguely talking about needing more affordability and co-operation between three levels of government.
Activist Zoe Luba of the Alliance Against Displacement, which has been helping Burnaby tenants organize, believes Burnaby's NDP connections are the reason why more hasn't been done.
The BCA is known for its close ties with the NDP.
"Corrigan works very closely with the BC NDP," said Luba. "It's all the same people at the fundraisers. The BC NDP could've put pressure on Corrigan but they did not.... They were completely silent."
Corrigan's wife, Kathy Corrigan, served on the Burnaby School Board before becoming a two-term NDP MLA. Katrina Chen also served on the Burnaby School Board before becoming an NDP MLA. Anne Kang was a three-term BCA Burnaby councillor before becoming an NDP MLA for Burnaby-Deer Lake.
As councillor, Kang consistently voted for rezoning leading to demovictions, "and now she's the NDP MLA for that neighbourhood," said Luba.
Burnaby has a $1.32-billion investment fund that's been growing thanks to the money that developers have been paying the city for bonus density. This has helped make Burnaby one of two B.C. cities (Langley is the other) that operate debt free.
"The money is in the development. Burnaby's pretending to be centre-left, but they're doing the same thing the BC Liberals would do, honestly," Luba said.
5. Has Burnaby's housing record given it a bad name in the region?
Independent Vancouver mayoral candidate Shauna Sylvester, a professor of public practice at Simon Fraser University, tweeted a comment early in her campaign that seemed to show her fondness for "Burnabyism"-style development: "Transit centered development with high density, walkable communities near sky-train lines & district energy."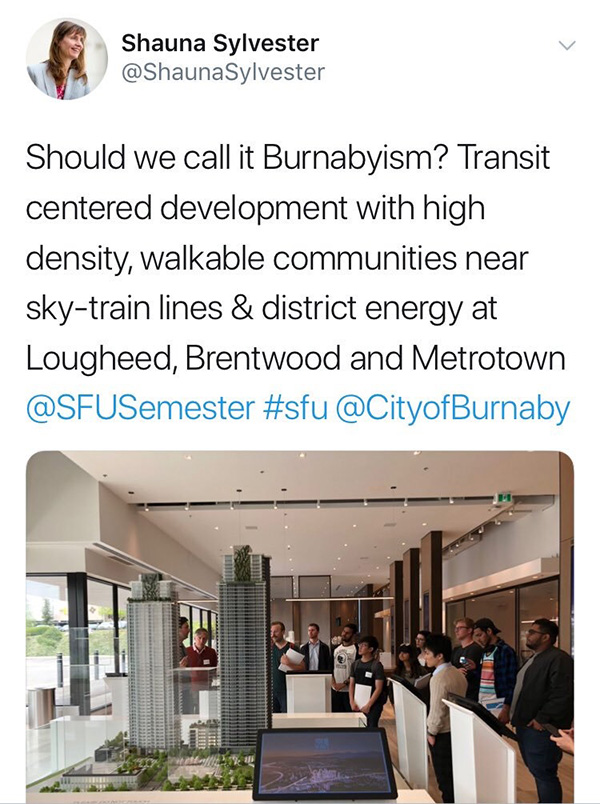 Critics pointed out that she neglected to note that Burnaby has been causing displacement of low-income people in the name of transit-oriented growth.
Sylvester has since deleted the tweet. Her housing platform does not contain a Burnaby-style city-building strategy.
Burnaby has also taken some criticism in the past for not having a homeless shelter. Corrigan has said he didn't want one for the city because he believes shelters are only a temporary fix, though earlier this year, Burnaby and BC Housing partnered to build the city's first residence for people who are homeless.
Critics like the Society to End Homelessness in Burnaby have said the city is now playing catch-up as neighbouring municipalities such as Vancouver, New Westminster and Surrey already have shelters and transitional, supportive and permanent housing.
"I think to put that responsibility to other municipalities while we don't do our share is unfair," Hurley said. "If Vancouver had the same approach to housing as Burnaby, I'm not sure what state our streets would be in now. There would be many more homeless for other municipalities."
6. Does Hurley stand a chance? Are demovictions that big a deal to voters?
It's hard to say. No polling has been done in Burnaby so far, so we don't know if Corrigan's popularity has declined, or how voters are responding to the demoviction issue.
Voter turnout is generally low in Burnaby. In 2014, 23 per cent of about 146,000 eligible residents voted, a steady decline from the city's most recent peak at about 33 per cent in 2002.
In Vancouver's 2014 election, voter turnout was about 43 per cent.
Corrigan has remained a strong incumbent over the years, winning the mayoral seat in five consecutive elections. On Oct. 20, we'll find out which way the political wrecking ball swings.