They say you should never discuss politics or religion at the dinner table. In Vancouver, housing is just as divisive, and a harder topic to avoid.
Unaffordability in Vancouver — from the increasingly large chunk of income eaten up by the average rent or the increasing number of years a local wage earner must work to buy an average home — has made conversations about housing polarizing and emotional. Media cover housing news play-by-play like hockey games.
Sometimes an event or chat room can be helpful; other times, these forums can be harmful. There's the fiery volleying you'll find online in places like Twitter, with data and quotes by local experts used like ammo, name-calling, trolling and even snarky poetry. "It's less digital agora and more cyber cesspool," said Andy Yan, the director of Simon Fraser University's City Program, a Twitter user himself. Politicians and professors are often pulled into the fray.
But it's not just online. There's also the intimidating mobs you'll find at events like the protests in the Marpole neighbourhood against social housing in modular buildings and a recent homeowners' rally on Vancouver's west side against a surtax on high-value properties.
Depending on what one is advocating for, actors in Vancouver's housing drama are cast in different roles. If you're against property taxes, you might view homeowners as hardworking, average people who don't deserve to be punished. But if you support property taxes, you might view homeowners as entitled and think they should pay a portion of their massive gains to help fund public investments. Governments could be brave or predatory for pushing policy. Foreign buyers could be disasters or healthy contributors to our economy. Experts might be labelled as socialist or development shills for sharing their opinions. Renters might be rowdy invaders or neglected residents. These Jungian archetypes appear and reappear consistently in coverage, but who's a hero and who's a villain depends on who's speaking.
Struggles of unaffordability and displacement have plagued Vancouver's low-income renters for decades. But now, these struggles have crept up the income ladder.
"It illustrates the parallel Vancouvers that exist right now and the lack of leadership trying to break those parallels," said Yan. "It's a city that is emerging as a series of factions of identity politics as opposed to one that comes together in understanding the civic virtues of creating an inclusive metropolis."
Why have these discussions become so heated?
Justin Fung, a founder of Housing Action for Local Taxpayers, a group that mostly advocates for reducing housing speculation, points to a famous psychological theory. "Think about Maslow's hierarchy of needs," he said. "Shelter is a key need. The absence of it can be incredibly stressful." On Maslow's pyramid, shelter is a basic physiological need that comes before others like safety, belonging and self-actualization.
Nathanael Lauster, a sociologist at the University of British Columbia and author of The Death and Life of the Single-Family House, says housing emotions are fuelled by the inability of those who grew up in homes owned by their parents to follow the cultural "script" of being able to purchase a home of their own, often imagined as a detached house, as part of the "package deal of adulthood" as they start careers and families.
"But in Vancouver, that script just doesn't work," said Lauster.
For people who already own property, Lauster says change gets emotional because they might think: "I have my dream home. Why are you trying to take it away from me?"
And then there's the emotion of seeing one's neighbourhood change, like seeing a local coffee shop or grocery store vanish. "Challenges to people's sense of home extend beyond housing units and legal lot lines."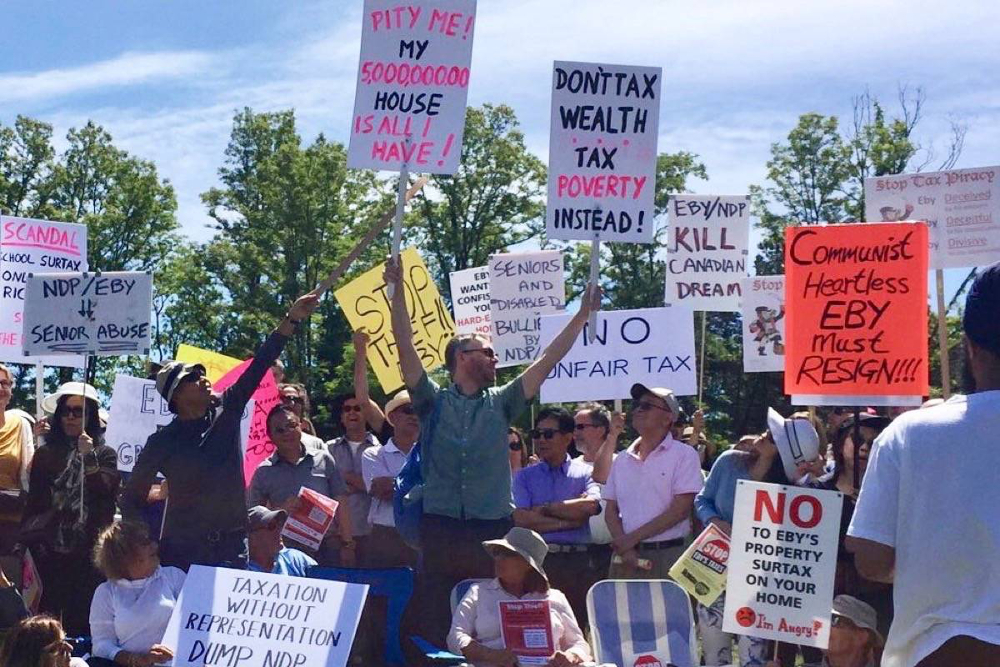 A house divided
The suggested solutions to Vancouver's housing crisis are as varied as the many causes to blame for unaffordability. But often, people are stubborn and don't like to listen to what others have to say. Jens von Bergmann, the local data analyst who created the public CensusMapper tool, once said, "Don't bring data to a culture war." If you survey Twitter or Facebook, you'll see people, organizations and companies choosing to highlight voices and research that advance their arguments.
Suggested housing affordability solutions fall largely into the two camps of supply and demand, though there are variations within those camps too. Some supply-siders might welcome more of any kind of housing; others might like to see more supply that isn't market condos because the new units are unaffordable for many locals. Demand-siders want to see more regulation on development and transactions, such as speculative investment.
A peek into #vanre, a hub for Vancouver housing discussions on Twitter, reveals the clash between supporters of supply and demand solutions.
Some supply-siders have used hashtags like #ItsSupplyStupid to accompany arguments that say we need to reduce red tape and build more housing to solve the housing crisis.
But they have been mocked by demand-siders who say this is real estate industry messaging. They've fired back with their own hashtags: #DensityForWhom; #MOAR, an Internet spelling of "more" which the Urban Dictionary calls "a cry of lust," to poke at the obsession with building new supply, and the ironically-used #AdjustYourExpectations, which one Twitter user has said is industry rhetoric for trying to convince first-time buyers to pay more for less space. The industry has also been called the #RECartel online.
Fung of HALT also believes it is easy for those who work in real estate to hog the media spotlight to share their views.
"The media would naturally go to the Bob Rennie, the UDIs and the spokesperson from the BC Real Estate Association to talk about these issues," said Fung. "It's pretty one-sided. There's a lot of money to be made in this. It's been a bit of struggle for advocacy groups who put personal time and effort into it when they are other folks being paid to toe a certain message."
But Anne McMullin, president and CEO of the Urban Development Institute, doesn't believe blaming development is useful in trying to solve housing unaffordability.
"We're just building homes and trying to follow the rules," she said. "There are lots of reasons why prices escalate; it's got very little to do with the developer. A lot of the policies that we see create limited supply while there's huge demand.
"We're a large industry with a large footprint. I recognize the fear — there's change. People generally don't like change... it's easier to blame somebody else than say, 'What role do we have to play in this?'"
McMullin recently wrote an op-ed in Westcoast Homes & Design on "putting the civility back into civic politics."
"As our city and communities continue to grow in both size and complexity, how do we positively elevate the level of engagement in planning future neighbourhoods?" she wrote.
McMullin hopes "NIMBYs" (people with a "Not In My Backyard" mentality) shed their fear of change and consider how the region might accommodate growth, especially since much of the region is zoned for detached houses.
"How do we get to YES or YIMBY (Yes in My Backyard)?" she continued. "How can we ensure city councils and other elected officials can make informed decisions without fear of ballot box retribution? Plenty of best practices exist, particularly if you integrate digital public participation, such as short online or video presentations.... "
A two-year-old Vancouver advocacy group called Abundant Housing has also challenged people to think about the future of the region and encouraged them to consider new solutions. The group supports additional housing of all types. Their voices are a recent addition to a conversation about neighbourhood change historically dominated by homeowners, but because of their pro-growth views critics have called them friends of the development industry.
Stuart Smith, one of the group's directors, says this argument is "silly and reductive."
"That criticism about zoning reform as some sort of gift to developers? I find that problematic because not building anything is a gift to landlords," said Smith. "If you're a landlord, you really like things to be scarce. We should talk about that."
Abundant Housing has said that "when housing choices are limited, the wealthy always win."
The group has been advocating for building more housing in low-density areas of Vancouver that have remained unchanged for many years.
"It's about asking neighbours to welcome more people in their neighbourhoods," said Smith.
The group has led tours of Vancouver neighbourhoods, such as Mount Pleasant, that it believes has a diversity of housing options — not just detached houses — to try and share a vision of how monolithically-zoned parts of the city could evolve.
"For example, we all agree we like this neighbourhood. We all agree that it works great and all agree it has a mix of housing for all people. So why is it not legal anywhere else?"
For example, small apartment buildings (#4floorsandcornerstores) are one building type the group would like to see more commonly and evenly spread around the city.
Smith says another way to encourage dialogue is to talk about the city's future.
"Talk about people's kids," he said. "Do you want your children and grandkids to be able to live near you? If you would, it means we have to allow changes in our neighbourhoods. We can have many debates about those changes, but we have to at least talk about it."
Going beyond 'I'm right!'
While advocates often have a supply or demand leaning, many acknowledge that solving affordability will require different types of solutions.
"It's the thoughtful toolkit, not the silver bullet, that wins the day," said Yan of SFU.
Yan is known for his data analyses, such as reports on foreign ownership and Vancouver's million-dollar property line. But he says locals using data simply to prove a point are doing harm.
"Data starts a conversation; it never ends it," he said. "What we've seen is some parties using data just to say, 'Oh, this ends the conversation!' as opposed to using them to inform the consequences of action and inaction. That actually wasn't how I was taught to use data. The conversation continues. The city continues beyond a study."
The topic of how foreign participation in real estate affects affordability is one conversation that politicians and real industry players have tried to shut down with data and cries of racism. Yan calls this a "social hack" or "shutdown code" aimed at blocking a dialogue on globalization and housing affordability.
Lauster, the UBC sociologist, also encourages people to keep conversations on housing going. Talk to actors involved and hear how they see things, "not leave people as faceless, dehumanized villains," he suggests. Find common ground on a vision of how Vancouver should be, "versus picking fights or taking a left opposed to a right on the road map to get there."
"Housing is complicated stuff," said Lauster. "To really understand what's going on, you should be motivated more by curiosity rather than, 'I'm right! I'm going to show you I'm right!' Interrogate the ambiguity. Embrace the complexity."