[Editor's note: Last week, UBC unveiled Musqueam street signs on its Point Grey campus, which sits on the traditional and unceded territory of this First Nation. Last year, Musqueam elder Larry Grant talked about what the Point Grey area means to his people, who have lived there for millennia. His conversation included past and recent history, the forest and swamp that preceded modern development, the extensive villages and community life, and the economic, strategic and spiritual significance of the area, including what it can teach people today. The following is an edited version of that conversation and walk around the campus in August 2017.]
"It's been a long time coming," says Larry Grant, a Musqueam elder. A sprightly man who looks much younger than his 81 years, he talks quietly but firmly, a smile never far off.
Grant is standing by the Musqueam pole on University Boulevard, in front of the UBC bookstore. "It means a lot to us to have Musqueam recognition and acknowledgment on campus, in a very public space."
According to their oral history, Musqueam have lived in Greater Vancouver, their traditional territory, for thousands of years. UBC, the entire Point Grey campus of which sits on unceded Musqueam land, signed a memorandum of understanding with the Nation in 2006. Fruits of this new relationship include the pole, carved by Musqueam artist Brent Sparrow Jr. and dedicated in April 2016 to mark the hundred-year anniversary of UBC, and new Musqueam street signs on campus, unveiled this April.
Grant is elder in residence at the First Nations House of Learning, and adjunct professor in the First Nations and Endangered Languages program at UBC. When he's on campus, Grant likes to come and sit by Sparrow's pole. He points to the lush water feature at its base, which includes tall grasses.
"The word Musqueam means a plant of some sort — we're not too sure which one. Our grandparents said when we were kids that they had not actually seen it but had heard descriptions of it. These are tules, rushes. And this is to represent the river, the foreshore of the Fraser." The river, he says, is still a major focus of Musqueam life.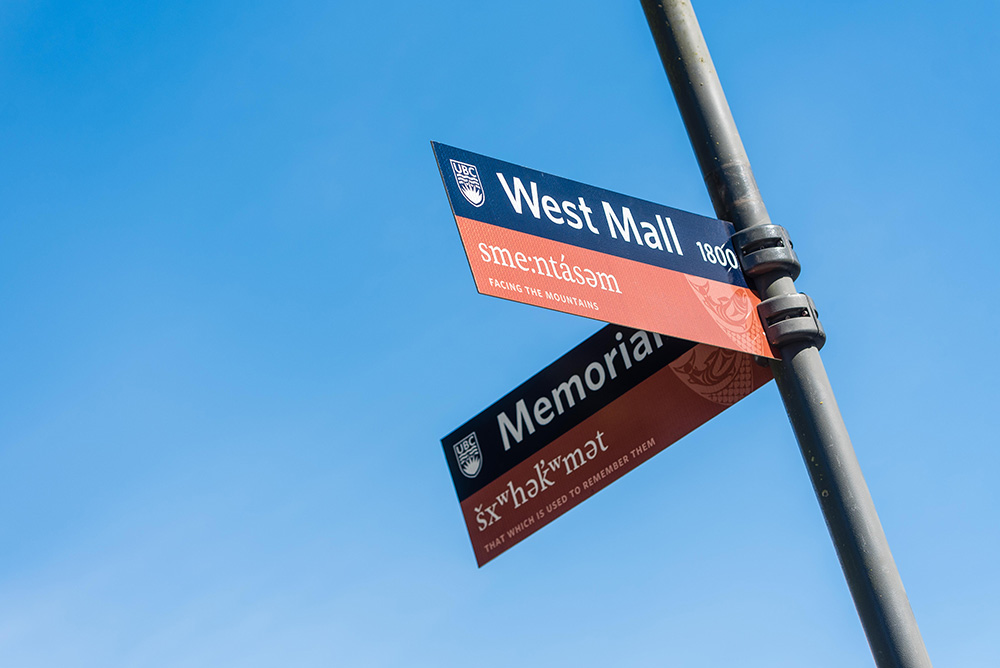 A multitude of communities
At UBC Grant teaches hənqəminəm, the Musqueam dialect of the Salishan language Halkomelem. "My mother was a fluent speaker," he explains, "but we didn't speak much as children. When I was growing up, I heard the Vancouver Island dialect a lot, and the Musqueam dialect. Many of our families have relatives over on Vancouver Island."
Grant also has family that have been on the North Shore for many generations. "In our oral history, that land was hənqəminəm-speaking territory," he says. The original territory in the Nation's "specific use area" — which was designated in the 1970s by more than 70 Musqueam elders — ranged from Point Grey north to the Harvey Creek area on Howe Sound, near present-day Lions Bay. It also stretched over the mountains and down Indian Arm into Port Moody, Coquitlam and Katzie (now Maple Ridge), then up into Kwantlen and south as far as Tsawwassen.
"Pre-contact, before Europeans came, that was the language area," Grant says. "The Squamish as a nation was not in there. They have come into the inlet fairly recently, and have now intermarried throughout the Lower Mainland."
Added to the traditional Musqueam territory is a much larger shared-use area. People used to venture far up into the Fraser Canyon harvesting fish, and south to Point Roberts and north into the mountain ranges hunting and gathering. "We got wool from mountain goats for weaving, picked berries and a lot of roots and things that were used at that time," Grant says. "Today it seems like we have a small area of claim, but it doesn't include that shared-use area."
"It's hard to say," Grant replies when asked about the size of the Musqueam Nation pre-contact. "Population numbers run between 35,000 and 65,000 people in the inlet area. You can't just think of the reserve areas today, there were a multitude of communities throughout the area."
Vancouver is a clearcut
Other than the area now called Wreck Beach, Grant points out that a century ago, the UBC campus was forest; it was clearcut in 1912 to make way for the university. "All of Metro Vancouver was forest," he adds with a chuckle. "Today, it's the largest clearcut in the southwest corner of the province. Even Stanley Park is second and third growth."
There was a Musqueam village on the Deadman Island side of Stanley Park, and others on Prospect Point and Point Atkinson, by what is now Lighthouse Park. There were no permanent Musqueam settlements on the present UBC campus, but there were villages all around the perimeter, including the reserve to the south, where Grant grew up, and at Jericho–Locarno Beach, to the northwest.
"That is a huge, huge village site," Grant says. "Many of the homes that are built on the side hill and along the shoreline there have disrupted a lot of burial sites and middens of that community. There would have been grasses all along there; a lot of it has been filled in, where the swampy areas were. It didn't have the clean sand before, a lot of that has been shipped in."
Ecologically, the area was much richer back then, teeming with ducks and water life. "There were a lot of muskrats along the foreshore and up the river," Grant recalls. "In our childhood they were still trapping them. The fur trading companies would buy the fur, the Hudson's Bay."
A ceremonial and spiritual retreat
The lush, old-growth forest of the Point Grey area — including what is now Pacific Spirit Regional Park and the UBC campus — was important for the Coast Salish people. "Trails criss-crossed the forest, from the river to the inlet. It was a place where we gathered our medicines, some of our foods, and the materials for making houses and canoes."
The Musqueam also used the forest for ceremonial and spiritual retreat. "People would go there on their own, or sometimes together, and come to peace, come to terms," Grant explains. "Very much like we take off for a few weeks and go camping somewhere and reflect on our life."
Young people were trained in the forest, learning what plants were safe to eat and acquiring the discipline it took to live there. "So it's been a place of learning, of physical and emotional learning, for a long time. As it is today — it's really interesting to see that."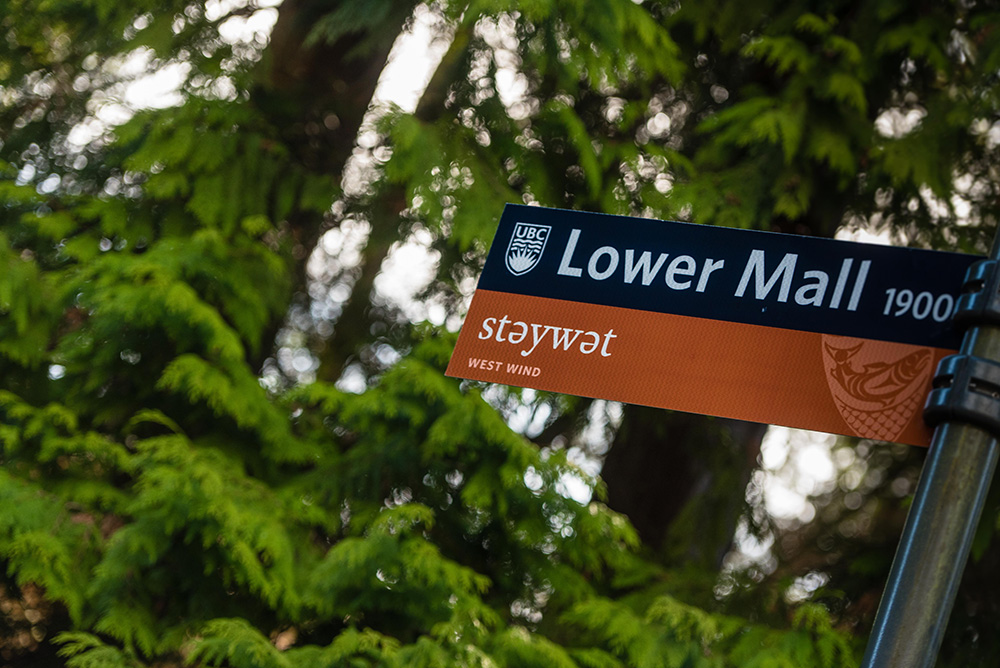 A strategic site and a place of transformation
"In the very first colonial days," Grant says, "the campus was a strategic military spot." In the late 1700s the warrior chief Capilano (Grant's great-great-great grandfather) lived in a fortified site on the beach with the families of other warriors, mostly Musqueam. They fought battles in the area, and welcomed the first Spanish and English explorers, including Captain George Vancouver.
"The lookouts were high up and the fortified site was on the beach. The families had a signal system watching for strangers coming from across the Salish Sea or up from Puget Sound."
In 2011, UBC named a new house in Totem Park residence, q'ələχən, after this fortified site. A second house was given another Musqueam name: hələsəm', or transformation.
"Our Transformer in the early times was named χe:l's," explains Grant. "He came along and helped people. The ones that didn't respond to the encouragement were sometimes changed into animals or rocks."
One time a man settled at a spot just south of Wreck Beach by a natural spring, and refused to share the water. So χe:l's turned him into a rock, and also transformed the container he had into another rock. "There are a pair of rocks in that area that represent that," Grant says.
The Musqueam chose the name hələsəm' to remind students of the importance of sharing. "Today at universities, you have to share all your resources, and if you don't you might be transformed into a lump on a log," Grant says with a chuckle, "in the sense that you won't advance."
Deer and cedar
The campus was also home to elk, deer and black bears, Grant says. He recalls the last time deer were hunted here, when he was a teenager: "A few people come along and got them, and the community had a feast."
There were also small mammals, including a lot of raccoons, which have become much rarer since the half dozen salmon-bearing streams on campus were covered up with culverts. "The salmon attracts wildlife. Across Metro Vancouver, from here to Coquitlam, they covered over about 50 streams, the majority of which were salmon-bearing. It's the real estate guys making millions on unceded land."
The cedar to make canoes and longhouses came from on campus. "There were huge trees at that time," Grant says. "That, for instance, is not a very large tree," he says, pointing to a cedar near the bookstore. "It may look like it, but it's not, compared to the trees that were here before. When we were kids there were stumps that were at least two and a half, three metres across, at least three metres off the ground, throughout the Endowment Lands. That's how large the trees were."
The Musqueam used the cedar to make split boards for longhouses, which were held together horizontally on a frame using cedar roots like rope. "The roof boards were interlocking, with lips on them and grooves," Grant explains. "They would overlap, like this," he adds, putting one hand just over the other.
Cedar bark was also used to make hats and clothing like capes, and the inner bark was crushed and woven into fine textile material with many purposes, including in house and canoe building. Cedar branches were used in spiritual ceremonies as well.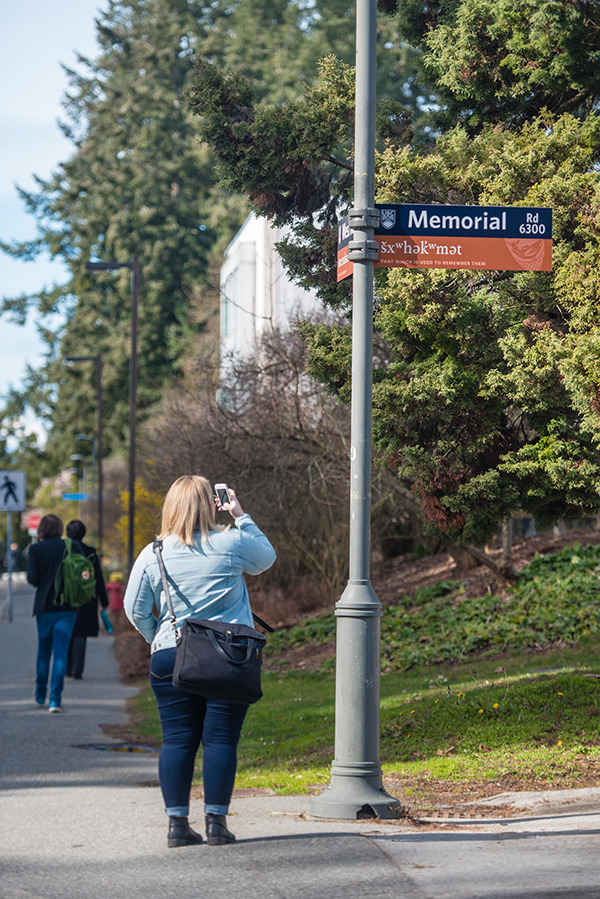 Bounty of the beach
The Musqueam were not whalers, but did hunt both seals and sea lions. They also harvested kelp along the beach; pre-contact, kelp was food, and as a young man Grant and his friends gathered it, dried it and sold it to merchants in town, who used it to make food and medicine. "Either Chinese or the private drugstores that used to be around, long before London Drugs took over," Grant says.
"We also gathered herring eggs; there were herring that spawned around the point area," he says, pointing to an area near the Museum of Anthropology. "Herring roe is a real delicacy, a very rich food, rich in oil, vitamins and nutrients."
The Musqueam also fished from the beach for smelt — eaten right away — and salmon and eulachon, which they dried on racks. "They used to get mussels and clams around here, too," Grants says, "in my mother's generation, around 1900."
Grant reminds us that the Fraser River was much shallower back then. "When we were kids they used to be dredging it all the time, so that the tugboats and barges could go upriver; the ships would go up the main river at Steveston. They gradually built the jetty that's out there today, that wasn't that length when we were kids, and didn't exist at all when my mother was growing up. They were training the river to self-scour, so it was narrow enough and deep enough that it would keep the sand flowing out into the Gulf of Georgia."
Before contact there were a lot more wetlands and many more fish. "The diversity of the marsh system was a lot richer than it is today," Grant says. "And all of the pollution that was created by developing communities, the agriculture, the ranching, and then the commercial entities that used all of those toxic chemicals that were not regulated at that time — they polluted the whole foreshore, all the way down from the Coquitlam area."
So do the Musqueam object to the nudity on Wreck Beach?
"Oh no," says Grant. "If people want to be without clothes, they can be. Traditionally, we would have been there in almost that state, because it's so hot. And we didn't have a Victorian attitude about the body, you have to remember that."
A history shrouded in shadows
The other part of campus that has become important to Grant is the just-completed Indian Residential School History and Dialogue Centre, which was formally opened on April 9. He likes to come here and sit in the surrounding Library Gardens, a lush park with only indigenous plants.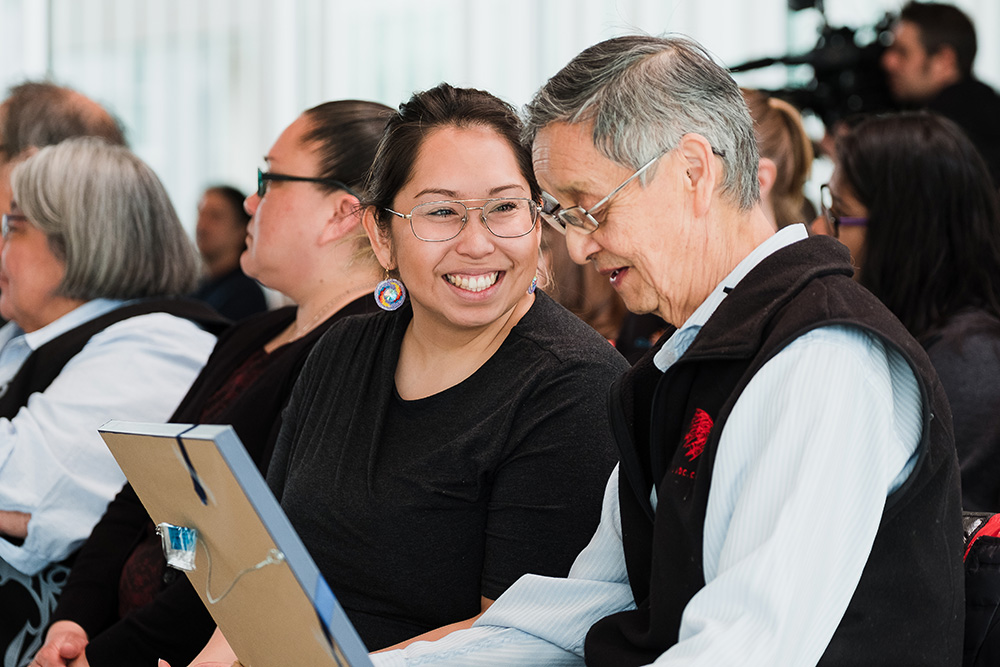 "They declared this the middle of campus, right here; the president's office is right up there," he says, pointing to the Koerner Library building. "To me, this has come to be a special spot."
The centre is the western repository of the archives of the Indian Residential School Commission, and Grant is pleased that people can come here to research their families or learn about residential school issues.
Grant managed to avoid residential school, but many in the Musqueam community — including his wife — weren't so lucky. So what does the centre mean, to Musqueam and other First Nations?
"Hopefully it means that people will become a little bit more aware of all the acts of denial created by the Canadian government. And the Canadian government is an offshoot of the English parliament, and England is the heartland of freedom and democracy. Which had no problem subjugating Indigenous people as part of their colonialist system," Grant says.
"How many Canadian-born people know anything about this? Very few. It's a subject that's not spoken of, it's a part of Canada's history that's shrouded in the shadows.... If we have dialogue between international students that come from war-torn, politically subjugated countries, to this wonderful, free land, they can have a better understanding of that history."
Grant notes the irony that the centre sits in front of the Irving K. Barber Learning Centre: "Barber made his fortune logging in the Kootenays, on unceded lands.... You know who the biggest benefactor of UBC is? It's not Koerner, it's not Barber, it's not [Peter A.] Allard — it's Musqueam! The billions of dollars of real estate that have been appropriated, that Metro Vancouver and UBC sit on. And if you can't get that out of all of this, somebody has to wake you up!"
Grant apologizes for sounding angry. "It's a challenge," he says. "It's a sensitive thing to talk about, and if nothing's going to happen, you have to let it go. Not forget it, but not let it eat away at you. That's the challenging part.
"I am bitter. But if I come across as bitter, you're not going to listen to me, you'll feel defensive. Either that or all of a sudden you'll get guilty about something you shouldn't have to, and you won't listen to my story.
"And that's so important — for you to listen to my story."
To learn more, visit the Musqueam Place Names Web Mapping Portal.