As hereditary chief George Quocksister Jr. of the Laichwiltach Nation approached Marine Harvest's Sonora Point feedlot in the Discovery Islands last week, he spotted bubbles rising from an open net pen.
Quocksister, a guest on board a Sea Shepherd Conservation Society vessel and long-time commercial fisher, decided to investigate — and found thousands of wild herring and capelin trapped in one pen.
Wild salmon activist and researcher Alexandra Morton invited Quocksister along as a First Nations representative on this summer's mission to bring attention to declining wild salmon stocks and chronic disease problems on industrial fish farms.
Almost all of B.C.'s fish farms are located on First Nations' territory, with many placed on wild salmon migration routes without their consent.
When Sea Shepherd's R/V Martin Sheen stopped outside Marine Harvest's operation on Aug. 2 to take water samples, Quocksister recognized bubbles rising from two shallow net pens as signs of fish.
Most of the pens at the facility were empty because mature farmed Atlantic salmon had just been pumped out for harvest, Quocksister said in a phone interview.
When Quocksister asked what was in the shallow pen, a Marine Harvest employee replied that there were "no fish" in it.
But Quocksister decided to return in a dinghy with a GoPro camera to investigate.
Ignoring complaints from employees that he was trespassing, Quocksister boarded the farm wearing a ceremonial headdress and apron, put the camera in the pen and started filming.
"Lo and behold I was looking at maybe seven tons of wild stock fish," said 68-year-old Quocksister. The water in the pen was only about 50 centimetres deep, he added.
"Why didn't the company not drop the net and release them? Why are they killing our baby fish?" he asked. "How many tons of wild fish [were] scooped up when they pumped out the mature farmed fish?"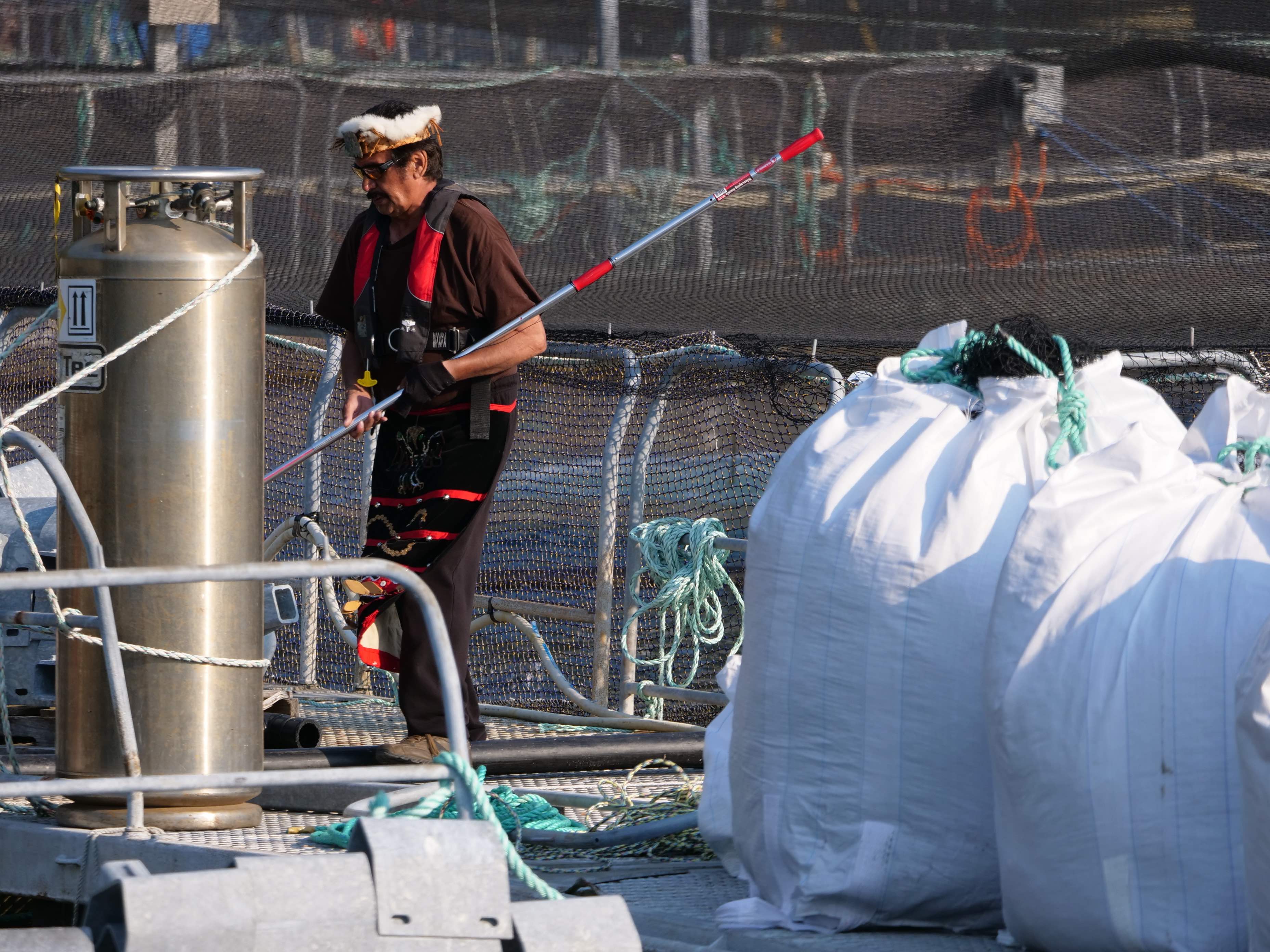 Bycatch during harvest is a significant problem and the industry must report all "incidental catch of wild finfish from B.C. marine finfish facilities during harvest and transfer events." Sometimes thousands of wild fish will be harvested along with the Atlantic salmon. 
For 30 years Atlantic salmon in fish farms "have been eating wild baby fish in these pens," charged Quocksister.
Quocksister said he called the Department of Fisheries and Oceans to report the trapped fish but got no response. 
Ian Roberts, director of public affairs for Marine Harvest, said in an email that "Small wild fish may swim into, and out of, aquaculture net pens. Some fish may remain and cohabitate with cultured fish. When the net pen is removed after harvest, the wild fish are released into the ocean."  
Marine Harvest, a Norwegian-based corporation, operates more than 50 industrial fish farms around Vancouver Island.
The impact of farming Atlantic salmon on wild fish has long been a hot political issue even though studies have shown that fish farms can spread viruses and parasites that impact wild salmon.
In 2012, Morton filed charges against Marine Harvest for possessing wild juvenile pink salmon and herring in boats used to pump out grown farmed fish from ocean pens. The company pleaded guilty to failing to return Pacific herring bycatch to the ocean and was fined $5,000.
Michelle Rainer, a communication advisor with the DFO, confirmed that wild fish swim in and out of net pens at fish farms and can co-exist with farmed fish. She added that there is "ongoing research to determine to what extent wild fish are preyed upon by farmed fish within net pens, but at this time predation appears to be minimal." *
But commercial fishermen have noted for years that food pellets not eaten by the farmed Atlantic salmon attracts schools of wild fish.
Salmon farms also routinely turn on bright spotlights during the winter and spring "with unknown consequences on the abundance and distribution of marine fish and invertebrates," say researchers.
The lights increase the numbers of some fish species around pens "thereby increasing the probability that farmed fish and wild species directly and indirectly interact in coastal marine environments," the research found.
Fish farms not only attract wild fish, but also their predators. According to DFO figures 110 sea lions drowned in Atlantic salmon pens in 2007, including one event that claimed over 50 animals.
The DFO hasn't studied the phenomenon of fish farms acting as major fish attractants in depth, but Norwegian researchers have.
A 2014 Norwegian study, for example, found that as many as 17 different species of wild fish came to dine on waste feed from Atlantic salmon feedlots. (Up to five per cent of fish pellets aren't eaten and drop out of the pens to the ocean floor.)
Up to 10 tonnes of wild fish crowd around the nine studied Norwegian fish farms in the summer months, the research found.
As powerful wild fish attractants, fish farms can also spread disease into the wild too. "The little knowledge that exists indicates that the transfer of pathogens from farmed fish to wild marine fish takes place," noted the Norwegian researchers.
They also concluded that "attraction of fish to farms may be negative for local fishermen if it reduces the availability and food quality of the wild fish."
Wild fish congregating around fish farms are exposed to the pathogens that build in the farms, such as sea lice, piscine reovirus and the bacteria piscirickettsia salmonis, a growing problem in B.C. salmon farms.
Recent research shows that, despite industry and government denials, the deadly and durable piscine reovirus has been causing disease in B.C. salmon farms.
The return of the Sea Shepherd vessel to B.C.'s coast this summer has already ruffled industry feathers.
"We're disappointed that this latest American funded and organized activist campaign is attempting to paint a misleading picture of an industry that provides a healthy, sustainable product that feeds millions of people," said BCSFA executive director Jeremy Dunn in a press release.
* Clarification made on Aug. 10, 2017 at 8:29 a.m.