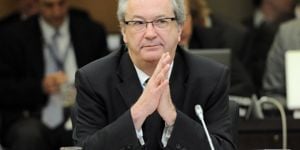 Canada's Chief Electoral Officer, Marc Mayrand, says it would cost about $300 million to hold a stand-alone referendum on electoral reform -- a price tag the Liberals will likely reference in the face of non-stop calls for a referendum from the Conservative benches.
Mayrand also said that if the law was changed and a referendum vote was held in conjunction with a federal election, it would cost marginally more.
He told the Commons committee studying electoral reform over the summer that Elections Canada has started to develop a contingency plan in case it needs to gear up for a referendum -- but hasn't gone beyond that.
"Nothing more," he said. "There's no procurement, there's no activities in that regard. These things take time."
On Wednesday, Conservatives grilled Minister of Democratic Institutions Maryam Monsef over her lack of clarity on the government's position on holding a referendum. In her opening remarks, Monsef made the case against holding a referendum on changing the country's electoral system, but ultimately walked back the assertion by saying it was only her personal opinion.
"My apprehension with a referendum is the possibility that it will provide an incomplete picture of what Canadians want," she told the committee yesterday.
Conservative MP Scott Reid said today he suspects that the Liberals are "trying to run out the clock" to prevent a referendum from happening.
Mayrand said previously that Elections Canada would need a bare minimum of six months to hold a referendum, should the government choose to do so, in large part due to lack of institutional memory; the last time Canada held a national referendum was in 1992, over the Charlottetown Accord. That referendum had cost just over $103 million, according to the official Elections Canada report on the 1992 federal referendum (roughly $159 million today when factoring inflation).
Mayrand 'comfortable' with law by 2017
Mayrand told the committee today that he's "comfortable" with the government's commitment to produce legislation by May 2017 that would change the electoral system, and that a new system could be in place by October 2019 for the next election -- which would meet the Liberals' goal of making 2015 the last election using first-past-the-post in Canada.
"I note that the Government has committed to having legislation in place by May 2017, which I am comfortable with."
He said Elections Canada would need at least two years to prepare for a new system.
Mayrand said his mandate would also need to be changed so that it could allow for an extensive public education campaign to explain the new voting system to Canadians.
Mayrand also fielded a number of questions Thursday from MPs about online voting. He said not to expect any kind of online voting system in place for the next election -- Elections Canada isn't prepared for it -- but he welcomed recommendations from the committee.
Former Chief Electoral Officer Jean-Pierre Kingsley was slated to testify Thursday afternoon.