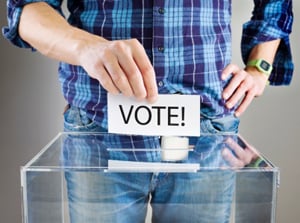 As they were in April, Canadians are evenly divided on whether the Liberal government should hold a referendum on changing the electoral system, a new poll from EKOS Research finds.
From June 3 to June 7, EKOS asked 1,158 Canadians the following question: ''Some people say that any change to the electoral system is so fundamental that it would require a national referendum. Others say that a rigorous program of public engagement and Parliamentary review should be sufficient. Which statement is closer to your point of view?''
With a margin of error of +/- 2.9 per cent, 19 times out of 20, just under half of respondents -- 49 per cent -- told EKOS a referendum is unnecessary. Forty-four per cent said it was necessary and seven per cent didn't know or didn't answer.
That's a slight change from EKOS' April results, but the overall numbers are essentially the same.
On April 14 and 15, EKOS reached 1,176 Canadians, asking the same question: 46.7 per cent felt a referendum was necessary, 46.7 per cent didn't, and 6.6 per cent skipped the question.
The most recent EKOS poll began a day after the government reversed course, amending and then supporting NDP MP Nathan Cullen's electoral reform motion, giving up their majority on the yet-to-be-formed parliamentary committee on electoral reform.
The motion was adopted by the House on Tuesday, with only the Conservatives voting against it.
That division in the House vote is largely reflected in the breakdown of EKOS' numbers by party support.
The majority of Conservative supporters (67 per cent) insist, like their party, on a referendum. Liberal supporters are almost the mirror opposite.
Only 33 per cent think a referendum in necessary, while 64 per cent don't.
A slight majority of NDP supporters are fine without a referendum, whereas most Bloc supporters want one. In both cases, however, the margin of error is high and the result needs to be interpreted with caution.
Regionally, support for a referendum is highest in Alberta (61.7 per cent) and lowest in Quebec (38.1 per cent).
Conservatives pushing referendum
The latest EKOS poll comes weeks after Ipsos Public Affairs asked a variation of the referendum question and got a much different result.
Ipsos found 73 per cent of Canadians in favour of a referendum -- a result the Conservatives have highlighted almost daily in question period.
''The Prime Minister said yesterday, 'Conservatives are the only ones pushing for a referendum.' I guess the Prime Minister must have missed the poll showing 73 per cent of Canadians want a referendum,'' Conservative democratic reform critic Scott Reid charged Wednesday.
Ipsos Public Affairs CEO Darrell Bricker weighed in on the widely divergent results in May, telling iPolitics he firmly believes most Canadians, given their druthers, would prefer a referendum.
''But if you could convince them that (an alternative) process, whatever it was, was legitimate -- did a better job and all those things -- they would be prepared to at least look at it, which divides the population in about half,'' he said.