On the eve of the National Energy Board's much-anticipated ruling on the Trans Mountain pipeline expansion, a half-dozen "kayaktivists" took to the waters of Vancouver's port at dawn to frustrate the transit of a giant oil tanker attempting to dock at proponent Kinder Morgan's terminal.
350.org climate activist Claris Figueira was one of them. At 6 a.m. Wednesday, she paddled Burrard Inlet to within metres of the massive oil transport ship -- two and a half football fields in length -- and waved a burning flare stick in front of it.
"My heart was pounding. It was big, red, rusty and very, very tall. It felt like an apartment building just leering down on me," the 23-year-old told The Tyee.
"I had this huge sense of how crushable I was as a little person. But I also didn't want to stop or paddle away. I wanted to stand my ground, or I guess, stand my water."
Figueira was so close to the ship as it hauled its anchor to be escorted by tug to the Westridge Marine Terminal, that water sprayed around her.
She and her protester colleagues timed their early morning encounter with the tanker Eser K using information publicly available about vessel movements through an app similar to MarineTraffic.com.
Within minutes of the kayaks' appearance at the giant ship's bow, Port of Vancouver officials rushed out by boat to order the activists to leave the vicinity immediately.
Flares for emergency only
The officials were particularly concerned by the activists' use of the burning flares, Figueira recalled.
Later in the day a Port of Vancouver spokesperson, who asked not to be identified, explained why: "Using flares has a very specific meaning in a marine environment. A rocket parachute flare or a hand-flare showing a red light is an international distress signal of needing assistance."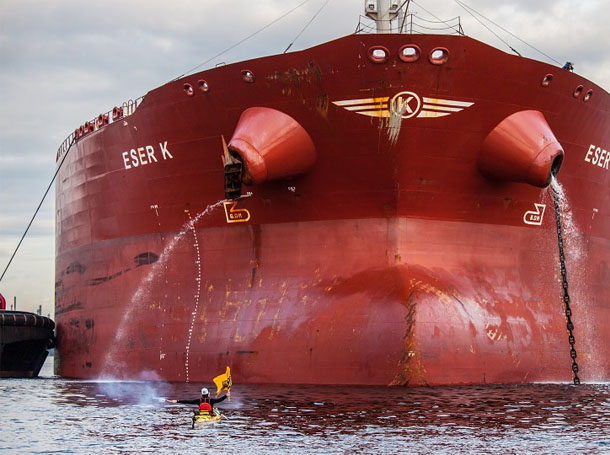 A news release from 350.org acknowledged the climate activist group for attempting to block the tanker, which eventually reached its terminal berth after about an hour's delay.
None of the protesters were arrested or questioned.
Transport Canada and international marine laws require all small vessels -- including kayaks -- to steer clear of large vessels in restricted channels, for obvious safety reasons.
Nonetheless, Figueira warned that more kayaktivism is coming.
"We will continue to put our bodies in front of these enormous pieces of machinery to protect what matters to us, and that's this place, the Salish Sea," she said.
Kinder Morgan Canada Inc., no stranger to protests, appeared to take this latest water-borne demonstration with a grain of sea salt.
"Trans Mountain understands and appreciates that there are a variety of opinions about our proposed expansion project and we respect the right to peacefully demonstrate and express those views," the company said in response to a media inquiry.
More kayaktivism ahead
Kayaktivism as a new form of protest went vogue in May 2015, when a miniature flotilla invaded the Port of Seattle to protest Royal Dutch Shell's Arctic oil drilling plans. The company has since cancelled its Arctic oil plans, citing prohibitive costs.
Another kayak protest took place on the Seine River in Paris during last December's climate summit, to draw attention to Aboriginal concerns.
Greenpeace and 350.org organized the latest action to protest what they believe will be the NEB's approval Thursday of the $6.8-billion Trans Mountain expansion.
"Those actions are about keeping fossil fuels in the ground," said Greenpeace climate campaigner Mike Hudema from Edmonton. "People are increasingly putting their bodies in the way."
Hudema believes the Trudeau government is under pressure from oil companies to approve the Kinder Morgan pipeline now to provide assistance to hard-hit Alberta oil workers.
Even before the Fort McMurray wildfire, oil prices had dipped to the lowest level in a generation earlier this year, before recovering somewhat this month, costing the industry thousands of jobs.
Figueira is sympathetic to that.
"My heart really goes out to the folks in Fort McMurray and all over Alberta that have been hit so hard by these wildfires, and the economic downturn as well," the activist paddler said.
"[But] we can't keep looking to pipelines as economic solutions when we understand what the tarsands are doing to our climate.... We're in a state of emergency, and we need to start acting like it."