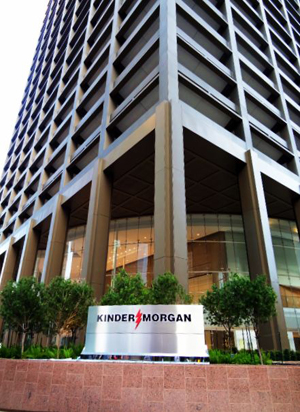 When it comes to the proposed Trans Mountain expansion in British Columbia, ''confidence is actually growing,'' Kinder Morgan CEO Steve Kean told investors on a conference call Dec. 8.
"We also had, of course, a government changeover up there, and we're in communication with the new government to understand what, if any, additional process will be required,'' Kean said from a boardroom in Houston. ''But we're hopeful that that can be managed within the existing timeframe that we're working with.''
Kean told investors he expects to ''get our permit'' from the National Energy Board in May 2016, with approval from the federal cabinet later in the summer. The new pipeline should be shipping diluted bitumen to Burnaby by ''the latter half of 2019,'' according to Kean.
What conversations have happened between Kinder Morgan and the new Liberal government to make Kean so confident? According to the federal lobbying database, none.
Records show Kinder Morgan lobbyists met with ministers and federal government staff 151 times before the election, but the last tête-à-tête occurred Sept. 29, 2015. Is Kinder Morgan therefore ''in communication'' with the new government in a manner not captured by the Lobbying Act?
Trudeau has promised a 're-do'
If Kean knows something Canadians don't, economist Robyn Allan says it's another example of Ottawa's ''gross favouritism to pipeline operators.'' Allan, a former CEO of ICBC, withdrew as an Intervenor in the NEB's review of the Trans Mountain expansion, calling it a rigged process.
''This runs counter to what Prime Minister Trudeau promised Canadians when he explicitly stated that the Trans Mountain expansion review would have to be "redone" and the Board conducting the review would be overhauled to make it credible,'' says Allan.
The promise from Trudeau to ''re-do'' the Kinder Morgan review came at a campaign stop in Esquimalt on Aug. 20. Afterward I sent a letter to Liberal Party headquarters asking for more details. On Oct. 9 I received a response from Anna Gainey, the party president: ''As you are aware, Justin Trudeau and the Liberal Party of Canada have serious concerns with the process surrounding the approval of this pipeline. We cannot support the pipeline in its current form,'' wrote Gainey.
Clearly that message never made it to Houston.
NEB refuses to look at financial troubles
With oil prices crashing, Kinder Morgan Inc. (KMI) shares are worth barely a third of what they were in April. Kean's mentor and predecessor, Rich Kinder, has lost an estimated $6 billion this year -- half his personal fortune. After delivering returns some analysts called too good to last, the company slashed its dividend by 75 per cent last week to stave off a credit rating downgrade to junk bond status.
Steve Kean left Enron after the energy giant crumbled into bankruptcy in 2001, throwing 21,000 people out of work. Kean was the chief of staff to CEO Ken Lay, who died while waiting to be sentenced on 10 counts of fraud and other charges related to the Enron collapse. Kean went to work for Rich Kinder, who had left to found a new company, Kinder Morgan. Kinder's successor at Enron, Jeff Skilling, is still in a federal prison in Colorado.
The Trans Mountain expansion is the single largest project on the books at Kinder Morgan. Its success is key to getting the cash flowing again at the beleaguered Texas pipeline company. ''I raised with the discredited National Energy Board the question of KMI's precarious financial situation and its risk to the Canadian public,'' said Robyn Allan, ''but the Board consistently refused to consider KMI's impending financial difficulties, siding with Trans Mountain's claims that such an assessment was outside the scope of its review.''
Today, Kinder Morgan will present its final arguments before the National Energy Board in Calgary, trying to make the case that its Trans Mountain bitumen pipeline is in Canada's national interest.
Steve Kean is right about one thing: based on the limits placed on the process by the Harper government, the NEB will probably approve this proposal next spring. The real question is what the new cabinet does next. If they find a way to punt the decision for a few months, Kinder Morgan's house of cards might just collapse on its own.
The other option is that the new government sticks to the old timeline. Either way, we'll find out soon whose side they're on.