Boilermaker Lliam Hildebrand admits he's been living a "double life."
The Victoria native grew up enjoying Vancouver Island's natural beauty and developed a passion for the environment. But unable to find work in his desired field of renewable energy, he applied his training for years in what may be the most controversial industry on the continent: Canada's oilsands.
"When I entered the trade, I didn't have any understanding of climate change and the impact my trade is having on the world," Hildebrand said. "But that awareness has been growing within me and our society."
So Hildebrand rolled up his sleeves and built a non-profit oilsands-worker-led initiative called 'Iron and Earth' -- and on Monday, he and a cadre of other oil workers launched it at a press event in Edmonton.
Their goal? Train laid-off oilsands workers for jobs in the growing field of renewable energy in Alberta.
"We're a group of oilsands workers who see incredible opportunity to transition our skills to the renewable energy industry," he told a press event attended by oil executives, oil workers, environmentalists and much of the Alberta and national media.
Iron and Earth called on the Alberta's NDP government to fund their 'Solar Skills' campaign to re-train 1,000 "unemployed electricians" from the oil industry. The group hopes to draw in pipefitters, iron workers, and other building trades as well.
The group's immediate goal is to build 100 solar installations on public buildings throughout the province starting in the fall. It's asking for provincial funding, but energy companies Suncor and Enbridge have also shown interest.
"I think it's a good idea. It's completely consistent with the Alberta Climate Leadership Plan," said Enbridge's Chief Sustainability Officer, Linda Coady. "I think it's time we started thinking about our energy systems horizontally, and not vertically."
"I think the skills are transferrable across the [oil, gas and renewable] sectors -- and training is the key," she added.
'Carbon-based guy' convinced
Iron and Earth's co-director is a third generation boilermaker. Joseph Bacsu called the project a cool bringing together of the political left and political right, and of industry folks with the environmentally inclined.
"We call our team a 'beautiful mess,'" he laughed.
"When Lliam and I first met, he had to convince me," Bacsu admitted. "I'm a carbon based guy. I'm not an activist. I'm not, 'green this, green that.' Oil has obviously given me the lifestyle I live today."
But he said Iron and Earth is much-needed positive move forward in a national conversation long polarized by protests and denial, but now moving forward with real green energy efforts.
And the effort is getting noticed by some policy VIPs.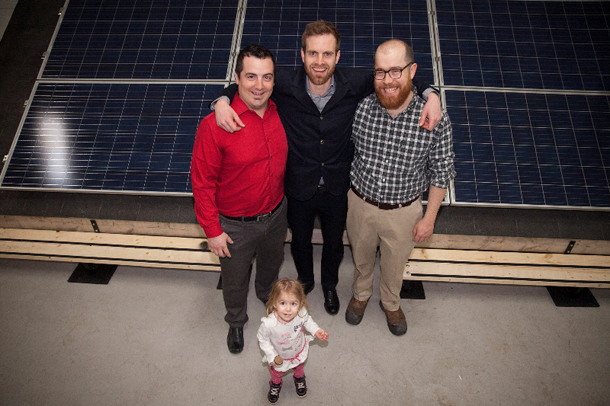 Earlier this month, Hildebrand attended the GLOBE sustainable business summit in Vancouver. His idea won encouragement from other attendees David Suzuki and Canadian Labour Congress president Hassan Yussuff, and according to those present caught the attention of Canada's Minister for the Environment and Climate Change, Catherine McKenna. The federal Liberal government has promised to invest significantly in clean energy this year.
The go-green training concept comes at a tough time for the oil industry. The Canadian Association of Petroleum Producers has said that some 100,000 jobs were lost in 2015 due to low global oil prices.
"The job losses are pretty extreme," said Hildebrand."Most of the new construction jobs have dried up. If oil prices don't pick up again, the future is fairly uncertain for a lot of us," said Hildebrand.
A third member of the group is Adam Cormier, an electrician from Corner Brook, Newfoundland. He's planning to take the idea behind Iron and Earth back east, where Newfoundland and Labrador has been hard hit by low oil prices too.
"Massive job losses. Our unemployment rate is 12.4 per cent. A lot of people out of work, home from Alberta," said Cormier.
Within hours of the Iron and Earth website being launched, some 100 oil workers had signed on, the trio said.
"Based on the conversations I've been having on the job site for the last five years," Hildebrand said, many laid-off oil workers "get it" about global warming. "We're very grateful for the [oil] jobs that we have, but also want to ensure a future for our children and the planet."
Iron and Earth, he and his companions say, could help deliver both.