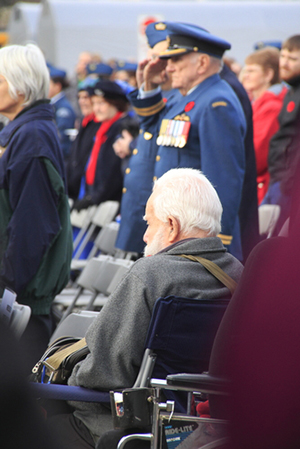 The government's treatment of military veterans could be causing a significant splinter in the Conservative base, according to a poll conducted on behalf of a veterans' group.
The Canadian Veterans Anyone but Conservatives (ABC) campaign launched last week, and now the group has released the results of a poll it commissioned to gauge how the Conservatives' handling of veterans' affairs could affect the election.
Organizer Tom Beaver said even he was surprised when he saw that nearly one-third of those polled who voted for a Conservative in 2011 are considering casting a vote for someone else over veterans' issues.
Beaver said Harper may be trying to downplay the issue now, but he can't ignore it.
"It's going to come to the forefront of the election," Beaver said. "What Harper has to realize is the ABC people are part of the Canadian population, the numbers are growing, and part of that population is going to be voting."
Veterans have criticized changes such as closure of nine Veterans Affairs bureaus across Canada, and the replacement of life-time pensions for veterans injured while serving with lump-sum payments.
One-third agreed vets issues matter
Insights West conducted the poll of 1,006 people who supported the range of Canada's mainstream political parties last election. The poll had margin of error of plus or minus 3.1 percentage points.
Of those who said they supported the Conservatives in 2011, more than 32 per cent either strongly or moderately agreed with this statement: "Failing to support Canadian War Veterans is one reason to defeat Prime Minister Stephen Harper and the Conservatives in this year's federal election."
The poll also asked respondents to what degree they agree with this statement: "I will vote for the candidate of whichever party has the best chance of defeating the Conservatives in my riding to ensure that Canadian war veterans get the help they deserve."
While 58 per cent of Conservative supporters strongly disagreed, nine per cent strongly agreed, 12 per cent moderately agreed and 11 per cent moderately disagreed. The remaining 10 per cent weren't sure.
Mario Canseco of Insights West said it was no surprise that Liberal and NDP supporters felt the Conservatives have mistreated veterans, but the strong response by those who said they voted Conservative last election shows the issue could hurt the Tories.
"It really shows that even though this might be seen as one of the lesser issues in the campaign, if you have somebody you're close to [that] you feel has been mistreated by the government and they're a veteran, you're definitely going to remember that when you head to the polling station."