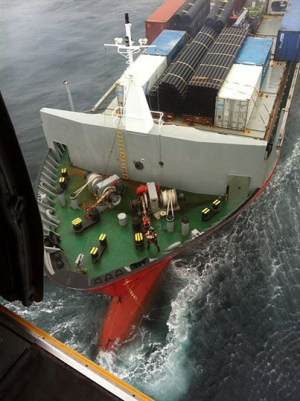 With an 135-metre Russian container ship now safely at port in Prince Rupert, a top environmental lawyer says that 19 months ago he warned the federal government precisely such an incident could occur to oil tankers on open waters off the West Coast.
The Simushir lost power in severe winds Friday and drifted within 14 kilometres of the rocky shores of Haida Gwaii carrying 500 tonnes of bunker fuel. The beleaguered vessel's captain was evacuated by helicopter after suffering a "cardiac event," a high-placed government source confirmed.
Even the head of one of the $6.5-billion Northern Gateway's most vocal backers, the B.C. Chamber of Commerce, expressed concern about the delayed response to the incident and questioned whether Canada's marine safety systems are adequate -- suggesting federal authorities displayed a "lack of concern" for its West Coast shipping traffic that must be addressed if oilsands pipelines are to proceed.
For Chris Tollefson, executive director of the University of Victoria's Environmental Law Centre, the Simushir's near-miss in stormy northern seas was not a surprise. The incident took him back to March 18, 2013, when he cross-examined Enbridge Northern Gateway's expert witnesses about what he argued were flaws in their data.
Tollefson represented two environmental groups, B.C. Nature and Nature Canada, at Joint Review Panel hearings in Prince Rupert examining the Northern Gateway proposal.
"We were concerned that the proponent had underestimated the risks associated with navigation and shipping, not just in the confined channel -- the Douglas Channel -- but in the open water area adjacent to it," he said in a phone interview. "That is exactly where this incident took place."
According to review panel transcripts, Tollefson questioned Northern Gateway's expert witness Audun Brandsaeter, senior principal engineer at Norwegian firm Det Norske Veritas, about the data he used to support the company's marine safety plan for the 220 oil tankers a year predicted to use its Kitimat terminal.
But when presented on the stand with two peer-reviewed articles from the journal Accident Analysis and Prevention, in 2010 and 2011, Brandsaeter acknowledged the shipping database used in assessing B.C. tanker risks -- Lloyd's Register-Fairplay -- significantly underrepresented accident statistics, despite being "one of the most recognized databases of marine casualties," Brandsaeter testified.
On the stand in Prince Rupert, Brandsaeter accepted the articles' conclusions that the database saw only 30 per cent of shipping accidents actually reported -- and only those that fell into four categories: grounding (hitting shore), collision (hitting an object or vessel), foundering (tipping or sinking) and fire or explosion.
Loss of power or crew injuries, as occurred with the Simushir, are excluded from the reports despite presenting an obvious danger of an oil tanker accident, Tollefson said. However, presumably a grounding or foundering originally caused by a loss of power would be accounted for in the data.
Brandsaeter told the review panel he was aware of "significant under-reporting" and "deficiencies in the reporting" of marine accidents, but added that "we are confident that is taken care of" within the final calculations used in the Northern Gateway tanker report.
In addition, the Norwegian expert said that oil spills are better reported than other types of accident, partly because they cannot be as easily "hidden" from view.
"You can have a very serious episode arising from a loss of power, which is exactly what happened here, and if you lose power in an open water location in heavy seas, that can lead to dire consequences," Tollefson said in the wake of the Simushir.
US tug rescue a 'fluke'
Tollefson argued that having a U.S. tugboat at port in Prince Rupert come to the Simushir's rescue "was just a fluke," and that the two tugs Enbridge has vowed will accompany its oil tankers navigating the tight waters out to open sea are likely going to be "too small" to deal with a Simushir-like incident "let alone a huge oil tanker in distress."
"Happily," he said, there was no damage or spill from the drifting Simushir, its crew and ship towed to safety by a U.S. tugboat, despite that several attempts to attach towlines failed.
"But it really underscores the need for us to be aware of how risky and how challenging this coast is in terms of the transit of large vessels," he added. "This could have easily turned out differently -- the fact that it didn't is more just good luck than anything else."
The federal minister of Fisheries and Oceans, Gail Shea, admitted the Simushir incident was a "very serious situation" but told the House of Commons on Monday that it was the authorities' response, not chance, that saved the day.
Shea praised the Canadian Coast Guard's response and said the federal government has boosted funding for Coast Guard "renewal" by $6.8 billion.
"Luck had nothing to do with the situation," Shea told parliamentarians, after New Democrat MP Nathan Cullen (Skeena-Bulkley Valley) accused her department's marine safety plan of being "based on a U.S. tugboat and blind luck."
Shea emphasized that the private sector often provides towing service to the marine industry. "We are grateful that the Canadian Coast Guard was able to keep the situation under control, which was very difficult conditions... until the tug arrived from Prince Rupert."
Enbridge Northern Gateway did not return interview requests Monday, but the company has promised its loaded oil tankers will be escorted to open sea by two tugboats, one of them tethered to the ship and both carrying spill response gear. It has also vowed that departing ships would carry a licensed B.C. Coast Pilot.
"We have the most comprehensive set of marine safeguards ever established in B.C.," the website states, including claims that it is three times more prepared for an accident than required by Canadian law.
BC Chamber of Commerce CEO: 'wake-up call' to feds
But one of the project's most vocal supporters said the Simushir incident is "a wake-up call, for sure." John Winter, president and CEO of the B.C. Chamber of Commerce, questioned delays in the rescue operations for the Russian vessel.
"If Canada is concerned about what's going on its coast regardless of the Northern Gateway, they should be dealing with it," he said in a phone interview. "They don't seem to be concerned.
"If Canada is prepared to allow these ships to ply their trade up and down coast, they need to be prepared for the implications.... There is a shipping lane out there that Canada doesn't seem interested in enforcing -- or if they are enforcing it, how come this one got away?"
But despite his criticisms, Winter insisted there's not "really much relevance" to the proposed bitumen pipeline from Alberta and its accompanying oil tankers. The B.C. government has demanded five conditions be met before it endorses the pipeline, including creating a "world class" system for oil tanker safety along the coast, conditions he said have not yet been addressed.
"It's only when that project is a go that those processes would be put in place," he said.
Fisheries and Oceans spokesman David Walters insisted that Canada "already has a strong tanker safety system." He said authorities are nonetheless working on improving the system, including "taking a collaborative and co-operative approach with industry" to prevent and respond to incidents at sea, as well as adding real-time information including "environmental and hydrographic conditions" to mariners' existing navigation systems.
"This incident demonstrates that although Canada hasn't had a major spill in 30 years, the best way to minimize the risk of a spill is a strong prevention regime and strict oversight of safety regulations that are in place," Walters said. "In the case of a spill, what is critical is being prepared to respond quickly and start the cleanup with the appropriate resources close at hand."