[Editor's note: This is fourth in a series of in-depth audio reports and text articles investigating the state of Vancouver drug policy 13 years after the groundbreaking Four Pillars approach was adopted. The project is a partnership between The Tyee and the University of British Columbia's documentary radio series, The Terry Project on CiTR. Find podcasts and airing schedule here. You can also listen to the latest report by clicking on the Soundcloud button further down in this article.]
On May 22, Ann Livingston signed the lease for a Bubble Tea cafe in the heart of Surrey's illicit drug market. Livingston, a prominent activist with the Vancouver Area Network of Drug Users, planned to convert the cafe into a meeting place and drop-in centre for Surrey's homeless drug users. On July 2, however, she was asked to pack her things and leave.
The events of those 41 days demonstrate how Vancouver's drug problem is shifting into its largest and fast-growing nearby city. But while Vancouver set North American standards for progressive drug policies 13 years ago, naming its approach The Four Pillars, Surrey has not followed Vancouver's lead.
The Four Pillars called on all levels of government to treat drug users less as criminals and more as people with medical issues. Measures to cut down on disease transmission and overdoses included distributing clean needles, providing a supervised safe drug injection clinic, and setting up a drug court that could funnel chronic drug users into support agencies. Such policies fall under the heading of harm reduction -- measures that don't demand drug users quit, while providing help to lessen the harm their addictions do to themselves and society.
The people who helped create The Four Pillars with its embrace of harm reduction say it is time for Surrey to catch up. Larry Campbell, the Vancouver mayor who oversaw the opening of the Insite injection clinic, says that Vancouver benefited from a number of important alliances that do not exist in Surrey.
"Where else do you have complete support of your police, your mayor, your health authority? Where else do you have that? Sure ain't Surrey," says Campbell.
"Let's face it. The municipalities around Vancouver are doing zip. Vancouver carries the whole burden," says John Blatherwick, the former chief medical health officer who created Vancouver's first needle exchange.
"Eventually, Surrey is going to have to come into the 21st century. And they'll probably go through the same political evolution that happened here. You need the leader of the quality as Philip Owen or Gordon Campbell who will step forward and say, 'These are our communities, these are our people, and we have to do something for them.'"
The majority of Surrey's licensed recovery homes reject the medical consensus on drug treatment, as revealed in another series article covering treatment in the Lower Mainland. Today, The Tyee and The Terry Project on CiTR examine the state of Surrey's harm reduction services.*
In this exclusive investigation, we reveal that while Livingston is adamant she did not attempt to provide needle exchanges or any other unregulated harm reduction supplies and services to the areas homeless drug users, the City of Surrey worried she might. Further, our investigation raises questions about the role that the city played in Livingston's removal.
You can hear the documentary radio instalments that accompany this series by clicking on the play icon below. Or you can subscribe to the series on iTunes.
On a hot summer day in early June, Ann Livingston stands in front of a large crowd of homeless drug users packed into a narrow cafe. To her left sits a kitchen once used to serve bubble tea. To her right sits a whiteboard outlining today's meeting agenda. This is the BC / Yukon Association of Drug War Survivors, and they are meeting in what used to be the HK Bubble House. Now, Livingston calls it the Bubble Helping Centre.
"This is the first time we've ever met here. We're renting this on a donation. We got a six-month lease!" says Livingston, as the crowd of about 40 people erupts into applause.
The group is here to try and political organize themselves around the challenges that face Surrey drug users. They discuss how they have been mistreated by the RCMP, homeless shelters, community clinics, pharmacies and recovery homes. Today, however, is mostly about moving into the Bubble Helping Centre and settling into the neighbourhood.
"The goal is to be the perfect neighbours so that everybody loves us. And so I think the first project should be, if you're going to take a shit somewhere, please do it inside," says Livingston, "They'll love a group that's trying to get people to stop shitting outside! But I could be wrong."
The Bubble Helping Centre sits between a methadone-dispensing pharmacy and an African restaurant. They are tenants of a strip mall called the Gateway Asian Centre, which is flanked on one side by the RCMP's district office serving the neighbourhood of Whalley, and on the other side by KEYS, a government-funded not-for profit that runs Surrey's busiest needle exchange.
From Vancouver to Surrey
Ann Livingston is a familiar name in the City of Vancouver. She is a founding member of the Vancouver Area Network of Drug Users, or VANDU, an organization that was instrumental in pressuring the city to adopt The Four Pillars, the bold drug plan passed in 2001.
Today, Livingston thinks that her activism is most needed in Surrey. She says she's considering moving to Surrey and running for city council, but her son cries every time she suggests that they might have to leave their home in the Downtown Eastside.
"I'd love to be a way better mother, have Sunday dinner. Do all those kind of things," says Livingston, "but it's very dark times."
When Livingston describes the challenges facing the neighbourhood's drug users, she says that it's exactly like the Downtown Eastside was before The Four Pillars.
"There's this prevailing myth in Surrey that is very dominant, that if you treat drug users badly, it encourages them to stop using drugs."
Livingston worries that there could be a sudden epidemic of HIV transmission and overdose deaths because the city's harm reduction services are limited, and its drug users have not been able to organize and fill the void.
No rookie
This is not the first time Livingston leased a storefront and opened a drop-in centre to organize drug users. In 2001, leading up to the passing of The Four Pillars, Livingston leased a space in the Downtown Eastside that conducted underground injections and provided harm reduction supplies. She describes it as "fear and loathing on Powell Street."
"That's never mentioned in the history," she says. "We opened up all these stupid illegal sites and I used my own money to do it. When you ask what's a winning strategy, I say rent a storefront. Don't ask for funding. Run the guerrilla thing."
Under the guidance of drug user advocates Dean Wilson, Bud Osborne and Livingston, VANDU blossomed into an influential organization that coupled public health initiatives with political pressure. For example, VANDU conducted an 'alley patrol,' in which volunteers wandered Downtown Eastside alleys to distribute clean syringes.
Donald MacPherson, author of The Four Pillars, credits the efforts of VANDU and other local drug users for causing the dramatic reductions in Vancouver's overdose deaths. He says that praising The Four Pillars for the reductions is "a revisionist history."
"All the real harm reduction came after the disaster," says MacPherson. "After the storm hit."
That storm peaked in 1993, when illicit drugs killed 201 Vancouverites. In 1997, the year VANDU formed, the deaths were down to 140. In 2003, Vancouver opened Insite, the supervised injection site that was born out of a recommendation in The Four Pillars. However, the overdose deaths were already down to 53 by that time.
Drug user harm reduction
In 2001, it was still difficult for Vancouver drug users to access harm reduction supplies after dark. In response, VANDU opened a needle exchange that ran under a tent from 8 p.m. to 4 a.m. seven days a week. The unsanctioned site distributed an average of 1,200 syringes every night, according to an academic article in the journal Drug Policy.
Livingston says that Surrey suffers from the same problem that Vancouver did in 2001. Although KEYS distributes needles near the Bubble Helping Centre, they are not open at night.
"If you look at the history of how the epidemic spread," says Livingston, "it wasn't that they weren't giving out needles, it's that they weren't giving them out at night and they weren't really listening to drug addicts."
"I think it would be wise for us to listen to intravenous drug users in the Fraser Health Authority," says M-J Milloy, a researcher at the BC Centre for Excellence, "and those views are not only expressed through our studies, but through VANDU and the BC / Yukon Drug War Survivors."
The BC Centre for Excellence has tracked Vancouver-area drug users since 1996, through a large cohort study called VIDUS, or the Vancouver Injection Drug Users Study. Milloy says that between five to 10 per cent of the VIDUS population has moved to Surrey.
"People in Fraser [Health Authority] were more likely to report that they were having trouble finding needles and they were more likely to report syringe sharing," says Milloy.
The Surrey drug users in VIDUS are twice as likely to report having trouble accessing harm reduction supplies than the Vancouver drug users. Further, the study finds that Surrey drug users in VIDUS are more likely to access harm reduction supplies in the Vancouver than in Surrey, despite residing in Surrey.
"I just don't think scientists have wrapped our heads around how to engage with people in the suburban and exurban locations," says Milloy.
Fiona Gold, an outreach nurse for the BC Centre for Disease Control, says that her program has been forced to expand into Surrey as rising rents have driven clients out of Vancouver. Gold, who usually works in Vancouver, now spends one day per week in Surrey.
"In some ways," says Gold, "Surrey is where we were maybe back in 2001. I know a lot of people in Surrey understand the issue and they are working hard, but it just takes time. It will take time to get the services up and running."
Fraser lags
Doug Nickerson is a crystal methamphetamine user who sleeps in a tent near the Bubble Helping Centre. He's known Livingston for over six years, and in that time Livingston has distributed harm reduction supplies to him so that he can help drug users in the neighbourhood. Today, he gets most of his supplies from KEYS, the nearby needle exchange.
Nickerson does not inject drugs, but he carries clean syringes everywhere he goes.
"I've seen guys actually looking for a used needle around here because they need one to do their drugs," says Nickerson, "And it's not a good sight. Find a needle under a bush and take it to the sink to rinse in out."
Per capita, the Vancouver Coastal Health Authority distributes approximately nine times more sterile needles and syringes than the Fraser Health Authority.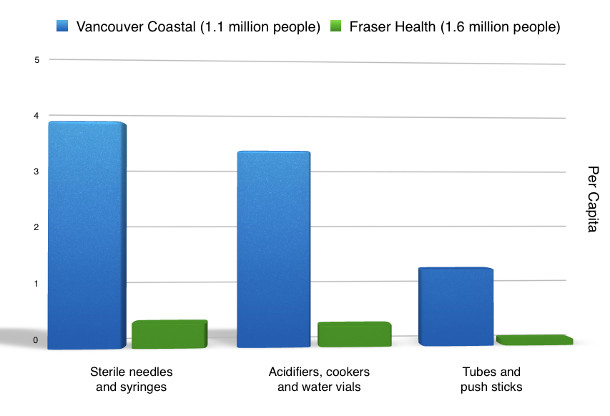 While KEYS' needle exchange is generous, it is not open past 8 p.m. Overnight, users can pick up a pack of three needles from KEYS' homeless shelter, known as The Front Room.
Jane Buxton, who leads the BC Centre for Disease Control's harm reduction efforts, says that it is hard to know exactly how many intravenous drug users live in each respective health authority, but she estimates that Fraser Heath and Vancouver Coastal Health are comparable. According to Buxton, the best indicator of intravenous drug use is Hepatitis C rates, and those rates are similar in all health authorities.
Like Milloy, Buxton says that the geography of Surrey makes needles distribution difficult. Further, she adds that harm reduction is less politically popular in the Fraser Health Region than in the Vancouver Coastal Health region.
According to one survey in the journal Substance Abuse Treatment, Prevention, and Policy, respondents in the Fraser Health region are 41 per cent less likely to support harm reduction than respondents in the Vancouver Coastal Health region.
"If there's a difference in access to safer consumption supplies in Vancouver, then it's a question of political will," says Adrienne Smith, the Health and Drug Policy staff lawyer at PIVOT Legal Society, a legal advice and advocacy organization in the Downtown Eastside. "The further that people get from the downtown centre, the harder it is for them to access safe supplies," she adds.
The provision of health care falls under provincial jurisdiction, and is devolved to the five regional health authorities. However, municipalities can make it difficult to zone facilities that provide harm reduction services. Abbotsford, which is in the Fraser Health region, passed an anti-harm reduction bylaw in 2005, which was only repealed in January of this year.
Dr. Marcus Lem, a medical health officer with Fraser Health, says that the health authority works with communities to show them the benefits of harm reduction. However, they are constrained by the politics.
"I'm a doctor. If I wanted to offer you lifesaving treatment but you refused you still have the right to refuse," says Lem. "Similarly within a democracy the population decides really what they are willing to accept and what they are willing to provide and we live in a democracy. As a physician there's plenty of times where I think something is best. But I still have to respect the opinions and freewill of individuals."
'A cold shoulder'
Back near the Bubble Helping Centre, Nickerson says this neighbourhood is openly hostile to drug users, which drives them from public places to alleys and fields.
"I've noticed a lot of different businesses tend to treat addicts with a brush off. A cold shoulder. Lots of places you'll go into will say 'no public phone' and 'no public washroom.' You won't find that everywhere in Surrey but in this area you will," he says.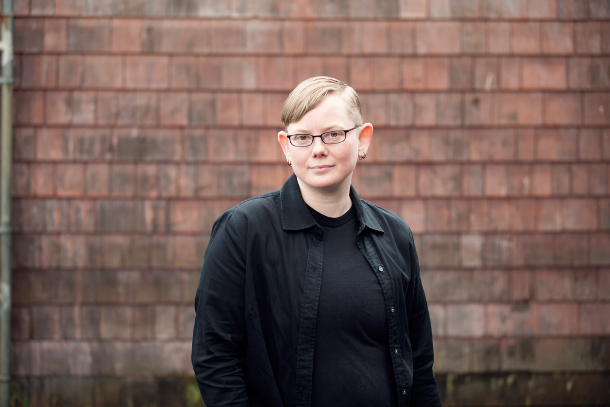 Lately, Nickerson has become known for the Narcan he carries holstered on his hip. Narcan is a drug that reverses opioid overdose. Nickerson says that there are many overdoses on the streets and fields surrounding KEYS and the Bubble Helping Centre, because the area's drug users do not have access to a supervised injection site. Further, because the RCMP district office is so close, many drug users inject quickly and carelessly to avoid detection.
Last weekend, two woman came running into the field where Nickerson camps, yelling "Doug, Narcan!" This was the sixth time he's had such a call since he started carrying the harm reduction drug this March.
When Nickerson and the women run back to the man who was overdosing, they find him laying on the ground with blue lips and no breath.
"Heroin attacks the part of your brain that tells you to breath automatically. So an overdose is to stop breathing. From there, it's death," says Nickerson, "The blueness comes from the lack of oxygen in your blood. That's a telltale sign of overdose."
Nickerson opens the small blue pouch on his hip, and takes out the Narcan. He retracts the long needle, which is designed to put the drug deep into the muscle, not the vein. Nickerson quickly rams the needle into the man's arm.
"Between the shoulder and the elbow. Through the coat, through the shirt," says Nickerson. "We don't have time to take clothing off at this point because the man's life was leaving him."
These are the kinds experiences that inspire Nickerson to keep attending meetings with Livingston. He met her on a cold day in November when she was handing out harm reduction supplies on the sidewalk. Today, Nickerson has taken the lead. He says that he hopes these stories will convince policy makers that Surrey's drug users are in urgent need of support.
"I'm not a miracle worker or anything," says Nickerson, "I'm just an individual who ended up homeless but is capitalizing on it. I've dedicated five years of my life to cleaning up Surrey and taking care of drug addicts who require equipment all times of the day and the night."
Bubblegate
After hosting a few encouraging meetings in the Bubble Helping Centre -- which included a Surrey MLA, an HIV/AIDS nurse, and a number of local advocacy organizations -- Livingston received troubling news. On June 30, an email from John Nyugen, the agent who represents the mall's owner, read: "I would like to inform you that the owner has notified me that by July 2 he will go ahead and change to locks of unit 10675A King George Blvd."
Nyugen said that the City of Surrey called the owner and asked him to remove Livingston.
The city provided conflicting accounts of their correspondence with the owner. Jas Rehal, the city's bylaw manager, said council ordered an investigation of Livingston's Bubble Helping Centre. In late August, he said their investigation found that Livingston was operating a needle exchange and that she did not have a business license. Rehal says that the city then notified the owner that Livingston was operating without a license.
Earlier this week, Rehal denied raising specific concerns about Livingston, claiming the city had only spoken in general terms about the safety and security of the strip mall during the time of Livingston's presence. He added, contradictorily, that they advised the owner that council was reviewing their policies surrounding facilities like the Bubble Helping Centre, and that until the time that their review is completed, they "can't support it being there."
Livingston claims that she did have a license to operate a social enterprise, and that the City of Surrey sent bylaw inspectors on two occasions, without issue. To this date, nobody from the city has spoken to Livingston directly about their concerns with the Bubble Helping Centre.
Further, somebody from within the City of Surrey emailed officials at the Fraser Health Authority asking about Livingston's operations. According to one source, Surrey was worried that Livingston had opened an underground injection site. Livingston says the site was not a needle exchange or an underground injection site. Rather, it was meant to be the headquarters of a political movement that would fight for the rights of drug users in Surrey.
Livingston contends that she was illegally evicted by her owner under the political pressure of the City of Surrey. The owner, who does not live in Surrey, could not be reached.
Nyugen says that the owner never actually signed Livingston's lease, despite her having occupancy for 41 days. Tino Di Bella, a Victoria lawyer with the firm Jawl and Bundon, raises questions about the relevancy of that claim. He suggests that the two may have had a de-facto legal arrangement, even if Nyugen never delivered the lease to the owner.
"If the landlord drew the contract and said these are the terms under which I will let you take the place, and you the tenant signed all those terms," says Di Bella, "and you've paid the security deposit and the rent, then you've done everything you can do. Arguably, the agent had the authority to bind the principle."
'Healthy people don't like sick people'
The original complaint likely originated from the Downtown Surrey Business Improvement Association, which quickly reported their concerns to the City of Surrey.
"Healthy people don't like to see people who are using in front of them, it doesn't make for any type of tourism or business sense. It would make any person feel uncomfortable," says Elizabeth Model, the group's president. "The BIA was founded a long time ago in part because they were tired of the of the prostitutes and drug users in front of their place," she added.
Barinder Rasode, a city councillor who is also running to become Surrey's mayor, expressed displeasure that Livingston did not consult with her before opening the Bubble Helping Centre. Rasode's phone cut out before the interview could be completed. The Tyee and The Terry Project on CiTR tried again to reach Rasode and every other member of Surrey's council, but after dozens of attempts, no councillors replied.
Model thinks the city did not support the Bubble Helping Centre, and she is pleased that it is no longer operating in that location.
"They thanked us for reporting it," says Model, "and then it was handled from there."
Nickerson continues to provide harm reduction supplies to the drug users around the Bubble Helping Centre, while Livingston is looking for a new storefront so that the group has a place to meet.
Since July, drug-related health problems killed three of the group's members. Their names are Carr, Chooch, and George.
*Correction Sept. 26 at 2 p.m.: An earlier version of this article incorrectly claimed that Surrey's schools still use DARE. DARE does some programming in White Rock, but not in Surrey. The Surrey school board rejected DARE in 2003.