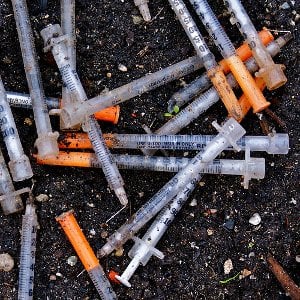 Observers attending international drug control negotiations at the UN Commission for Narcotic Drugs last week in Vienna say Canadian negotiators helped block the inclusion of life-saving harm reduction health strategies within future international drug policies.
"It was clear that the delegation's hands were tied," said Don MacPherson, director of the Canadian Drug Policy Coalition and adjunct professor in the faculty of Health Sciences at Simon Fraser University. "Our diplomatic delegation had instructions from Ottawa to not mention harm reduction and to get the term deleted from the statement."
Ottawa's efforts to block UN support for harm reduction -- a suite of health interventions including needle exchanges, methadone therapy and overdose prevention -- flies in the face of health policies widely adopted in Canada, MacPherson said in an interview after returning from the Vienna talks, which concluded March 21.
"Historically, Canada had been leader in this area," MacPherson noted. "A substantial amount of the scientific research validating harm reduction measures was done right here in Vancouver, and we've implemented quite robust harm reduction policies at the provincial level across Canada."
That means Canadian diplomats are blocking health approaches abroad that are widely practiced at home, said MacPherson. "It's hypocritical for us to oppose adoption of these strategies internationally, especially since this is a matter of life and death in many countries with high levels of injection drug use and HIV."
Richard Elliot, executive director of the Toronto-based Canadian HIV/AIDS Legal Network, described the position adopted by Canada in Vienna as "profoundly stupid." Like MacPherson, Elliot attended the Vienna session as an observer and met with the Canadian negotiating team.
In opposing harm reduction, Canada joined a bloc of countries including China, Egypt, Iran, Pakistan, Russia and Pakistan, Elliot said after returning from Vienna over the weekend. "Many countries are hiding their heads in the sand, not facing up to the health harms of drug use, which are often greatly exacerbated by legal frameworks blocking harm reduction."
Canada 'taking conservative positions': observer
By supporting Russia's positions at the talks, Canada is allying with a country where harm reduction measures are all but forbidden, and where HIV rates among intravenous drug users are as high as 50 per cent, noted Mikhail Golichenko, a lawyer at the HIV/AIDS Legal Network.
With an estimated 60,000 new HIV infections annually, said Golichenko, "Russia desperately needs to adopt harm reduction measures. Instead, with Canada's support, they are exporting their war on drug users internationally."
Elliot described the Draft Joint Ministerial Statement agreed upon at the Vienna talks, which guides UN nation member states "to consider providing" measures in a World Health Organization document endorsing needle exchanges and methadone substitution treatment, as a step backwards from an earlier declaration which explicitly recommends implementation of these measures.
According to the International Drug Policy Consortium, a U.K.-based group that closely tracked Canada's maneuvering in recent months at sessions leading-up to last week's negotiations, Canada was "very vocal throughout, usually taking conservative positions" and frequently "led the charge" against a UN endorsement for the phrase "risk and harm mitigation and reduction measures" to be included in the statement.
In what the IDPC described as a "fascinating standoff," the European Union, alongside Norway and Switzerland, "remained adamant that they would not accept any compromise on this language."
Negotiators for the United States expressed support for specific interventions such as needle and syringe programmes, the IDPC observers reported, "but not for the term harm reduction."
When Canada said countries "don't all mean the same thing when we say harm reduction" at a Nov. 18 negotiating session, an IDPC observer reported, Spain retorted that "harm reduction is a reality." Spain noted that "many countries are blocking the term despite using this approach domestically."
Elliot and MacPherson both noted that while blocking harm reduction, Canada also remained silent on calls from Switzerland and other European nations to oppose capital punishment for drug crimes. "When we met with the Canadian delegation we broached the issue of their silence on the death penalty," MacPherson explained. "They said they asked Ottawa for instructions, but had not received any."
Canadian negotiators were well aware of the issue in advance of last week's negotiations: according to the IDPC observers, they raised the issue of the death penalty controversy at the Vienna talks in early December.
Feds mum on negotiation position
In an email interview ahead of last week's meetings, Beatrice Fenelon, a spokeswoman for Foreign Affairs, Trade and Development Canada, said "the Government of Canada believes that the best way to address the public health consequences of injection drug-use is to prevent people from using illicit drugs in the first place."
Fenelon declined to elaborate further. "Canada is not in a position to discuss negotiating positions."
The Draft Statement adopted in Vienna will guide talks by world leaders at the UN General Assembly in 2016, which will be devoted to adopting a new global drug control regime to replace the UN's current framework Plan of Action, which was adopted in 2009. The 2009 Plan did not endorse harm reduction, but instead promoted "the war on drugs" polices favoured by U.S. negotiators at the time. Negotiators from numerous European and Latin American countries have been pressing to have much stronger emphasis placed on harm reduction in the new statement.
Elliot and MacPherson say UN drug policy debates are becoming increasingly fractious, with many countries opposed to aspects of the new Declaration, and possibly to the three UN Conventions at the centre of the international drug control regime. "I think a number of countries may be discussing defecting from aspects of the UN Conventions," Elliot said.
At the conclusion of the talks, Uruguay, which recently decriminalized marijuana, issued a statement defending its "sovereign decision to define an alternative model for drug policy," and calling for to exploration of "alternative strategies to the interpretation of the Conventions that brought us the 'war on drugs.'"
Uruguay then called for "debate in order to ensure that human rights treaties are properly aligned with the drug control regime, to ensure a truly balanced strategy, and ensure the right to health currently denied to millions of people: the right to life, liberty, and security, which does not mean rejecting rational and proportional law enforcement measures to combat organized crime."