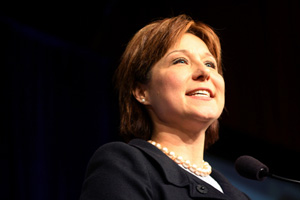 Over the past two years, the British Columbia government has become significantly worse at responding to information requests on time, and some people in Premier Christy Clark's office routinely delete their email, according to a report published today by the province's Information and Privacy Commissioner Elizabeth Denham.
"I'm discouraged by what I found, not surprised," Denham said in an interview. "I do think the public should be concerned about this report... A lack of timeliness erodes the public's right to know."
By law, public bodies have 30 business days to respond to requests.
"When my predecessor issued the first timeliness report in 2009, just 71 [per cent] of government's responses were on time," wrote Denham in A Step Backwards: Report Card on Government's Access to Information Responses. "Government's performance improved to 90 [per cent] in the following year, and in 2010/11 on-time performance increased again to 93 [per cent]."
But the performance has since deteriorated, Denham found. "It is therefore disheartening for me to issue this report, which shows the government's on-time performance for 2013/14 has dropped to 74 [per cent]. This means one-quarter of responses exceeded the 30 business day statutory limit."
The figure does not include cases where the government has properly requested a time extension to respond to a request.
Performance 'declined substantially'
In a democracy, the right to information, including to have it released in a timely manner, is critically important and makes the government accountable, Denham said.
In some cases, the requesters are people who need their personal records, often so benefits can be determined as part of a tribunal process. "I'm starting to see it affect individual British Columbians who can't get access to their own personal information," she said.
It now takes an average of 44 business days for the government process a request, twice as long as the 22 days it took a couple years ago. Overdue responses are now late by an average of 47 days, up from 17 days in 2011.
Clark became leader of the BC Liberal Party and premier of the province in early 2011.
"The results clearly show that government's performance has declined substantially in the past fiscal year," Denham's report said. "By every measure except on time percentage, which was slightly lower in 2008, government's performance is at its lowest point since our office began examining these statistics."
Some ministries were worse than others. The slowest is the Ministry of Children and Family Development which responded on time to only 52 per cent of requests, well below even the next slowest, the Ministry of Jobs, Tourism and Skills Training, at 65 per cent.
Emails routinely deleted in Clark's office
Denham also provided an update on the number of times information requesters are told the government has no responsive records, an issue she has examined in recent years. The percentage decreased from 25 per cent in the fiscal year 2011-2012 to 19 per cent in 2013-2014.
But Premier Clark's office remained more likely than the government average to fail to find records, she wrote. "In the course of reviewing the reasons for this trend we discovered that, in some instances, individuals were deleting received and sent items in bulk from email accounts."
The deleters said they believed they were acting properly. "These individuals stated that they did so because they believed the records to be transitory in nature," Denham wrote.
She recommended introducing a new, government-wide email management system "to document and preserve the email records of ministers and senior government officials."
The commissioner also recommended proactively releasing the calendars for cabinet ministers and some senior officials, which "would greatly reduce the administrative burden associated with processing these requests."
Some 75 per cent of the increase in requests for records involve the calendars for ministers or senior officials, Denham said. Routine releases would be straightforward and could be done with things like personal information or locations redacted, she added. "We know what's releasable when it comes to calendar requests."
Technology, Innovation and Citizens' Services Minister Andrew Wilkinson was unavailable for an interview. A prepared response posted on the government's website also identified calendar requests as a large part of the volume, but was silent on the possibility of proactively releasing them.
Nor did the statement address Denham's recommendation to define some officials' email as "non-transitory" so that it would be automatically kept. A spokesperson said the ministry is reviewing the report and its recommendations, and no decision has been made about proactively releasing calendars.
There are obvious fixes: Denham
Asked about the perception that the FOI system works poorly because the government wants it that way, Denham said, "I have no evidence it's by design, but there are some pretty obvious fixes to improve the system."
Ironically, the government had an easier time finding records when they were kept on paper. "In paper form, you go to one place," Denham said.
Digital records, including those in the recently launched Integrated Case Management system -- the government's internal computer system -- are harder to find. "We need to design our systems with proper tracking of records in mind," Denham said.
The report also considered whether the government was using fee estimates to deter applicants from pursuing requests, a concern it said came from members of the public. "Our office's review did not find evidence that this was the case," it said.
There is a discrepancy between high fee estimates compared to what requesters actually pay, but it could be accounted for by the efforts to help applicants narrow their requests to the records that most interest them, which reduces or eliminates fees, the report said.
Vincent Gogolek, executive director of the Freedom of Information and Privacy Association advocacy group, picked up on the difficulty getting records from the $182-million Integrated Case Management System, noting it "has been the subject of repeated failures, including a complete shutdown earlier this year."
In a press release, he called the reports findings "disgraceful." Said Gogolek: "This type of backsliding is not acceptable, and the government has to act immediately to remedy this situation."