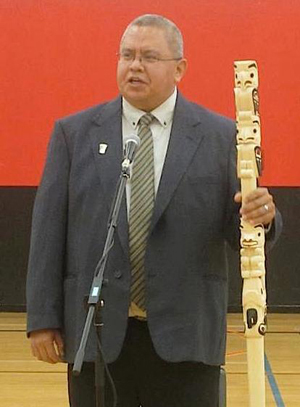 [Editor's note: It's an oft-repeated mantra: the job-for-life is over, today's economy requires workers to switch careers several times. Statistically, however, job turnover appears to have stagnated in recent years. And while it takes bravery to leave a job in uncertain times, it takes a special sort of courage to start from square one in a completely new field. In this four-part series we share the stories of British Columbians who left behind career-defining jobs to pursue something completely different.]
For Carey Stewart, it was a trip to the doctor's office that upended his decade-long career building homes. "My vertebras were deteriorating. I had no choice," he recalls. "I still remember, the specialist said, 'If you continue with carpentry, you could see yourself in a wheelchair in three to four years.'"
Stewart was working at a mobile home manufacturer in Edmonton, Alberta at the time. Before that, Stewart had worked a hammer and saw with his wife's father in Ontario since his teen years.
With a Grade 9 education, Stewart's plan had been to build his own construction company. Leaving the home renovation business was a foregone conclusion, Stewart says, but what to do next remained a big question mark for many years.
At 32-years-old, he returned to his hometown of Prince Rupert, B.C. To make ends meet, Stewart supported his wife and two daughters by fishing with his father and brother.
"I'd exhausted all my funding," Stewart says of his family's homecoming. "Just to get on our feet we were living with my sister and brother in law. I found work, started building some funds up... It wasn't easy."
With encouragement from his family, Stewart decided to return to school, first through distance education in 1993. "I struggled with my writing ability; I had no passion for reading," says Stewart. "For me to get these grades, I knew I had to push myself and get to another level of education."
Two decades later, Stewart holds his Master's in education and serves as director of instruction for the Nisga'a School District north of Terrace, B.C. The Nisga'a district is one of the first independent aboriginal school districts in Canada, spanning the Nass Valley from Gingolx to New Aiyansh, B.C.
The tipping point
Bruce Grierson, author of the 2008 book U-Turn, says parenthood can often become a catalyst for career changes. "For a lot of people, becoming a parent is a huge hinge point," Grierson says. "You're thinking of people outside yourself, you're widening the circle of concern."
Stewart remembers how his daughter's curiosity pushed him to finish high school as an adult. "I remember one evening I was reading to my daughter a bedtime story and she would ask many questions... I have to admit, I could not answer most of her questions, as I didn't really know the answer," Stewart says. "This really bothered me."
He found a mentor in Dr. Judy Thompson, a researcher and professor specializing in First Nations language revitalization. Thompson helped Stewart get the courses he needed through North Coast Tribal Council of Education.
As part of his Grade 12 studies in geology and science, Stewart designed an activity for kids modelling tectonic plates. In 1995, he visited Nisga'a villages and presented the activity to young students.
"I was teaching kids about plate movements, and when the kids got it and understood it, that was the 'aha!' moment," he recalls. "Engaging in laughter was the exciting point. In that moment, I thought, 'That's so exciting, they're getting it.'
"It was such a high I just wanted to do more."
Seeing the light
Grierson likens these transcendental moments to modern-day religious conversions. In an increasingly secular society, Grierson found certain workers "see the light" and switch courses in a sudden moment of inspiration.
"What they have in common is a sense of what you've been doing is not working, or has no future," he says, "and you've got to change, to take a different path."
Stewart's new path was not without bumps. He saw friends and colleagues making good money working at the cannery while struggling to begin his post-secondary education.
After completing his Grade 12, Stewart attended North West Community College in Prince Rupert. Over the next decade, with the help of Dr. Thompson, Stewart transferred credits between Simon Fraser University and the University of Northern British Columbia, completing two undergraduate degrees and a teaching certificate.
While working on a second degree, Stewart found work as a substitute teacher in the Nass Valley -- the same Nisga'a villages that inspired his career 180. Stewart fished in the early morning, worked during the day and studied in the afternoon and evenings.
He became a familiar face in the Nisga'a district. After completing his second degree in Nisga'a studies, he continued pursuing a part-time Master's degree in education at UNBC. He was named principal of Nisga'a Elementary and Secondary School, and then director of instruction for the whole district this April.
"When people say you need an education to survive in this global village, they are not kidding," says Stewart. "I have to admit, being a substitute teacher living in the Nisga'a Valley, teaching in different communities, was the best task I have ever done."