[Editor's note: It's an oft-repeated mantra: the job-for-life is over, today's economy requires workers to switch careers several times. Statistically, however, job turnover appears to have stagnated in recent years. And while it takes bravery to leave a job in uncertain times, it takes a special sort of courage to start from square one in a completely new field. In a four-part series starting this Labour Day and running through the week, we share the stories of British Columbians who left behind career-defining jobs to pursue something completely different.]
Leigh Wall loves her new job precisely because it's the opposite of her old job.
As a truck and transport apprentice at a freightliner dealership, she's on her feet all day -- away from the desks and computer screens that haunted her work as a legal assistant and media relations manager.
"It's so completely different from anything I've ever done," Wall says. "Sitting at a computer wasn't doing it for me. It wasn't exciting. I wanted to work with my hands and do something more physical."
After getting laid off from a marketing and communications manager position at the Canadian Cancer Society in St. John's, Newfoundland in 2008, Wall came to Vancouver and looked for work in public relations. When no prospects materialized, she fell back on her earlier training in legal assistance. She was then hit by another layoff in 2012.
"I thought, I cannot keep getting laid off. This is not cool. I need to find a career or industry with some stability and longevity," she recalls.
Bruce Grierson, author of the 2008 book U-Turn, says getting laid off is often the catalyst, but not the cause, of a career 180. Many of the turners Grierson interviewed for his book were already reinventing their careers in their minds well before they clocked out for the last time.
"You have to be emotionally ready, you have to have the resources to do it, and it has to line up in a certain way," he says.
Discouraged from getting laid off from a job she didn't particularly enjoy, Wall looked online for in-demand careers and found herself strangely attracted to hands-on trades.
"I had no prior experience or hobbies in any trades-related field," Wall recalls. "I knew I enjoyed putting together Ikea furniture, but that was about it."
Wall saw transport and engine mechanics as her most promising option. All of British Columbia's current and upcoming resource industries, such as logging, mining, liquefied natural gas, as well as manufacturing and construction all require massive engine-powered vehicles.
"Seeing job-wise what was in demand, this seemed really exciting," Wall says of her new plan to fix big machines. "When you look at the list of career options, the different industries -- mining, trucks, off-road equipment -- there's so much you can do."
Without a nest egg
One of the "golden handcuffs" Grierson says keeps people in jobs that aren't right for them is the cost of going back to school and starting over.
Wall didn't have enough savings to cover a long-term degree and had to take out a loan to cover more than $3,000 in tuition and fees, plus living expenses. "Financially, it's been really hard on me. I had to go back to school and not make money," she says.
Once enrolled in a nine-month heavy-duty mechanics program at Vancouver Community College (VCC), Wall pushed herself to volunteer at shops on her days off. "We would have class Monday to Thursday, and go to work for free at a shop or do something related to the industry on Friday."
Wall volunteered at Wajax Equipment, an experience she says was extremely valuable, leading to her current position at First Truck Centre Vancouver. Her advice: "Start talking to people in the industry, let them know who you are, what you're interested in -- that takes you a long way."
At 33, Wall was the only woman in her class and one of the oldest students of the trade. "It wasn't challenging; it was entertaining more than anything," she says. "It made me very aware of my age."
Landing the job
Earlier this year B.C.'s Advanced Education Ministry announced it would invest $4.5 million in a heavy-duty training workshop on Annacis Island in Delta. The Motive Power Centre, shared between VCC and the British Columbia Institute of Technology, will serve 650 transport students like Wall.
A near-graduate and comfortable public speaker, Wall was asked by her instructors to give a short speech at a joint press event. She shared her own satisfaction in discovering hands-on trades with a room full of industry insiders.
"I spoke at that event and was approached by a member of the union, IUOE 115," she says. Wall started the process of becoming a member of the International Union of Operating Engineers. "In the meantime a company was hiring, so the union called me and asked, 'Do you mind if we send over your resume?'"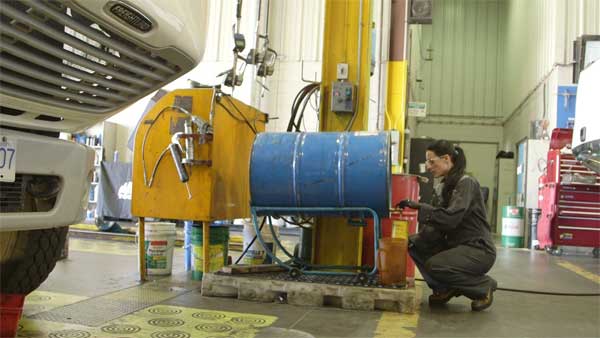 Wall was called in for an interview, and within a month of graduating was hired as an apprentice at First Truck.
Having landed a job right out of school, Wall looks ahead to four years as an apprentice, becoming a certified journeyman and pursuing a Red Seal certification. In less than a year, she went from laid off from a desk job to applying 400-plus pounds of pressure with a torque wrench.
Though she's still getting acquainted with the industry and equipment, Wall is already feeling the rewards of following her passion. "It's the most physically demanding thing I've ever done," Wall says. "It's challenging... but 100 per cent a positive experience."
Grierson sees paths like Wall's as a well-negotiated balance between opportunity and personal vision.
"That follow your bliss thing may be a bit too simplistic," says Grierson. "You have to be realistic about current circumstances, especially if you don't have any money socked away."
"If you're not happy, you have to make a change," says Wall, when asked about her advice for prospective career turners. "No one else is going to do that for you. Do the research, go online, see what the job prospects are, and find what's required of you."
And to women who might follow in her path: "I know there are not very many women mechanics. I just want to say for the benefit of any woman considering it -- don't be intimidated."