On what would normally have been the first morning of the new school year, hundreds of people gathered on the British Columbia legislature lawn to protest the stalled labour negotiation that's keeping kids out of classrooms.
The "teach in" was parent organized but distinctly pro-labour, with speakers including B.C. Teachers' Federation first vice-president Glen Hansman and B.C. Federation of Labour president Jim Sinclair. The Greater Victoria Teachers' Association dropped pickets for the day so members could attend the rally.
Organizer Renay Maurice said she became interested in the negotiation when her high school-aged daughter participated in the student walk out in June, but that she didn't immediately decide who she thought was right. "I started doing a little homework," she said. "I didn't just want to choose a side or [say] 'Rah-rah, bad government.' I wanted to know what was really going on."
But it soon became clear to her who was at fault, she said. "When I looked into it, and the more I look into it, I've come to the conclusion that our government is not listening to the people. Our government does not represent the people's wishes."
She accused the government of representing the elite and singled out Premier Christy Clark's decision to send her son to private school. "She doesn't get it. She doesn't know what it's like to be me."
Christy's classroom?
Maurice talked about how cutbacks have affected her child's school, Victoria High School. "My daughter's going to a school that's dirty. Yes, I'll say it. Public schools have cutback on custodial stuff. They're duct taping stuff together. There are bathroom doors missing." The school has lost programs and students don't have enough support, she said. "This is unacceptable to me."
The rally organizers want a fair settlement for teachers, class size limits, measures to address class composition, increased funding and more opportunities for parents to shape the public education system, Maurice said.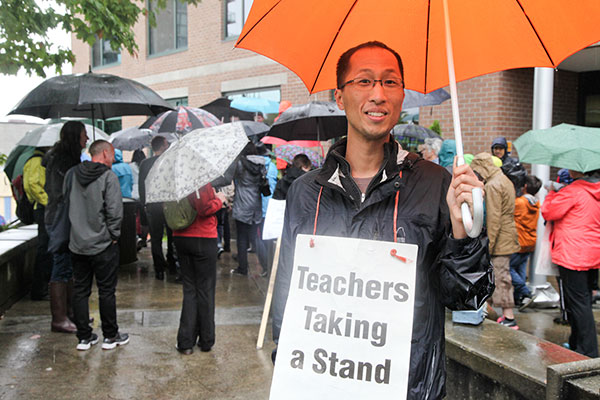 "Through the last two years I've heard a binary conversation about a labour dispute involving the BCTF and our government," she said. "Nowhere in those political ploys and all those media releases do we hear from parents and students. We want to hear your voices today."
When it was his turn at the microphone, the BCTF's Hansman said, "It feels a bit strange to be standing behind a sign that says 'Christy's Classroom.'"
Christy's was not the classroom he wanted to be in. "Actually, that's where students, teachers and support staff have been for the past 12 years," he said. "We need to get out of Christy's Classroom and back to classrooms that kids deserve."
He criticized the government for failing to negotiate over the summer. "Our team was ready, willing and able to use the summer months to get this deal done," he said. "We were only able to squeeze one date out of them until this past weekend, Aug. 8. It is a disgrace that kids have to be out of school today because the premier and her bargaining team took the summer off. We could have got this done and that is why we're here today. They didn't get it done."
$300-million gap
Both the BCTF and the government say the two sides are about $300 million apart, an amount a BCTF spokesperson said works out to about $3 per student per day. The parties are close on wages -- the government is offering seven per cent over six years, while the union is seeking eight per cent over five years.
The rest of the difference is from measures to address class size and composition, benefits, and a signing bonus. The government had earlier offered a $1,200 per teacher signing bonus and the BCTF is now asking for $5,000 per teacher.
Hansman said per-student funding in B.C. is $1,000 below the Canadian average. Many students with special needs don't get the services they used to and have to wait through a testing process before they can get help. "This new normal needs to change," he said. "We need to reverse the course of this government and get services back for kids."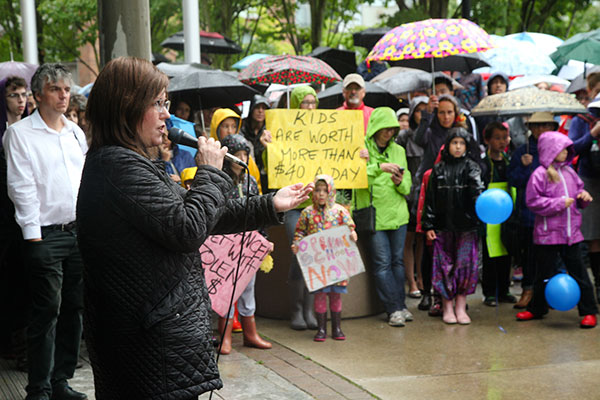 The parties were lucky to have veteran mediator Vince Ready recently involved, he said, adding that Ready clearly identified the roadblock. "Government wants an escape clause from whatever the B.C. Court of Appeals might give back to teachers a few months down the road," he said. "Teachers are not going to give up what we fought so hard for in the courts over the past 12 years. We're not going to give up the restoration of services to kids, we're not going to give up the working conditions we need to do our jobs."
BC Fed's Sinclair: Find the money
The BCTF has won twice in court arguing that legislation the provincial government passed removing teachers' rights to bargain class size and composition was unconstitutional. The government has appealed the most recent ruling.
On behalf of 500,000 union members, the BC Federation of Labour's Jim Sinclair thanked teachers for standing up for students and for public education. "Public education for working people is our only hope for our children," he said. "We have to figure this out."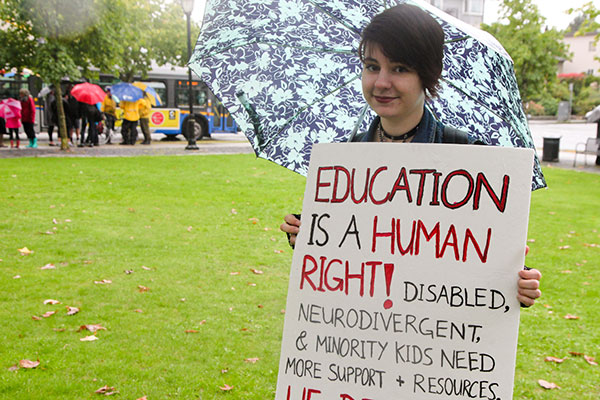 The government needs to put money back into public education, said Sinclair. "They say to us all the time, 'Oh my god, the cupboard's bare, we have no money.' Why doesn't somebody say, 'Well who took all the shit out of the cupboard?' Where did the money go?"
The government finds money for lots of things when it wants to, he said, adding that a poll done for the BCFED found 84 per cent of British Columbians supported bringing per-student funding up to the national average.
At one point during Tuesday's rally, the Greater Victoria Teachers' Association's community liaison Robin Tosczak held up some "required reading" for Clark: a copy of the B.C. Supreme Court decision that went in the BCTF's favour.
Many of the signs on display at the protest attacked Clark personally. Others that stood out said things like "I Want to be Smrt"; "Invest in children, not LNG"; and "If I were a pipeline I'd be in school right now." One boy stood wearing a sign that said, "Restore funding for special needs kids like me."