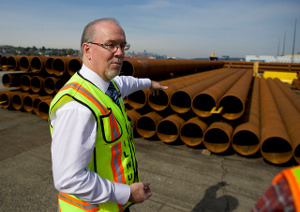 When John Horgan stood in the British Columbia legislature to ask his first question of the government as leader of the official opposition, the subject he raised was familiar NDP fare: temporary foreign workers and jobs for British Columbians.
"Today in British Columbia 142,000 people are looking for work, and thousands more are living hand-to-mouth in part-time jobs," said Horgan, who on May 1 was acclaimed as leader of the B.C. New Democrats with nobody else entering the race to replace Adrian Dix.
"Youth unemployment, honourable speaker, is at 12 per cent and we're going into the summer season where students are going to be looking for work," he said. "Yet we've learned here in Victoria 50 applicants for entry level jobs at McDonald's were turned down and ignored, and instead temporary foreign workers applications were applied for and granted."
Horgan wore an NDP orange tie for the day. Former leader Carole James sat to his immediate left, and Dix next to her. Mike Farnworth, the Port Coquitlam MLA who cleared the way for Horgan by withdrawing from the race, sat two seats to his right, with house leader Bruce Ralston between them.
All were there to support their new leader, who later in the day would reveal his vision for the party. It's one that, compared to Dix's, takes a more cautious, "wait and see" approach to resource development projects that could create jobs, such as the Kinder Morgan Trans Mountain expansion and BC Hydro's Site C dam.
With Premier Christy Clark away for the week in Asia promoting liquefied natural gas plans, Horgan directed his first question to the minister responsible for jobs, tourism and skills training.
Did Shirley Bond not agree, Horgan wanted to know, that the fast food restaurant's use of temporary foreign workers was a "slap in the face to the 142,000 British Columbians looking for work today?"
Bond: When will NDP say 'yes' to jobs?
"All of us in British Columbia want to ensure British Columbians are first in line for jobs in this province," responded Bond.
Unemployment is in the single digits throughout the province, but there's still work to do, she said. "The most important thing we can do for British Columbians is continue to look for ways to grow the economy, to make sure people are choosing to invest in British Columbia so we can provide the kinds of jobs British Columbians want, need and deserve."
Answering a follow-up question from Horgan, Bond said the government's job creation strategy has been clear since last May.
"I'm anxiously waiting, as is every member on this side of the house, to find out how the new leader of the opposition is going to stand up and tell British Columbians how they're going to learn to say 'Yes,'" she said.
"Just once, madam speaker, just once. Previous to this it was no, maybe so, the Kinder surprise moment," Bond continued, referring to Dix's decision before the May 2013 election to oppose the Kinder Morgan pipeline expansion rather than wait for an environmental review of the project.
The line of attack was similar to the one used by Kootenay East MLA Bill Bennett in a weekend letter circulated by the BC Liberal Party, where he called Horgan a "colourful personality" but also a "master flip flopper."
On Kinder Morgan expansion, Horgan will 'wait and see'
Meeting later with reporters in his new leader's office, Horgan said Bond misrepresented his record and named a couple of mines he supported. "I said 'yes' to Mount Milligan, I said 'yes' to Red Chris, I said 'yes' to expanding the oil and gas commission when it was first developed in the 1990s," he said.
"I believe we can have a balanced approach to economic development and resource development in particular."
Since the NDP's defeat a year ago, which caught many by surprise, Horgan has frequently observed that the party needs to do a better job talking to people who work in the province's resource industries. It needs to better balance a pro-development message with sensible positions on protecting the environment, he's said.
There needs to be a rigorous environmental assessment process that the public can have confidence in and that gives clear direction to industry, Horgan said.
It's a message he hopes will resonate, along with his personality and leadership style, in areas where the NDP has had trouble electing MLAs. "Where we have to go is out the [Fraser] Valley into the eastern suburbs and into the interior," he said, adding he plans to recruit candidates who can win in those communities. "I feel very comfortable there, and people are comfortable with me."
That translates to a shift on at least one key issue. Where the NDP came out during last year's election solidly against Kinder Morgan's proposal to expand the Trans Mountain Pipeline, Horgan said he would return to a wait-and-see approach.
"My position on Kinder Morgan is that it's in progress," he said, noting there will be hearings and he'll be listening to people on all sides of the debate. "I believe at this point, three years out from an election and probably three years out from a decision from any review panel, that I'm going to wait and see."
That has always been his position, he said, though he allowed that he agreed with Dix during the election that many in the Lower Mainland didn't want to see Vancouver turned into a major oil port.
He also said that he believed BC Hydro's Site C dam on the Peace River will be built eventually, though it's not needed yet. He noted First Nations' vehement opposition to the proposal and that it would flood 4,000 hectares of agricultural land, but said, "It's a case of when, in my opinion, and it's always been a case of when."
An extrovert, ready to go
Horgan said he planned on learning both from what went well and what went badly for the NDP under Dix's leadership. While it's important to present a positive agenda and give people a reason to vote for the party, it's also key to highlight the BC Liberals' shortcomings, he said. "I believe that was the singular failure of the campaign."
Horgan also said he believes his disposition will be an asset in the month ahead of the next election when many people will tune into politics just long enough to decide how to vote.
"Someone said the other day they know more about me in six hours as leader of the opposition than they did about the last leader after three years, so I'm a pretty open book," he said. "I'm an extrovert. I like wading into crowds of people. I like meeting people and talking about their issues. It's what gets me up every day."
Horgan's begun to make changes to the leader's office staff. Lawyer and former deputy minister John Heaney will be his chief of staff, starting in mid-June. Shamus Reid, who handled media requests for the Horgan campaign, will stay on to do communications.
Earlier in the day, Horgan invited media into the NDP caucus room where his colleagues gave him a standing ovation.
"We have three years to earn the support of British Columbians, to demonstrate the shortcomings of the BC Liberals and to highlight how we're going to make life better for regular families," he told them.
"Now the challenge is to grow our numbers from 34 to 44 and beyond," he said. "We need to get a majority government. We do that by earning the support of all British Columbians in every corner of this province, and we need to talk about issues that are relevant to people's lives.
"That's my quest, that's my mission, and I know with all of you at my side we're going to be very successful in the year ahead," he said. "It's been a difficult year, but we've picked ourselves up, we've dusted ourselves off, and we're ready to go."