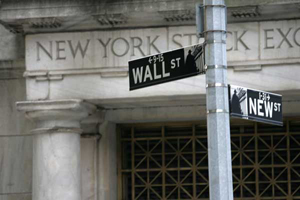 [Editor's note: The Tyee's sustainability reporter Geoff Dembicki is on a months-long journalistic quest to answer the big question of his millennial generation: Are We Screwed? Find a complete list of his dispatches as they appear here.]
Over the past few years, one of the world's leading financial institutions began to notice something peculiar about investors born after 1982. They seemed to think that Wall Street should aspire to more than just profits. "I was taught in [business] school that the purpose of a corporation is to maximize shareholder value," said Peter Roselle, vice-president at Morgan Stanley. "Millennials, though, have identified the improvement of society as the primary purpose of business."
What were millennials like me to make of such a remark? Coming from a leading financial advisor, no less, whose firm's own self-interest played a major role in the 2008 financial crash? That question was on my mind as I sat across from Roselle one recent morning in New York. The night before I'd watched my friend's band play to a sweaty, heaving crowd in a smoke-filled East Williamsburg warehouse. Now, here I was in a Manhattan boardroom 16 storeys above Rockefeller Plaza.
Myself and 25 or so others had gathered on the invitation of Agrion, a networker of sustainability thinkers, to learn how millennials are reshaping -- or not -- Wall Street's priorities. Roselle believed Morgan Stanley to be at "the early stage… of a movement" towards a more socially conscious economy. Was this supposed movement the latest PR gambit from a distrusted investment bank? Or did it mark something bigger: a profound shift in values from one generation to the next?
More than money
Big questions for early on a weekday. But as I listened to the morning's speakers, it occurred to me that some clue to them might be found in my recollection of the night before. The warehouse I'd gone to was packed with Brooklynites in their 20s and 30s. And though each paid $8 at the door, and then lined up to buy beer inside, the cash changing hands was incidental to the night's larger purpose: to have your mind expanded by new sonic realms, to belong to an artistic community, to dance.
A vice-president at Deutsche Bank interrupted my reverie. "One thing that really appeals to the millennial generation," Sam Marks offered to the room, "is not just thinking about finance." By which he meant that people born after 1982 seem to treat money as the means to a greater end, and not necessarily an end unto itself. Morgan Stanley has noticed the same. As investors, the firm has argued, such millennials "aim to generate positive impacts for society and the environment."
By Wall Street standards, it's a pretty radical proposition. Ever more young investors want to put their money to work against climate change, water shortages and poverty, and into companies promising solutions to global crises, and not just high returns. Morgan Stanley not long ago responded to this peculiar desire by creating an Institute for Sustainable Investing, which over five years hopes to oversee $10 billion in such "positive-impact" assets. What would my friends at last night's show think?
Greenwashing?
Like me, they'd be a bit incredulous. Sure, $10 billion sounded impressive, I thought as Roselle described the Institute, but why should I trust the altruistic goals of an investment bank whose calculated self-interest in 2008 nearly crashed the global economy, and with it the economic hopes of millennials like myself? Yet dismissing it all as PR seemed too simplistic. The more interesting question, I decided, was what would Morgan Stanley gain by making the world a better place?
Well, the first thing would be a less toxic public persona. "If you went to a cocktail party in 2009 in New York and somebody asked you what you do, [you'd] kind of cringe a little to say you work for an investment bank," Roselle said. "So there's an intentional shift to try to change the image." At this point, I'll admit, my greenwashing sensors went on standby. Yet as the talk continued I heard of an emerging financial mega-shift that kept my sensors from being fully triggered.
It has to do with demographics. The baby boomer generation is now transferring an estimated $40 trillion in global wealth to its millennial successor. "This new socially conscious generation of 80 million strong," notes a report from Brady Capital Research, "will be looking to invest their money in alignment with their values and beliefs [sic]." Empowered by this shift, millennials will thus become "an influential force on corporate America and Wall Street over the next few decades," it reads.
Measuring things differently
In a sense you could see Morgan Stanley's Institute for Sustainable Investing as an early hedge against the more socially conscious future it thinks is inevitable. But the numbers need context. As of April, Morgan Stanley oversaw $1.94 trillion in client assets, or more wealth than that generated by the entire Canadian economy. The $10 billion in "sustainable" assets Morgan Stanley hopes to soon oversee, then, would be worth less than one per cent of its wider business -- zilch, basically.
But in making these calculations I thought back to the smoke-filled warehouse: $10 billion could instantly turn all the thrift store jacket-clad Brooklynites there, as well as every one of my millennial friends and colleagues, into millionaires. In dollar value, it's three times larger than Canada's clean technology sector. And Morgan Stanley is entering a rapidly growing market for sustainable "impact" investing that by 2020 could exceed $500 billion, the World Economic Forum has cautiously estimated.
So as the talk ended, I felt torn. "We have to start measuring things [differently]," Roselle said in closing. What did he mean exactly, I wondered while waiting for the downward elevator to arrive. Was it evidence that a new generation of socially conscious investors was changing Wall Street's priorities? Or was it simply a shrewd new PR ploy from one of the world's financial titans? Could it be both? Were all generational shifts necessarily this messy? With a ding, the elevator doors opened.