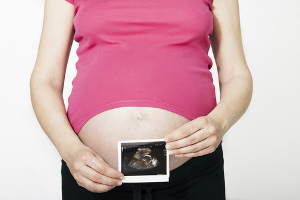 This is my first visit to Chinatown X-Ray and Ultrasound, so I can't say this is how it always happens, but the technician sitting with me in the dark and tiny room treats me like her own daughter as she congratulates me on my first pregnancy.
The appointment lasts no more than 10 minutes, and my husband and I leave with the graphic souvenir of our seven-week-old embryo in hand. We are hit by a heady mix of incredulity, excitement and nervousness. If I was in denial before, this image -- together with the sound of our baby-to-be's heartbeat still pounding in our ears -- definitely hammers home our new status as parents-to-be.
Like so many others across the province, over the next eight months we'll prepare to make our small contribution to the pool of 43,000 new British Columbians born every year. Most of us start the journey by selecting a primary caregiver to assist with the pregnancy and birth, whether a family doctor, OB/GYN or midwife. As B.C. citizens resident in Vancouver, and enjoying good health, my husband and I have the luxury to choose from a broad range of support programs, all paid for by the provincial government.
We then start to consider investments in other health and wellness services, such as prenatal pilates, yoga, and maternity massage. And we invest time in ourselves, preparing for the psychological, emotional and spiritual changes the pregnancy and baby will bring. We devour advice books, share our feelings about becoming parents, and collect wisdoms from family and friends.
Of course, countless women across the province live outside of our middle and upper class mainstream, and the various risks and realities they face in pregnancy can make their journey to motherhood far less comfortable than my own.
Some of these lower-income women are in prison. Others are battling addiction. Others still are ineligible for government health coverage. Most will give birth without the nearby support of family and friends; some will have their babies immediately taken away after labour. Nearly all will receive inadequate prenatal care.
Care for moms, care for the system
Despite their different backgrounds, most of these mothers share commonalities in their social determinants of health, which the Public Health Agency of Canada describes as "the complex interactions between social and economic factors, the physical environment and individual behaviour" that, in combination, determine an individual's overall health.
A recent study on poverty and pregnancy outcomes led by Dr. Patricia O'Campo, director of the Centre for Research on Inner City Health at St. Michael's Hospital in Toronto, revealed that low-income moms were over 20 times more likely than others to experience multiple harmful birth outcomes, like preterm and low-weight babies, postpartum depression, and hospitalization during pregnancy.
In an interview, Dr. O'Campo stressed that health care is only responsible for 25 per cent of health; the rest is attributable to social determinants of health -- and most typically in her practice, issues related to poverty, food security, personal security, and addiction. "A lot of what we think of as social policy is really health policy," she said.
O'Campo's study, which focused on women earning incomes on the lower end of the economic spectrum, found that reducing income disparities could prevent 60 per cent of health problems experienced by new mothers. As such, O'Campo suggested that bridging the income gap for women with income assistance programs, unemployment benefits, a boost to the minimum wage and provincial child benefits are effective tools governments could use not only to improve the general quality of life for these women, but to reduce overall health care costs. 
Similar health research suggests that poor starts for newborns can threaten or delay their development, resulting in a chain of poor outcomes extending into adulthood that lead to increased health costs and negative social and economic outcomes.
For researchers like Dr. O'Campo, the connection between pregnancy, childbirth and later life health outcomes directly impacts all Canadians, both as they use the system and as they financially support it.
The series
In the current context of concerns over the scope and strength of Canada's health care system, it's clear the well-being of these new mothers has never been more important to set the tone for the health of the next generation.
This three-part Tyee Fellowship series, funded through the generosity of Tyee readers, will provide a glimpse into the challenges that inequalities in these social determinants of health -- poverty, a lack of housing and education, structural and institutionalized forms of discrimination, racism and food insecurity -- create for three groups of vulnerable mothers: moms involved in the criminal justice system, moms battling addiction, and moms giving birth in B.C. without the benefit of health insurance.
It will also provide a window into the care providers and clinics who support them, sometimes in particularly innovative ways.
While these women's birth experiences differ from mine, their reasonable expectation of reliable and safe health care does not. Yet despite the best efforts of care providers, too often these women are let down by the very social safety net designed to support them.
Find part one of the series, which chronicles two B.C. mothers' fight to reinstate a program that allows them to bring babies behinds bars, here.