Working and raising four kids mostly on her own was never easy, but at least Apryll Testa had always been able to save some money. Money for retirement, for her son's post-secondary fund, and contributions to a Tax-Free Savings Account (TFSA), the kind the Canadian government advised everyone to open during the 2008 federal budget speech.
"I was working in both [BC Place and Rogers Arena]. I'm not a big spender, so everything was saved. I'm not a miser, but I just saved everything that I made," she said in an interview in the basement apartment she shares with her two youngest children, ages 22 and 16, in south Langara.
But then, three years ago, Testa, who works as a mini-manager in concessions at BC Place, lost a similar job at Rogers Arena. She'd been living in a different basement apartment in Burnaby, and her landlord's teenage daughter had been stealing the paycheques Testa received in the mail, she said. Despite the police file number Testa gave her bosses, she was let go.
Then her daughter needed braces, dental surgery, and had subsequent orthodontist appointments more than once a month. So she cashed in the $5,000 in her TFSA and put the rest on plastic, a debt she's still paying off today.
Testa still works seasonally at BC Place, so although she makes $15.11 an hour -- $4.86 more than minimum wage in British Columbia -- she isn't working full time and said she's lucky if she gets 600 to 700 hours of work per year. Sometimes she's unemployed for up to two months at a time between sports seasons and other shows.
All told, after she pays her $800 rent and cell phone bills for her and her son, she's got about $97 for food for the rest of the month. Somehow, she manages. "Safeway, Save-On [Foods], all those stores, they have their dollar days. The dollar store has quite a few things, too," she said, adding she hasn't used the food bank "in years."
But things are tight. And Testa isn't alone. There were 149,010 single mother families in B.C. in 2011, the year of the last census. That's also the most recent year that low-income data was collected, which show almost half of those families -- 49 per cent or 73,015 -- live below Statistics Canada's low-income cut-off (LICO) line before tax.
Poor stats?
The national statistics agency does not call the LICO a poverty line, because it also includes students or people with a healthy inheritance or trust fund, but it's the closest thing to a consistent measure of poverty in Canada.
Last year, the future was looking bright for single mothers and their families in B.C. Poverty rates for single moms with kids under 18 had dropped to historically low rates of 21.5 per cent before tax -- less than one-third of the 65.3 per cent of single moms living in poverty in 2003 -- despite the only significant change to government programs for families being the annual $1,200 families with kids six or under received for childcare.
National rates had gone down, as well, to 33.9 per cent from a high of 55.7 per cent in 2002. For a family type that hadn't dipped below 50 per cent poverty since StatsCan started keeping track in 1976, this was a momentous occasion.
But in B.C. it seems like the decrease in single mom poverty might have been too good to be true. Using stats from 2011, last November's launch of the 2013 B.C. Child Poverty Report Card showed the province's single mom poverty rates had increased a whopping 28 per cent in one year to 49 per cent.
There was no definitive reason given for the increase in the report, except that from 2007 to 2010 data was marked as "E: use with caution" by StatsCan. The most recent stats are labeled "D: Acceptable."
"Does that tell us that the [B.C.] decline wasn't quite real?" asks Adrienne Montani, provincial coordinator for First Call: BC Child and Youth Advocacy Coalition, which releases the province's annual child poverty report card.
"I don't know. That was just one question [Statistics Canada] made us [ask]: which is the more reliable stat?"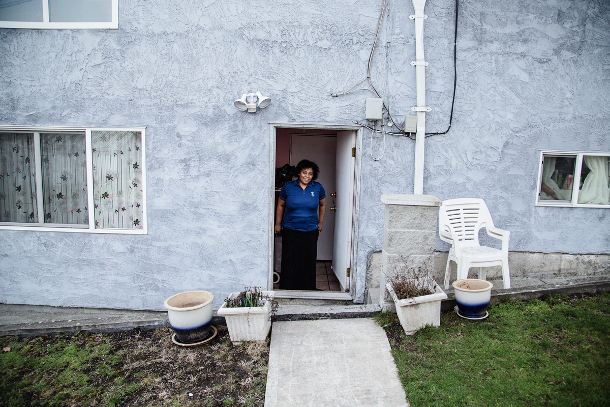 Statistics difficult to determine
Accuracy is hard to achieve for numbers on lone female parent poverty. That's because of how StatsCan collects its data.
Each year, their Survey of Labour and Income Dynamics (SLID) samples about 34,000 households nationwide for their income, employment status and family type: just 0.1 per cent of the population. The more specific one gets regarding location and family type, the smaller the sample size.
"And because it is for one particular province for persons living in one particular family type that is not large, the estimate is not very precise," Daniel Boutin, media relations officer with Statistics Canada, said in an email.
StatsCan prefers to use the LICO after tax measure for the number of people living in low-income. That means people's incomes are calculated after income tax has been deducted and redistributed to individuals with incomes below a certain threshold.
Looking at after tax data, only 24.6 per cent of B.C.'s single mom families lived below the poverty line in 2011. But that sample size is also marked with an "E", which First Call says is common for after tax data, and that's why they prefer to use before tax data.
Using the after tax data from 2011 for single moms in B.C., Boutin broke down just how broad of an estimate data marked 'E' can be.
"E indicates a CV [coefficient variation] greater than or equal to 16 per cent. This means that the estimate is not precisely 24.6 per cent. If the CV was 23 per cent, 19 times out of 20, the true value would be between 13 per cent and 36 per cent," he said.
The LICO before tax rate of 49 per cent low-income is rated D, which means there's a CV of between eight per cent and 16 per cent.
Unfortunately Stats Canada doesn't list the CV, so we can't calculate the probable range of single moms living below the poverty line, but it could be much higher than almost 50 per cent.
LICOs also miss out on the higher cost of living in areas like the Lower Mainland. They're calculated based on a community's population: the higher the population, the greater the income required to stay above the LICO line. So any city with 500,000 residents or more would have the same LICO rates despite the fact that Vancouver, which falls into this population category, has the highest cost of living in the country.
'We think the major story is low wages': advocates
Median incomes might offer some corroborating evidence that there was a brief fall, followed by a sharp rise of poverty for single moms in B.C. In 2007, single moms' median income in B.C. climbed from $26,100 to $33,200. It reached its highest point ever in 2009 at $34,000, but dropped to $21,500 in 2011.
"You can almost see a direct correlation there: your income goes down, poverty goes up," said Trish Garner, community organizer with BC Poverty Reduction Coalition.
This isn't part of a national trend, either: every province saw their single mom's median incomes go up between 2010 and 2011, except B.C.
In fact, B.C.'s single moms make less than their counterparts in almost every province except for Newfoundland and Labrador and Prince Edward Island. The next closest median income is Saskatchewan at $23,100.
"We know the majority of poor kids have working parents or they work part time; they might cycle on and off of income assistance, but most of them are working poor," said Montani, adding single moms parent just one-third or 55,000 of the kids living in poverty in B.C.
"We do think the major story there is low wages, especially when we do see that median income drop. So we think there's a lot of precarious underemployment, or just really low wage work in this province that's affecting single moms. That would be our best explanation at this point."
But StatsCan has a simpler explanation: "It is most likely due to sampling variability." To determine a true downward trend in median income for single moms, we'll have to wait until the 2012 data is released later this year.
Government can help make ends meet
Testa made about $16,000 last year, almost half of the $29,260 after tax LICO line for Vancouver. She was getting extra help from the Canadian Child Tax Benefit she receives from the federal government for her son, but found out recently the cheques stopped being deposited in her account nine months ago. The reason? She moved down the street into a new apartment.
"Somehow they must have found out that I moved, and they didn't send it," she said. "They said it was because they didn't have my address, and I [said] 'It's a direct deposit!'"
Despite having an accounting certificate from a community college and applying for 10 jobs in the last three months, the only extra work Testa can get is a cleaning job. Her boss pays her $50 under the table every two weeks to help clean a business and one or two homes every Thursday morning.
"She doesn't pay me by the hour, she pays me by the place. So I have to somehow report her to labour standards, even though it's under the table. [My boss] says I can't claim it because she pays me cash. And I go, 'I can claim it,'" she said. But Testa needs the extra money and so far she hasn't reported her boss.
Both children at home work: her 22-year-old daughter works at BC Place and No Frills grocery store, and her 16-year-old son gets occasional shifts at BC Place, too. [Her two eldest children live outside the province and have their own families -- and debt issues -- to pay for.]
But Testa's daughter has student loans to pay, so she can only contribute the occasional groceries, and Testa doesn't feel right taking her son's money.
Both Montani and Garner say government can help bring down single mom poverty levels by providing affordable, good quality child care and housing; raising the minimum wage and indexing it to inflation; allowing mothers on welfare to keep the child support payments for their kids instead of clawing them back into government coffers, and letting them go to post-secondary school without cutting off their cheques.
But for Testa, the answer to getting her out of poverty is much simpler: "I just need more work," she says with a laugh. "Totally, that's it."