[Editor's note: Tyee contributing editor Kai Nagata spent the weekend at the annual Manning Networking Conference in Ottawa, a chance for the conservative movement to ponder successes, setbacks and next steps. Find his Friday dispatch, on plans to focus conservative campaign machinery on municipal races, here.]
"It's been a rough year for conservatives." Andr&eacute Turcotte, Preston Manning's pollster from the Reform Party days, shifts from foot to foot at the lectern. "When I present data to my clients and the data is not all that positive, I usually say, 'Don't shoot the messenger.' With most audiences, I mean that as a figure of speech."
The crowd chuckles. There are indeed a few clean-cut young men in attendance with gun pins on their lapels -- they're annoyed by the RCMP's recent decision to ban a Swiss military-style rifle. Other buttons pinned to people's jackets and conference lanyards betray more momentous concerns: the Senate, Rob Ford, pipelines, Justin Trudeau.
Turcotte's annual "barometer poll" found fewer Canadians consider themselves Conservatives than at any point in the last five years: 26 per cent. By contrast, at 31 per cent, Turcotte says "the Liberals have reemerged as the party a plurality of Canadians identify with."
"That 26 per cent is a little bit misleading," he continues. "It's really driven by one region in Canada." The Prairies. There, Conservative support has grown by five points since last year, to 48 per cent. Meanwhile in B.C. it has dropped five points, to 20 per cent.
In a result Turcotte calls "weird," a full 68 per cent of British Columbians say they believe the country itself is on the wrong track.
Preston Manning doesn't think it's weird. Asked for his take on West Coast malaise, he says, "I think it's mainly the temporary controversy over the pipelines."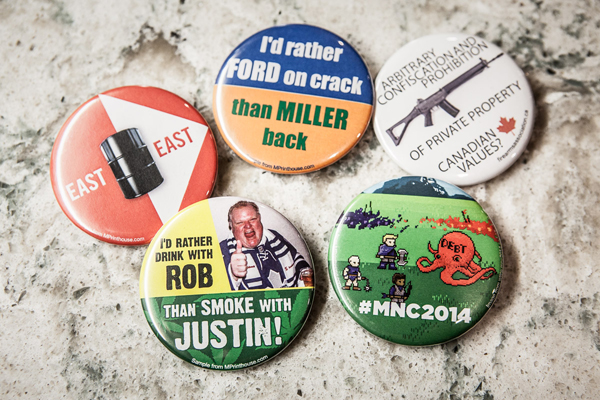 If he's right, B.C. has a pivotal role to play in the near-term fortunes of the Conservative Party of Canada. That relationship could look very different depending who leads the party next, after Stephen Harper.
To be clear, there is no leadership race officially underway. Harper continues to say he will run in the next election. Nonetheless, and perhaps it was a coincidence, this weekend Manning Conference delegates got a chance to compare four more-or-less viable candidates to lead the party into its post-Harper era -- whenever that begins.
Option 1: James Moore, the fast talker from B.C.
To date, Kim Campbell is the only British Columbian ever to lead a federal conservative party -- for about six months. Were Industry Minister James Moore to succeed Stephen Harper, he would hope to last a little longer at the top.
Only 37-years-old, Moore would nonetheless be a serious contender, says Maclean's political editor Paul Wells.
"James Moore is a peculiar figure in this government," says Wells. Socially liberal, he was an early supporter of gay marriage. Having served five years as the country's Heritage and Official Languages minister, he is impeccably bilingual and well respected in Quebec.
He is also a confidante of the prime minister, a relationship rendered in some detail in Wells' book, The Longer I'm Prime Minister. Wells, affectionately described by one former PMO staffer as "the Bard of the Bubble," describes Moore's key role in convincing Harper to prorogue Parliament in 2008 as saving the government in the face of a Dion-Layton-Duceppe coalition.
"He is someone whose clout within this government is substantially greater than his age or his experience," says Wells.
He's also a compelling speaker. In a speech at this weekend's meeting, Moore chose an example from his own riding to illustrate his love for Canada and the conservative worldview.
"Terry Fox is buried half a mile from where I live, in a very humble little cemetery. This kid ran -- actually, he hopped -- a marathon a day. To try and raise $20 million for cancer research. One dollar for every Canadian."
"The greatness of Canada is not a politician who stands up and says, 'Dig me, I passed a law.' The greatness of this country are individual Canadians who stand up and do great and remarkable things. And what we as a government ought to do is to have the framework in place that empowers citizens... not punishing them when they succeed, with high taxes."
It's not clear how tax policy either punished or empowered Fox's Marathon of Hope, but Moore's thundering paean had conference delegates leaning forward in their seats.
The MP for Port Moody-Westwood-Port Coquitlam is uniquely attuned to the political realities of his home province. Talking about resource projects, he sounds very different from cabinet colleagues like, say, Joe Oliver.
"Sometimes it's hard for people who are locally affected to see the national benefit. Equally, it's hard for people who see the national benefit not to appreciate the local consequences of these projects," Moore tells me.
"The broader Canadian family needs to realize that if these projects are going to go forward, all people have to see the benefit of it, or at least have an ability to have some of their fears and concerns addressed through the process."
It's for those reasons, Moore says, that his government rejected Taseko's New Prosperity Mine, despite support from the province. It's clear he played a key role in the decision.
Option 2: Jim Prentice, the tree-hugging banker
Described as the de facto deputy prime minister, Prentice served as minister for aboriginal affairs, industry and environment, and chair of Harper's operations committee, before leaving in 2010 to take an executive position at CIBC. He's also, by his own description, a passionate angler and outdoorsman who is deeply preoccupied by what he sees as a false choice between energy development and the environment.
In a speech at the Manning Conference, Prentice again criticized the current administration's approach to pipeline politics. "Mark my words. There will be no exports of Canada's oil from the west coast, nor [liquefied natural gas] terminals, unless we strike meaningful economic partnerships with First Nations."
The party's perceived indifference on the environment, Prentice warned, will hurt both Canadian industries and the Conservatives' political future.
"Around the world, the wave of concern over climate change crested a number of years ago. I know that. I was in Copenhagen. I have the scars to show for it. But those who are paying attention can see that the next wave is building again. And the wave will come. And trust me, when it crests on Canada's shore it will be at its highest point."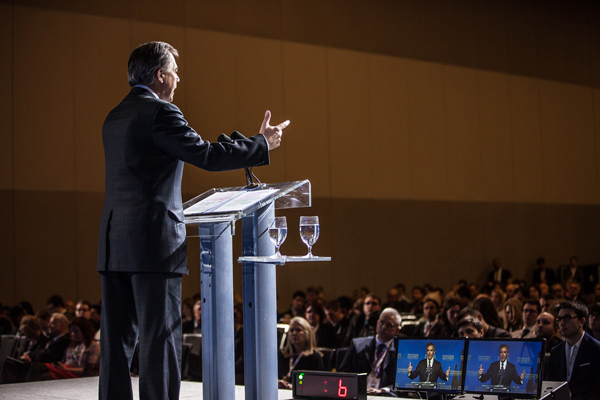 Prentice made some delegates visibly uncomfortable, but he has many admirers. "I thought it was a solid speech, showing that it's possible to reconcile resource development with environmental protection -- and conservatism with conservation," said Mark Cameron, a former senior advisor to Harper and policy director in the PMO.
"I think this government has done more than it gets credit for when it comes to working with First Nations -- the recent agreement on aboriginal education being a good example -- but it needs to do more," wrote Cameron in an email to The Tyee.
Former cabinet minister Chuck Strahl, now a lobbyist for pipeline company Enbridge, says Prentice is the kind of leader who could help reboot that relationship.
"You go to First Nations and say, what do you think? Was he a good Indian Affairs minister? They'll say, 'He's one of the good guys.' On the environment, he's one of the good guys. And when he left, everyone in the House, from all the parties, said he's one of the good guys."
Option 3: Brad Wall, the Prairie populist
"Are you learning French?" one reporter asked Brad Wall after he drew a standing ovation for his speech, titled Canada: Food and Energy Superpower. We should start acting like it.
"No," replied Wall. "I'm still learning English."
After a few giggles, the reporter tried again. "Am I to understand that if you're not learning French, you're not interested in the leadership?"
"I have the best job in Canada already," replied Wall. "I think people should be asking Stephen Harper, why don't you want to be premier of Saskatchewan?"
With a 64 per cent approval rating, the Saskatchewan Party leader is the country's second-longest serving first minister. Under his administration the province has reduced its debt, and is on track to deliver its seventh consecutive balanced budget.
"None of them balanced themselves," he quipped Friday -- a shot at Justin Trudeau that drew a predictable roar of approval.
All of this is possible thanks to a booming resource sector in Saskatchewan, and bumper crops. But there's a problem: rail cars can only carry one thing at a time.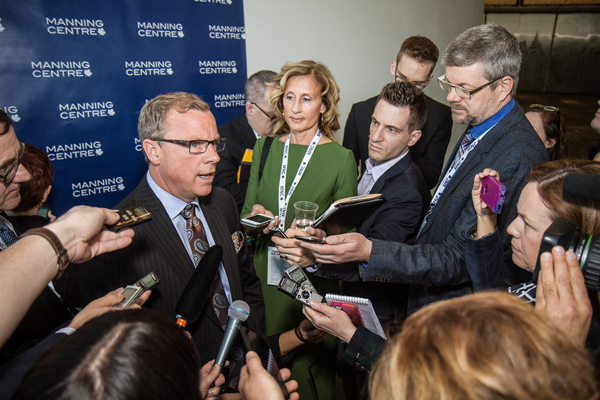 These days CP and CN would rather carry oil. With a record wheat harvest and cold temperatures shortening trains, a backlog of grain has developed between Saskatchewan and the ships waiting to export it off Vancouver and Prince Rupert. Farmers are furious. Customers are fed up.
So Wall supports pipelines. Any and all pipelines, apparently. He criticized Trudeau again for supporting Keystone while opposing Northern Gateway. For Wall, pipelines are good if they take bitumen off the rails. And environmental initiatives are great, so long as they give the United States "more elbow room" to approve pipelines.
And don't forget, folks, the Roughriders never won a Grey Cup under a CCF government.
Wall's populism can stray into provincialism -- an illustration, perhaps, of why no Canadian premier has yet gone on to become prime minister. But he's much liked inside and outside the conservative movement.
Option 4: Jason Kenney, minister for curry in a hurry
At last year's Manning Conference, then-minister of Citizenship and Immigration Jason Kenney was described in the corridors as "the Anointed One": Harper's chosen successor. This year, as the Toronto Star's chief political writer Susan Delacourt puts it, "Jason Kenney is up to something. I just can't figure out what."
There's no doubt Kenney would be a formidable contender for the leadership. He already rakes in twice as much money in his Calgary riding as Harper's next door. What's more, a significant chunk comes from donors in the Greater Toronto Area -- a legacy of his legendary ethnic outreach efforts in the lead-up to the 2011 election.
Delacourt says if Kenney has his eye on one ministerial portfolio, it would be Finance, currently held by Jim Flaherty. It's an open question whether Flaherty will run again. Meanwhile, Kenney seems to go out of his way to frustrate his senior colleague.
For one, Kenney broke ranks and called on Toronto Mayor Rob Ford to resign, which Flaherty saw as an incursion onto his municipal turf. Worse, it was an insult to an old family friend. On the floor of the House of Commons, Flaherty was so angry he told Kenney to "Shut the f--k up" about Ford.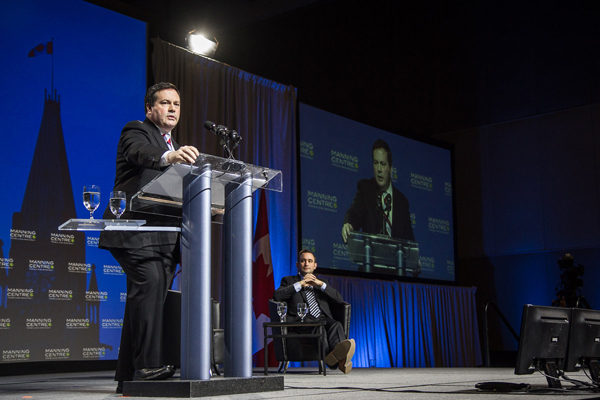 At the Manning Conference alone, Kenney announced he'd reached deals with every province but Quebec on the Canada Job Grant -- after Flaherty suggested the feds would have to go it alone. Then Kenney declared his unqualified support for income splitting, a key Conservative campaign promise that Flaherty has recently questioned.
Kenney, a bachelor, would derive no personal benefit from the tax break. Indeed, some pundits say his marriage status could be an impediment to leadership in a movement that remains centred on the traditional family.
Certainly he is the candidate most closely associated with Harper, and with Harper's hyper-partisan, controlling approach to government.
The minister can certainly be credited with inspiring the tactics that led to B.C. Premier Christy Clark's own "ethnic outreach" scandal, and the controversy over her exclusive media availabilities for "ethnic press."
Delacourt says the word in Ottawa is that Kenney, like Lord Varys in Game of Thrones, has built his own network of informants. "I'm told if there's a meeting on Parliament Hill, Jason has a person in there to tell him what's happening. Paul Martin's people did much the same thing."
"He's getting himself ready for something, but it may not be leadership," says Delacourt. "I may be with the crowd that thinks he's going to be the kingmaker."
Next steps
Regardless of who leads the federal party into the next election, Preston Manning reminds conservative campaigners they will never really get a chance to coast.
First there are the fall municipal races in Vancouver and Toronto, where pollsters, organizers and data gurus connected to Manning's centre are already hard at work -- in Vancouver, for the NPA, and in Toronto, for Ford opponent John Tory.
But beyond individual elections, Manning says the primary job of the movement is to train and organize, year in and year out -- so conservative candidates can win more often at every level of government.
"You've seen that Canadian Tire commercial that says, 'There is no such thing as an unassisted goal.' It's true," said Manning in his closing address. "If there was only one function that the conservative movement could perform on behalf of the parties and those who seek elected office, I suggest that it should be the promotion and delivery of training."
Manning sees the current dip in support for the Conservative Party as cyclical. Enough Canadians share core conservative values, he believes, that a movement built to represent them should win more often than it loses.
But values alone aren't enough. Speeches and conferences are only a start. Ultimately, each individual voter has to be identified and coaxed to the polls. That work is never done.
Manning's goal is that no matter who puts on the captain's "C" after Harper, the team behind them will be ready.