[Editor's note: Tyee roving reporter Kai Nagata is currently filing from the Manning Networking Conference. Stay tuned for more over the weekend and Monday as the action unfolds.]
Calling Laureen Harper up to the stage, Preston Manning jokes about the last time the Harpers attended his organization's annual networking conference: "Stephen got stuck in a corner with three economists talking about quantitative easement. Meanwhile, Laureen had worked the entire room."
A secret memo leaked to the Toronto Star this month suggests the party leadership intends to "leverage Mrs. Harper" in the next election, recognizing that she tests better with many voters than her husband. It's a fact that she's a major asset on the campaign trail -- but her true talent may be in knowing what the party grassroots needs to hear.
"My husband's office is full of people who worked hard and started at the bottom," she tells the crowd. "I always like to tell the story of Ray Novak. Ray is my husband's chief of staff." Stephen Harper's longest-serving staffer, Novak has been at the prime minister's side since 2002.
"He showed up at the office to volunteer on my husband's very first leadership campaign. He was a skinny little kid from the Ottawa Valley. And his first job -- I love this -- is we told him to take the flies out of the light fixtures. I love that story. It just shows that if you work hard and put your nose to the grindstone, who knows where you can be."
The delegates here at the annual Manning Networking Conference in Ottawa love it too. Some are pollsters, database experts, or candidates -- relative rockstars in the world of conservative campaigning. Many more are envelope-stuffers, phone-jugglers, and door-knockers. The people who grind out long days identifying voters one at a time, then drag them to the polls.
Laureen knows it's the conservative movement's ability to motivate and organize the people in this room that will determine how long she lives at 24 Sussex.
"I can't say this enough, but being part of a political party is like being part of a big family. A crazy family, with a few crazy relatives. But I love it," she says.
Blood is thicker than water
There are certainly some, shall we say, controversial uncles in the Manning crowd this year.
Ken Boessenkool was a strategist and senior policy advisor in Harper's PMO before joining B.C. Premier Christy Clark's office as chief of staff. He resigned in 2012 after allegedly making unwanted advances toward a more junior staffer at a bar in Victoria.
James Moore, the federal Industry Minister and top Conservative MP in B.C., was forced to apologize in December after making insensitive comments to a radio reporter about child poverty -- kicking off a firestorm on social media.
Tom Flanagan is credited with orchestrating Harper's early rise to power. He was ditched from the University of Calgary, the CBC, and the lineup of this conference last year after suggesting he had doubts about putting consumers of child pornography in jail.
Former Conservative cabinet minister Chuck Strahl stepped down last month as chair of the Security Intelligence Review Committee, the watchdog overseeing Canada's spy service, after it emerged that he was also a lobbyist for Enbridge.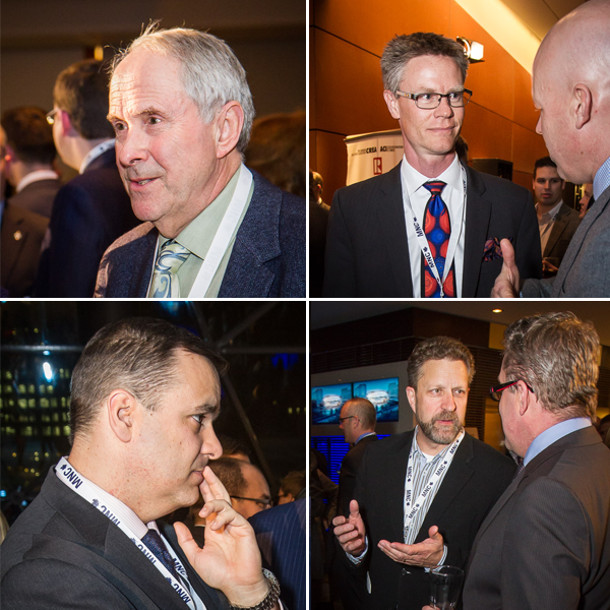 What does it say to put these team members on public display?
"They're still part of the conservative family, no matter what," Manning tells me. "Tom was sort of unfairly treated because people had to react very quickly to one particular incident. But once you have more time to think about it, it puts things in perspective. And you know, Chuck has served the public in dozens and dozens of ways."
City hall: 'the last bastion of the left'
The Conservative Party of Canada will occasionally demand Seppuku from an inconvenient retainer. But the conservative movement may still find use for their loyalty. Right now, it's all hands on deck. Because as if it weren't enough to defend a federal majority in 2015, conservative campaigners are branching out.
"There are 338 elected federal officials, with the new seats," explains Manning. "There's 760 elected provincial and territorial people. But there's well over 25,000 elected municipal officials, and some of these municipal governments are bigger than some provinces."
Through the Manning Centre for Building Democracy, his political training campus in Calgary, the old Reform Party founder is retooling conservative campaign machinery to focus on municipal races.
"Conservatives have tended to neglect that sphere and leave it up to the other guys, and we don't think we should do that anymore," he says. As this year's conference program puts it, city hall is the "last bastion of the left."
Rob Ford's stunning victory was accomplished largely in spite of the candidate. Now Ford's winning team is regrouping behind John Tory, the man they now hope can ward off Olivia Chow in Toronto's October election. Some of them are here this weekend.
B.C. holds its municipal elections in November. Seasoned veterans of both federal and provincial campaigns have been working since last fall on a plan to unseat Vancouver Mayor Gregor Robertson. They're at the convention centre too.
The stakes are high. The schedule is packed. The hospitality suites are stocked. This family reunion is just getting started.
Stay tuned this weekend and Monday for more dispatches from the Manning Networking Conference in Ottawa.