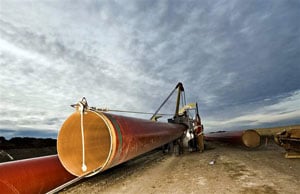 New polling from Vancouver-based Justason Market Intelligence finds a majority of British Columbians continue to oppose crude oil tanker traffic on the province's North Coast. At the same time, most believe Enbridge's Northern Gateway pipeline proposal will eventually go through.
The poll was commissioned by the Dogwood Initiative, ForestEthics Advocacy, the Northwest Institute for Bioregional Research and West Coast Environmental Law.
Only 29 per cent of those surveyed said they support "allowing crude oil supertankers through B.C.'s northern inside coastal waters," while 64 per cent said they are opposed. Fully 50 per cent said they are "strongly opposed." However, 64 per cent also said they believed the pipeline and tanker proposal would succeed, while only 12 per cent said it would fail.
"The purpose of that question was to get a sense of whether people have a sense of inevitability about this," said JMI principal Barb Justason. "I had a bit of a free rein here, and I was curious." The poll was conducted between Jan. 13 and 19 -- one month after the National Energy Board recommended the federal government approve the Enbridge proposal.
In a separate question, a third of respondents said they "basically trust" the NEB's Joint Review Panel, while half said they distrust the federal government's approval process.
The NEB attached 209 conditions to its approval of the Enbridge proposal, which company spokespeople say they are confident can be met. The federal cabinet has five months to render its final decision.
The poll also asked whether governments alone should make the call on major proposals like Northern Gateway, or whether the public should participate in decision-making. Seventy-nine per cent agreed the public should participate, while 13 per cent felt such decisions should be entrusted solely to government.
Creeping support, coastal nerves
Justason has run province-wide polls on the Enbridge proposal four times since March 2012, finding higher awareness of the issue each time -- from 78 per cent two years ago to 92 per cent today.
Along the way, said Justason, "there's been a slow but steady increase in support. It's grown barely outside the margin of error, but it has grown. That speaks to fewer and fewer people not knowing about the project."
Two recent surveys by other polling firms found a more dramatic increase in support. Comparing responses between February and November 2013, Insights West found a seven-point jump for Northern Gateway, with 42 per cent in favour and 47 per cent opposed. Then in December, a poll by Maple Leaf Strategies for the B.C. Chamber of Commerce found 47 per cent support and only 44 per cent opposed.
Dimitri Pantazopoulos, who leads Maple Leaf's Vancouver operations, is best known for his work on the BC Liberal Party's surprise 2013 election win, an outcome he's said his models predicted.
Neither Maple Leaf nor Insights West mentioned oil tankers in their questions about support for Enbridge's pipeline project. However, Insights West pollster Mario Canseco points out, "on Northern Gateway, the top concern cited by respondents is the expected increase in oil tanker traffic off Kitimat." Breaking down the numbers, Canseco said "three in four people who support the pipeline are concerned over oil tanker traffic."
If all the polls are accurate, the discrepancy suggests between 13 and 18 per cent of British Columbians support the pipeline, but oppose tankers that would carry away the oil.
"The Enbridge proposal does not exist in the absence of tankers," said Justason. "We've got a gridwork of pipelines in this province carrying different products all over. I think people are nervous about pipelines as well, but what they really get nervous about is the coast."
The Northern Gateway pipeline would have the capacity to transport 525,000 barrels per day of Alberta crude across British Columbia. Two-hundred-and-twenty oil tankers a year would have to navigate in and out of the Douglas Channel to a new terminal in Kitimat.
"We're not seeing a shift in attitude about this," said Justason. "We're just seeing that when you ask the full question, this is the result you get."
Conditional support?
"These polling results bring home why the Enbridge tanker and pipeline proposal is going nowhere fast, despite the JRP recommendation," wrote Jessica Clogg of West Coast Environmental Law in a news release. "Residents of B.C. continue to withhold 'social license' for the project, while multiple First Nations lawsuits threaten to derail it and the government of B.C. formally opposed the Enbridge project."
A working group created by the provincial governments of Alberta and British Columbia is now studying Premier Christy Clark's own five conditions, which she has said must be satisfied before her administration will lend its support to new heavy oil projects on the coast. The B.C. government could withhold several dozen permits necessary to construction and operation of Northern Gateway.
Clark's conditions include "world-leading" spill protection, legal adherence to Aboriginal and treaty rights, and a "fair share of the fiscal and economic benefits" for B.C. that "reflect the risk borne by the province."
Half the British Columbians surveyed in the Justason poll said they would become more supportive of the Northern Gateway proposal "if Premier Clark concludes that these conditions have been met." Twenty-six per cent said Clark's approval would deepen their opposition.
The poll, a telephone-online hybrid, sampled the opinions of 600 B.C. adults 18 years of age and older. Results are considered accurate within 4 percentage points, 19 times out of 20.