Jerking the portafilter onto the head of the espresso machine, Jeremy's mind would race as he struggled to recall customers' special requests, the high choking screech of the milk steamer like a dental drill to his brain. It's a popular notion that minimum-wage service-industry jobs like his as a barista are plentiful and easy to do, providing an employment lifeline for generations of young people. For Jeremy, however, that's simply not true.
Jeremy asked Tyee Solutions Society not to publish his real name because he feels too vulnerable to speak publicly about his experiences. The 25-year-old is smart, affable and diligent, but he struggles mightily to keep a roof over his head. Today he pays $469 a month for a small room in a waterlogged, mouldy basement suite shared with a roommate near Fraser Street and 49th Avenue in Vancouver's Sunset neighbourhood. The rent is 52 per cent of the $906 he receives each month.
The reason for Jeremy's struggle to hold down a job is also the reason the provincial government sends him that monthly $906, the amount a single person is entitled to receive on British Columbia's Persons with Disabilities (PWD) benefit. Jeremy became entitled to it after several mental health teams diagnosed him with Asperger syndrome, an autism spectrum disorder.
"I have trouble with anxiety and depressive episodes. I've had long suicidal periods, and basically am doing better because of the PWD income and the small amount of freedom it provides," he says. "But the amount is still inadequate."
He's had the most success landing jobs in customer service, but struggled with the short-term memory requirements and claustrophobic hustle of those jobs. He gave the barista gig his best shot, but in the end the stress was so intense that he broke down in tears in front of his boss. Humiliated, he quit. He's now out of work, scraping by each month on $437 after paying rent with most of his PWD benefit.
"This is the fundamental absurdity: [the B.C. government] gives $375 for shelter, but this is not enough for market housing anywhere in the province," Jeremy says. "And then they put people on housing lists for years, giving them false hope."
Jeremy has lived in his current home for five years. For the last two, he's waited on the BC Housing applicant list for a spot in subsidized housing. He joins thousands of other British Columbians on that list, and he's rapidly giving up hope that his name will ever be drawn.
Jeremy wants to go to university and earn a degree so he can work from home as a copywriter, one job he can imagine doing with happiness and peace. But he's put off using his part-time college transfer credits (he earned a 4.18 Grade Point Average over five years) because he can't afford to move closer to the University of British Columbia, where he would like to complete an undergraduate degree. "It's stable yet precarious at the same time," he says. "I can't move if I can't find anything more affordable."
B.C.'s private rental market is not designed to house people like Jeremy. Market landlords are in the business of providing homes to people, and they are also are in the business to make a profit. Those motivations have been made clear for years by both individuals and representatives of professional associations.
Even today, in the rezoning submission for a proposed purpose-built rental tower with 32 floors of residential units adjacent to the New Westminster SkyTrain Station, the architects state explicitly, several times, that the development "is intended to be market rental and not 'social' or 'affordable' housing."
The same is true of many of the new market rental units city councillor Geoff Meggs discussed in his recent Tyee editorial on what the City of Vancouver has done in encouraging more rental housing construction. "To go further, faster, all levels of government have to hear the voices of renters, loud and clear: build rental housing!" Meggs concluded.
Most would agree with Meggs that it is critically important to build more rental housing. But most of the new stock being built is not the kind people like Jeremy can afford.
'Massive' intervention needed: planner
"Housing affordability -- the reasons why it's not happening -- are very deep-seated. And they're very structural. And all you're ever going to be able to do is toy with that larger structural machine to get housing affordability. Within the current economic system that we work in now, unfortunately, it's very, very difficult to achieve," says Tom Lancaster.
"Unless there is massive government intervention, or some third-party intervention to change the playing field, you're going to see increasing unaffordability as opposed to heading in the direction of affordable housing."
Lancaster is an urban planner working for VIA Architecture, the progressive Vancouver architecture firm working in consultation with PWL architects to bring the New Westminster purpose-built rental tower proposal to life. The 40-storey tower, called the Landing Post, features 32 residential floors, eight storeys of above-ground parking, and two storeys of amenity and commercial space. It's the fourth of four new residential towers going up around New West SkyTrain station.
The towers are part of a project called Plaza 88, backed by developers Mike and Patti Degelder. Plaza 88 is part of an ambitious downtown revitalization initiative that aims to change the hard-luck face of downtown New Westminster by adding public gathering spaces, new commercial strips and new residents. The Landing Post is the only purpose-built rental tower of the four -- the others are strata title condominiums.
"Our mission [at VIA Architecture] is about creating connected and connective communities," Lancaster says. "This [Plaza 88] project really speaks to me because of the transformation that it's had in the area, and how it catalyzed a safer place for people to live. And when the possibility for doing rental [at the Landing Post] popped up and we had a couple of lenders who were willing to throw the money in for this project, I saw that as a once-in-a-lifetime opportunity. It's just strictly a developer willing to take a risk, a lender willing to take a risk to do purpose-built rental housing."
The Landing Post development is still pending approval by New Westminster city council (the last meeting on the subject took place Nov. 4). But the fact the project has come this far is, in its own way, a miracle. Rental housing is typically risky, and difficult to secure funding to build.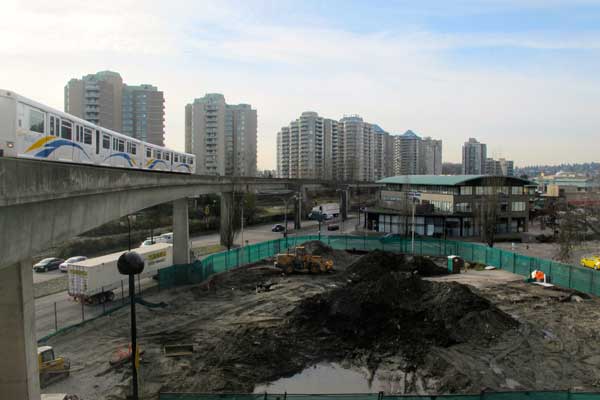 "Banks are not generally willing to throw a bunch of money at something with a flexible return," Lancaster explains. "Cap rates are a measure of how fast a development pays itself off. Hotels have cap rates. Rental buildings have cap rates. Non-strata offices have cap rates. A straight-up strata development? There's no cap rate, because I'm selling you something and I'm generally pre-selling it. Rental buildings are much riskier because you never know what's going to happen."
But people invested in the condos in the three other Plaza 88 towers. Many investors are renting the condos at market rates. "They have resold at really high values. Investors are willing to come in and throw money at them," Lancaster acknowledges. That security set the stage for the Degelders to roll the dice on the Landing Post and develop it as purpose-built rental. Unlike other new rental projects, it has no support from the municipal government. "There's no offset of cost provided by a housing authority," Lancaster says.
Reaching 'deep market affordability'
The Landing Post responds to widespread calls for more rental housing stock near transit lines. New Westminster's May 2013 Secured Market Rental Housing Policy is designed to meet some of the housing directions called for in the city's February 2010 Affordable Housing Strategy.
"[New Westminster] city staff are very progressive in what they're trying to do," says Lancaster. New Westminster Mayor Wayne Wright chairs Metro Vancouver's Housing Committee and co-founded the Canadian Rental Housing Coalition, a group aimed at working with all levels of government to increase rental housing supply across Canada.
If council approves it, the Landing Post could see its first renters moving in by 2015. Rental rates will vary according to unit type and floor -- there could be approximately 16 units per floor of varying sizes to accommodate different family type. But, Lancaster says, "we have to generate approximately $30 per square foot per year on average before deducting property taxes, property management and operating expenses."
While the Landing Post rezoning submission states that it is "intended to be market rental and not 'social' or 'affordable' housing," it also notes "that purpose-built rental stock tends to become more affordable over time because rates are not set by individual strata owners."
Even so, reaching deep market affordability -- the kind that people like Jeremy can afford -- will take more than projects like Landing Post.
"Until there is some mechanism of stepping in and halting that accumulation of wealth through land assembly and ownership, it's very, very difficult to come up with a real solution to this problem," Lancaster says. "That's why government intervention, or some kind of third-party intervention, has to step in, if you are to look at a real, systemic housing affordability solution."
Lancaster sees the Landing Post as one solution to one component of affordable housing. He's also embarking on extra-curricular research to bring an innovative, European-style idea to B.C. called "community development corporations."
"[It's] a partnership between a group of people who own a little bit of capital," he explains. "It's mission-based instead of profit-based. When you create that scenario, you create the opportunity to change the rules of the game."
It works like this: groups of people create mission-based community development corporations in Vancouver. They work with the City of Vancouver to depress the value of city-owned land by putting a development moratorium on it.
"The City can do that. It's well within their jurisdiction to find a chunk of land and say, that land is going to be an affordable housing block that has a certain density on it if you're a community development corporation," he says.
"If the City gets involved and we have this non-profit development thing and a lending institution backs us, we can afford to build something that stays functionally off the market."
To Lancaster, the proposal is "radical, but it's not so radical that it's imaginary." To him, the key to building housing affordability is to find new ways of structuring the world of development.
"That doesn't mean you're going to preclude other means of doing development; that's a full-on restructuring of the capitalist system that we're not in any position to do right now," he says.
Housing 'defines who are'
Lancaster will continue research on how to bring community development corporations to B.C., and continue work on purpose-built projects like the Landing Post. He's in the business, he says, because housing is not just about keeping people safe and healthy.
"It's part of grounding people mentally in a place they can call home, which then dramatically increases their overall happiness, and parallel to that, their mental health and emotional health. Where we live impacts dramatically who we are, how we think, how we interpret the world, and how we interface with the world. It's critical. It defines who we are."
Lancaster and other urban planning professionals are well aware of the impact housing has on people's livelihoods and mental health. Jeremy is, too. While others grapple with systemic changes to increase housing affordability for people like him, Jeremy waits for change.
Since it's the only place he can barely afford, he plans to stay at his apartment near Fraser and 49th for now. He'll tolerate the mould and rot, a situation that has become so severe that the third bedroom has squishy craters in the hardwood floor. His foot sinks in when he steps on the holes. But he's had several nice roommates, he says. It's home.
"It's the only place I've ever lived in Vancouver. It was the first place I interviewed at," he says, recalling when he found the place at 20 and was accepted by the landlord.
"In comparison to everything else in my life, relatively speaking, that was a stroke of luck."