Thinking back to the eight months he spent last year as one of the more radical Vancouver members of the Mayor's Task Force on Housing Affordability, Mike Lewis is glad to see one recommendation starting to bear fruit.
On May 15, Vancouver city council approved a staff proposal to build 355 units of rental housing on four city-owned sites, to be operated by four community land trust partners.
Lewis praises the decision as "one way of pushing back" against the "rank individualism" of our times.
Last year, Lewis co-authored The Resilience Imperative. In it he writes about community land trusts around the world. He sees them as one way of reclaiming the commons and bridging what he calls the gap between the "we" and the "I."
Community land trusts do that by owning property under a non-profit, multi-stakeholder, democratic governance model. They are guided by the idea that community control of land, instead of real-estate market investor control, helps keep down the cost of housing.
Vancouver's Community Housing Land Trust Foundation is a registered charity created two decades ago by the Co-operative Housing Federation of BC. Under the new agreement, Vancouver will lease four city-owned parcels of land to the Land Trust Foundation. It in turn will sub-lease those sites to four partners to develop affordable rental-housing units.
The partners are Fraserview Housing Co-operative, Tikva Housing Society, Katherine Sanford Housing Society and HFBC Housing Foundation. The Land Trust will oversee housing development and construction. The four partners will operate the housing after it's been built, with the Land Trust overseeing things and reporting annually to the city on how they are reaching affordability targets.
With construction slated to begin in March 2014, the first residents are expected to move in by November 2015.
"This is common sense," Lewis says. "That's what I'm excited about by this social-purpose development partnership. It's principled, it's pragmatic, and it's leveraging assets."
Two-bedroom suites for under $950 a month
Of the 355 units of rental housing, 273 will rent at below-market rates. According to initial estimates, based on rates below BC Housing's Housing Income Limits (HIL) metric, that would translate to about $769 a month for a one-bedroom apartment. A two-bedroom unit would rent for $945.
The four sites in southeast Vancouver are at 1700 Kingsway, 2910 E. Kent Avenue, 2780 Southeast Marine Drive, and 2800 Southeast Marine Drive.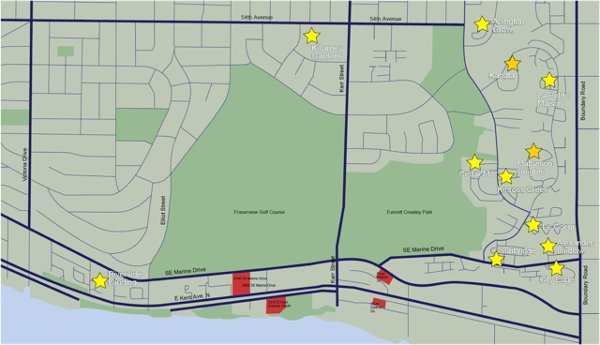 Revenues from the 82 market-price units will support the non-market units, approximately 48 of which will serve people with mental health concerns.
Tenants will be identified through BC Housing and the four non-profit community land trust partners co-operating in the project, in order to "ensure that the needs of Vancouver residents are met," according to the City of Vancouver staff report on the project.
Keeping existing housing affordable
Lewis, also the executive director of the Canadian Centre for Community Renewal, is one of many who views the community land trust project as an important, historic step forward in Vancouver's affordable rental housing odyssey.
New Westminster Mayor Wayne Wright praises the project as "stepping forward where they need to go." Wright co-chairs the Canadian Rental Housing Coalition and praises Vancouver for its innovation.
He's echoing Vancouver's rental housing policies in his own municipality. During the same week that Vancouver city council approved the four rental housing project sites, New Westminster city council approved a new Secured Market Rental Housing Policy.
The policy is designed to protect New Westminster's existing, aging supply of market rental housing. Among other measures, it continues a moratorium on converting rental buildings into strata title (condo) properties, and will explore the use of "density transfer" swaps to preserve existing purpose-built rental stock.
The New West policy primarily deals with rental housing priced at market rates, however. "In order for affordable rental housing to be achieved," the report notes, "other additional incentives would need to be considered."
Both Lewis and Wright acknowledged that cities are doing what they can in the absence of either a national housing strategy or extensive provincial funding for housing. To significantly further expand non-market affordability, Wright believes, "We need federal direction."
He and Lewis echo others involved in affordable housing initiatives who bemoan the lack of federal funding for housing since Ottawa abandoned the field in 1993.
"We don't have a national housing policy in this country and we should," Lewis says. "We're probably one of the few OECD [Organization for Economic Co-operation and Development] countries that don't have one."
Absent guarantees for the neediest
Meanwhile, Vancouver city council has drawn as much criticism as praise for its land trust project from housing advocates who say there's no guarantee of real affordability.
"There are loose, floating 'targets' for below-market rents," said Tim Louis, a former Vancouver city councillor with the Coalition of Progressive Electors. "But just look at the Olympic Village to see what happens when there are no guarantees built-in from the start."
Connor Donegan of the Vancouver Renters' Union questions whether the non-profit community land trust partners will be able to offer affordable housing without further financial backing from the city. In the initial staff report on the project, the City of Vancouver made it clear that it will not provide any operating subsidies or property tax exemptions.
Donegan points to the city's staff report, which "warns that 'affordability may be delayed' due to 'future market economics.' We need a guarantee that the buildings will be affordable," he says. "City-owned land needs to be leveraged in order to circumvent the market forces that are destroying affordable housing and causing homelessness: this proposal fails to meet that need."
Jean Swanson, a longtime Downtown Eastside housing advocate and co-ordinator of the Carnegie Community Action Project, echoes Donegan's sentiments. "In order to solve the housing crisis, we need government-funded housing. Charities just don't have enough money. And developers won't build enough," she says.
"The good part of this is that it's non-profit. But I don't know how much of this housing is going to be used for people at welfare rates. From our perspective, it would be good if a lot of it were used for people at welfare rates, because they're the ones that have the greatest need."
The City of Vancouver's Housing and Homelessness Strategy is designed to address the housing needs of people on income assistance. Meanwhile the Mayor's Task Force on Housing Affordability, which paved the way for the community land trust project, is aimed at citizens in a different income bracket.
"The task force, essentially, was focused on a cohort of $21,000 to $85,000 household income," Lewis says. "The argument that was made, as I understood it, was that the homelessness strategy and that lower income would not be really the focus here, that we had an affordability problem that was broader than just the acute problem of people at the lowest income levels."
The community land trust project addresses what the City of Vancouver refers to as the 'non-market rental' portion of the housing continuum. Based on the initial estimates that one-bedroom units on the land trust sites would rent for about $769 a month, those units would be affordable for people making up to $38,000 a year.

Ottawa still MIA
People who work in housing at the municipal and provincial levels often speak extensively about how Canada lacks a federal housing policy. In Swanson's view, the fanfare around the new community land trust project undermines the city's own goals in lobbying for a national housing plan.
"The city is trumpeting this as a great thing, and by doing that, it undermines its own ability to lobby for a federal, provincial housing program, because it makes it appear that everything is okay and we don't have a crisis," she says.
"In 2007, the city had 14 lots, and they designated them for social housing. And then they went after the senior governments to get funding for those lots. And they got it," Swanson recalls.
"I think a strategy like that is needed now, where the city buys land and goes after the senior governments and says, we want you to fund housing on this land. We're showing that we're serious. We've got this land that's designated for housing. And we want you to fund it. Because there's a huge need. We need thousands of units of social housing."
To former housing affordability task force member Mike Lewis, the solutions lie somewhere between allowing the market to "fix itself" and relying fully on government forces.
Renters' rights, however, are under provincial jurisdiction in B.C. During the lead-up to this year's provincial election, representatives from six Vancouver non-profits compiled a set of 13 recommendations for change in B.C.'s Residential Tenancy Act, in efforts to better balance the rights of tenants and landlords. Its first two recommendations were to toughen rent controls and minimize unnecessary evictions.
"If we divorce social goals from what we think about in terms of economic exchange, which is the essence of 'let the market decide,' that's an inadequate basis for any kind of policy," Lewis says.
"The market is a social construction. And we have constructed it. This ['Four Sites' project] is a way, small way, of pushing back, by saying social relations should be right in the middle of the discourse."