[Editor's note: Beautiful, eclectic, iconic, Pacific harbour towns: the words describe both Vancouver and San Francisco. Yet the two cities have taken different directions in the treatment of renters. Today, Tyee Solutions Society reporter Jackie Wong explains how re-developers are breathing new life in both Vancouver and San Francisco -- but who is it for? Find the series so far here.]
Vancouver is a self-consciously pretty city. And like a teenager counting the brush strokes through her hair in the morning, it strives daily to become even more so. Perhaps it should be careful what it wishes for.
The City of Vancouver's Greenest City 2020 Action Plan set the ambitious goal of becoming "the greenest city in the world" in just seven years. Like a personal fitness program, the effort is having secondary benefits: while expanding bike paths, food-producing gardens and composting, green initiatives are adding grace notes to the face of the city, like public gathering spaces called parklets where parking spaces used to be.
Once voters elected former farmer, Happy Planet juice company entrepreneur, and avid commuter cyclist Gregor Robertson to the mayor's chair in 2008, the 2010 Olympics shot the city down a rabbit hole of compulsive civic introspection to reassure itself that yes, Vancouver was indeed the world-class city of its own advertising.
But even as it prepared for its close-up in the world's spotlight, Vancouver worried about its poorer citizens being displaced.
Those tensions didn't deter international accolades. Vancouver celebrated its ranking in the Economist magazine's international list of the world's most livable cities -- scaled on stability, health care, culture and environment, education, and infrastructure.
But after topping the ranking's "livability" scale for almost a decade, Vancouver recently slipped to third place. Like runners-up in a beauty pageant, civic leaders and business improvement associations are now redoubling their efforts to restore livability to under-toned neighbourhoods.
The two-year-old Hastings Crossing Business Improvement Association is Vancouver's newest civic group with ambitions. Led by 33-year-old Wesley Regan, it seeks to balance the business and social interests of an area spanning the eastern fringe of upscale Yaletown and the heart of the hard-luck Downtown Eastside.
One neighbourhood further east, the 12-year-old Hastings North Business Improvement Association has rebranded what used to be known as Hastings Sunrise as the new "East Village" -- drawing some controversy for its effort to appropriate the cachet of the Manhattan neighbourhood of the same name.
Such initiatives aren't housing providers, but they do influence who can afford to live where. Retooling the Downtown Eastside and Hastings Sunrise, both historically working-class and immigrant neighbourhoods, to appeal to wealthier new residents can, like the lovely, eco-friendly "parklets" budding across the city, foster both a greater neighbourhood appreciation for some, while leaving others feeling pushed to the door.
A little bit older, deeper in redevelopment
In looks, as in so much else, San Francisco is our American doppelganger city, just a little bit older and further along some of the same paths Vancouver is following.
San Francisco's Hastings Sunrise neighbourhood is the Divisadero Corridor. The historically African- and Japanese-American neighbourhood is northeast of the famed bohemia of Haight-Ashbury, next to the predominantly African-American Western Addition.
Until recently the Divisadero was a hotbed of crack cocaine sales and use, sex work, and associated violence. Remy Nelson, a lifelong San Franciscan and owner of the neighbourhood's Mojo Bicycle Cafe, remembers the early 2000s, when at least once a month he heard gunshots, and every few months someone was shot down.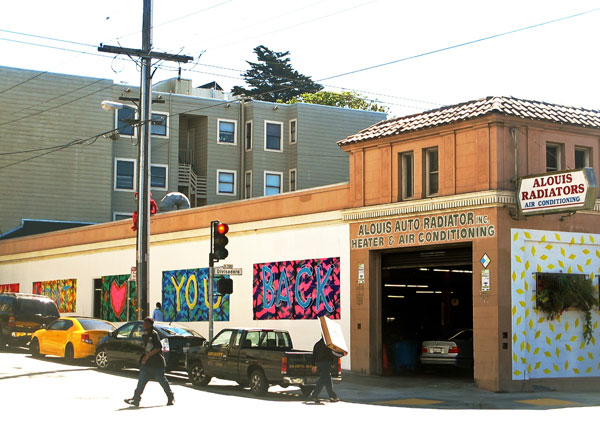 He remembers the summer he opened his bike repair store and coffee shop, in 2007. "Up [Divisadero Street] at the barbecue joint, guys got an automatic and went and hosed down the entire joint, the street, the cars, everything. There were bullet shells everywhere," Nelson says. "That was one of the last [big shootings]. That was a moment when something had to happen. The supervisor [San Franciscan for city councillor] came through and demanded foot patrols. And really that changed a lot of it, having a police presence."
The movement for crime-free streets coincided with the arrival of new residents. "A largely Caucasian crowd," as Nelson describes it, "bought property and was going to have kids and wanted to send them to school. They wanted their property values to go up. And that blight -- of unemployment, people shooting each other in the middle of the day -- it was kind of taking away from their money."
The Divisadero Corridor is different now. Thanks in part to a $3.4-million city-led revitalization project, "the Divis," as new residents call it, was named 2011's comeback neighbourhood of the year by San Francisco's Neighborhood Empowerment Network. The now-fashionable area boasts two Tumblr blogs mainly celebrating hot restaurants on the strip, plus its own Twitter account.
The streets are safer now than a decade ago. But the Divisadero's new popularity makes it increasingly hard to hold on to for people of modest means.
Inevitably, rising costs
The topic comes up often between Nelson and his father. Both men are landlords. The younger Nelson rents five rooms above his Mojo Bicycle Café for $400 to $1,000 a month, depending on the size of the room.
His father, Joel, is a former high school teacher who now earns an income from rental properties in the area. They exchange stories of the people who rent from them -- especially the recent influx of 20-somethings working in the tech industry. Nelson finds the rents some are willing to pay eye-popping.
He used to live above his café too, but now rents a small, top-floor studio nearby for a rent-controlled $1,450 a month. The place is mouldy and leaky when it rains, he says. But he can do his own repairs and even remodelled the kitchen. The low rent justified the extra work.
It's "a kick-ass deal," he boasts. "[Market] rents start at $2,300 for a one-bedroom." Not that he begrudges landlords who charge that much. "Landlords, they're running a business. They're going to raise prices whenever they can, to whatever the market will bear," he says. "If I could sell a cup of coffee for an extra $0.25, I bet I'd do it."
It's no surprise to Nelson that rents continue to go up in San Francisco. "No one ever said it was affordable," he says. "It was always crazy. We live in a very desirable place."
He's made peace with it. But he's also among those riding the wave of the neighbourhood's new popularity. He knows other longtime residents are having a harder time.
"I feel like the locals have been a little bit drowned out, just because there's so many more people coming to this neighbourhood," he says. "With a new wash of people coming in, a certain number of those are going to have higher incomes than people who currently live here. Those people are going to want to move in, to take over the apartments that are made available, and raise the rents."
Vancouver celebrates every opening of a new high-tech head office. Even Pixar's recent exodus from Gastown made the news. But in San Francisco, the young, moneyed tech worker has become a gleefully-derided caricature.
"This is a 20-year-old's town now," says Delene Wolf, executive director of the San Francisco Rent Board. She's talking about the scores of young tech workers renting apartments in San Francisco, commuting to work in the Silicon Valley, and congregating in the hipster enclave Mission district to party on weekends. They've changed the whole feel of the city, she says.
"The [tech] corporations have made it possible to do it without stress and strain. The Google buses, they've made it [so] that you can live and play in the city and work down there [in the Valley]. But it's not a hassle because they will pick you up and drive you back and forth and do your damn laundry."
Other residents can't compete with the money that tech workers can spend on accommodation, Wolf adds. "It's just that housing happens to be a necessity."
"Prices have gone up because of the tech boom," agrees San Francisco Housing Rights Committee organizer Sarah Sherburn-Zimmer. And that's had a worrisome knock-on effect.
As the gap widens between market rents and those allowed under the city's Rent Control and Stabilization Ordinance, incentives mount for property owners to find ways to push tenants out of rent-controlled units and re-rent them at often much higher rates. "Evictions haven't been this crazy since the late '90s when the last tech boom happened," says Sherburn-Zimmer.
Intact community
On a typical Tuesday night, 27-year-old Alejandro Villarreal is at home, nursing an after-work Anchor Steam beer in the company of his housemates' cat, Croissant. His bed is on a makeshift loft above a forest of bicycle frames, repair stands and spare tires. Soft-spoken and thoughtful, Villarreal hardly embodies the hyperspeed Aaron Sorkin character that some San Franciscans see as the tech-kid stereotype.
Briefly an auto mechanic, he's spent the bulk of his adult life working for Google, now as a program manager in the mapping department. He's one of Wolf's 'Google Bus'-riders. Unless he ambitiously decides to make the 65-kilometre trip to Google's Mountain View campus on his bike, he walks three blocks to catch one of the company's white private shuttles for the one-hour drive.
He considers himself lucky to have landed a room for $1,020 in a bright, spacious rent-controlled apartment he shares with three roommates. The apartment is ideally located near Mission Dolores Park, a popular hangout for bike-loving, microbrew enthusiasts like him.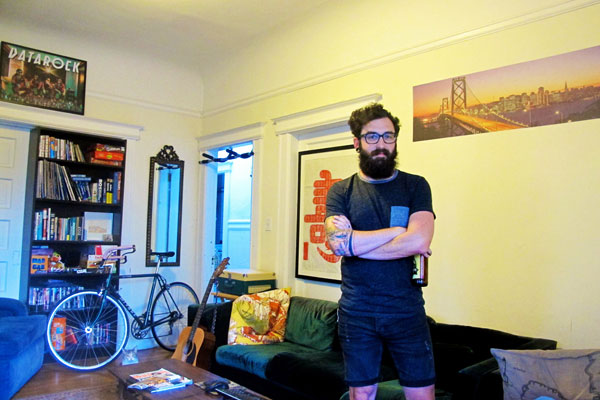 Comfortable as he is, Villarreal thinks often about housing inequities. He supports a city policy mandating the inclusion of affordable units in new housing developments. "There's a building that just went up in North Mission near Market Street. They set aside a certain amount of apartments that will be affordable to people who couldn't afford a normal unit. I would like to see that expanded," he says. "It helps to keep the community intact while allowing for growth. I think that's really important."
He doesn't believe that tech workers like himself deserve the scorn widely directed at them. Besides, Villarreal adds, the technology sector includes many people who work in biotechnology, engineering, and other fields away from the high-profile stars like Google, Facebook and Twitter.
"This attitude that all tech people don't care about where they're living, and they can just throw money at things, I don't think it's fair to paint everyone with that stroke," he says. "Myself, I live above a family business, I shop there all the time, I make relationships with people around me. I frequent the same places. I care about this place."
An ideal San Francisco, Villarreal suggests, would allow people like him and his roommates to thrive alongside the family who owns the Guerrero Market and Deli on the corner.
Such a reality may be increasingly difficult to achieve, however, if the city continues on its current trajectory.
Everything's for sale
In the parklet in front of his Mojo Bicycle Cafe, Remy Nelson balances a cup of hot black coffee and slides into the last open spot on a shared banquette. The space is packed with 30-somethings meeting friends or reclining solo with their iPhones in the late-August heat.
Friendly, funny and self-assured, Nelson's got the easy charisma of the popular kid in high school. Not surprisingly, Nelson loves it here. He's proud of the community of artists and cyclists he helped bring together through the Mojo Bicycle Cafe. It's certainly hard to deny that his sun-dappled parklet is preferable to the gun violence that once shattered the peace of the Divisadero.
If not everyone who lived there then can afford it now, he expresses no regret.
"It's not beautiful," he says, "but the reality is that San Francisco is becoming very much a socioeconomically divided city that's not at all inclusive. There's an increasing divide between black and white, rich and poor. I think it's going to get worse. The rich will want the most desirable, and they will be able to afford it."
Unconsciously echoing a pair of young Vancouver landlords who consider their city to be a young New York in the making, Nelson considers that evolution the way of the world.
"I don't know if there's any way to control that, stop it, change it," he says. "Because everything's for sale."
Tomorrow: Generation Rent concludes with personal reflections and suggestions for Vancouver from San Francisco's experience.